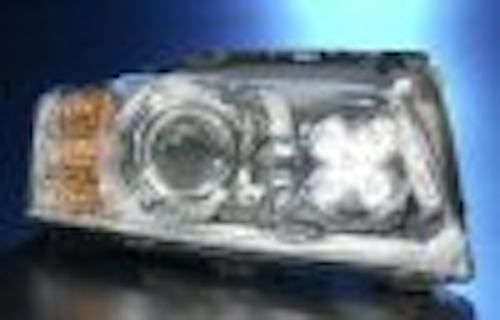 The headlamps of the new 12-cylinder Audi A8 6.0 incorporate a daytime running light (DRL) containing 5 white LEDs in a cloverleaf pattern. The headlamp assembly, supplied by the German lighting company Hella, uses Luxeon LEDs from Lumileds.
DRLs are becoming more prevalent as more countries mandate their use ot reduce collisions. DRLs have been required in Canada since 1990, following the lead of countries such as Finland and Sweden, and have been standard equipment on General Motors vehicles since 1996. More than 50% of the vehicles sold in the US now have DRLs.
A number of companies have demonstrated forward lighting, including headlamps, on concept vehicles, but this is the first production vehicle to use white LEDs in such a forward signalling function.
LEDs have been used for several years for rear and side signals and indicators, due to their lifetime, low power consumption and safety issues associated with their use.
The LEDs in the DRL consume only a fraction of the energy required for incandescent lamps, and draw only 0.5 W when dimmed to provide a parking light function.