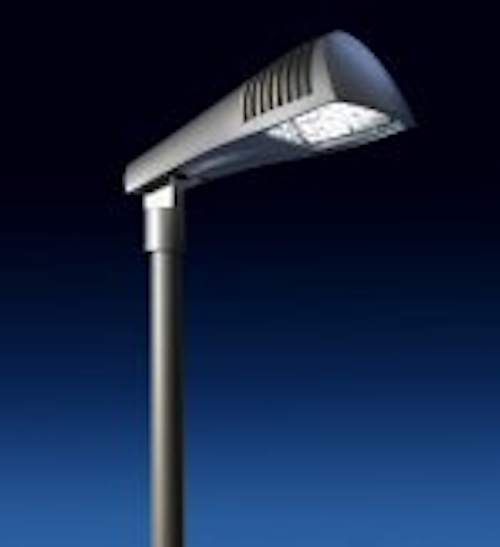 The Italy-based lighting company iGuzzini has used LEDs from Osram Opto Semiconductors in its new Archilede street luminaire.
The Archilede street light is available in three versions: an 84-LED version that consumes around 100 watts, and 59- and 39-LED versions at 70 and 55 watts respectively. The luminaires are built around Osram Opto Semiconductors' Golden Dragon Plus LEDs with a color temperature of 6,000K.
The color rendering of the LEDs provides a natural color impression which can enhance safety and security, says Osram, while the directionality of the LEDs eliminate stray light and reduce overall light pollution.
Several hundred of these LED luminaires are now installed in the northern Italian cities of Piacenza, Lodi and Alessandria, as this video demonstrates:
The iGuzzini luminaire was developed specifically for street lighting requirements on any type of roadway. With its intelligent control system and various programming options these LED street luminaires are capable, for example, of automatically shining more light in one direction depending on the volume of traffic or of shining more light on a roadway crossing than other areas of the road. It is also possible to customize the lighting for different "user groups", for example, pedestrians, cyclists or motor vehicles – and adapt lighting specifically for them.
Markus Klein, Senior Director SSL at OSRAM Opto Semiconductors, says, "Even though the initial investment costs of an LED street lighting system is higher than a conventional lighting system, over a few years time the LED system will end up costing less due to the high efficiency, long operating life and low maintenance costs of the LED system."
"With OSRAM Opto Semiconductors' high-performance LEDs we are able to provide local authorities with street luminaires that are attractive looking on the one hand and represent a sustainable solution on the other; as well as electricity costs they also drastically reduce CO2 emissions and maintenance requirements", says Adolfo Guzzini, President of iGuzzini.
The Archilede can be seen at the OSRAM booth on Light+Building 2010, together with LED streetlamps from Hess, Siteco and Leipziger Leuchten.