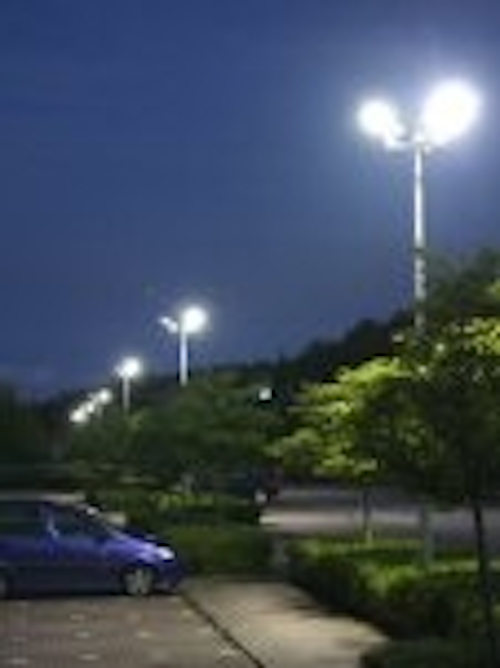 The Royal Glamorgan Hospital near Cardiff, Wales, has installed 301 LED fixtures from UK manufacturer i-Vision at a cost of just under £100,000. With estimated savings in energy and maintenance costs of over £34,000 per year, the Pontypridd & Rhondda NHS Trust, which runs the hospital, expects to see a payback period of less than 3 years.
Switching to LED lighting will allow the Trust to realize carbon savings of 100 tonnes per year, and also reduce the need to hire access vehicles to replace faulty lamps.
Paul Lewis, estates manager at the Royal Glamorgan Hospital, explained to i-Vision that the goals of the project were to provide an energy-efficient solution for the car park and roadway lighting; to offer significant savings on energy bills and maintenance costs; and to improve the lighting within the car park to ensure good visibility and security to all users.
The existing lighting was a mixture of high pressure sodium and metal halide lamps, with an expected lifetime of between 8,000 and 15,000 hours. The light spread across the car park was uneven and broken in some areas.
In the car parks, 99 HPS400 floodlights were replaced with i-Vision SL48 LED units, reducing energy consumption from 485W to 60W per fitting. On the access roads, 53 MB1250 units were replaced by i-Vision SLUB36 LED fixtures, taking consumption down from 290W to 45W per unit.
A number of safety beacons at pedestrian crossings, as well as uplighters around the hospital's main entrances, were also converted to LED technology.
The existing lighting poles in the car parks were utilised, with 3 fixtures per pole to ensure 360-degree coverage. The use of lenses and control of the fixture angles results in a much better spread of light and an improvement to the overall lighting scheme.
"To my knowledge, this is one of the first external lighting schemes completed in a car park in this country to exclusively utilize LED fixtures," said Geoff Jones, managing director of i-Vision. "It was very important for the whole car park to receive a uniform distribution of light to ensure that patients, visitors and staff feel safe."