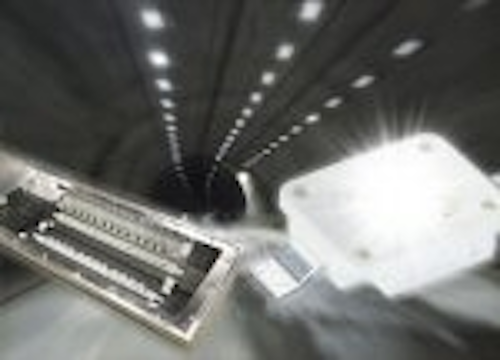 In the fall of 2008 the "Thüringer Schmücketunnel" on the A71 autobahn in the German state of Thüringen will become the first tunnel in Germany, and the longest tunnel in Europe, to be lit with LED lighting. Trials have already commenced in one of the two tubes, which have a maximum length of 1729m and are 4.5m high and 9.5m wide.
As we reported in the May/June 2008 issue of LEDs Magazine, Dellux will install almost 800 luminaires each containing nearly 100 LEDs.
The Dellux luminaires are claimed to be virtually maintenance-free, and to have a minimum life of 130,000 hours (15 years). This is achieved using "degradation compensation" technology.
"We have installed redundant LEDs in each luminaire to offset soiling and degradation losses. We also operate the LEDs at only 85% of their rated current to achieve greater efficiency and durability. Our patented light degradation compensation technology allows maintenance of the required light levels for a minimum of 15 years despite the difficult conditions in the tunnel," said Wolfgang Medenwald, VP Business Development Europe, Dellux Technologies.
The LEDs can be controlled to provide the prescribed luminance levels through the tunnel during both day and night. By day the required luminance in the tunnel is 4.65 cd/m2, by night a value of 0.8 cd/m2 is sufficient.
The average power consumption of the luminaires is 70 W during the day and 12 W at night. Overall, annual savings of 10,000 kWh can be made compared with a lighting system based on high-intensity discharge lamps. This corresponds to a minimum of 30% less energy consumption.
"For tunnel lighting [the long lifetime] is a major benefit because maintaining or replacing lamps is not only an expensive business but is inconvenient for drivers and a safety risk," said Michael Fiebig, Marketing Director for Solid State Lighting at Osram Opto Semiconductors.
"What's more, the light sources and luminaires [used in this installation] exceed the high safety standards for tunnel lighting. They tolerate heat, are mechanically robust and insensitive to pollution."
Osram says that another benefit of its LEDs is a stable lumen degradation curve, so that hardly any color location shifts are shown throughout the LED life, as long-term tests have documented.