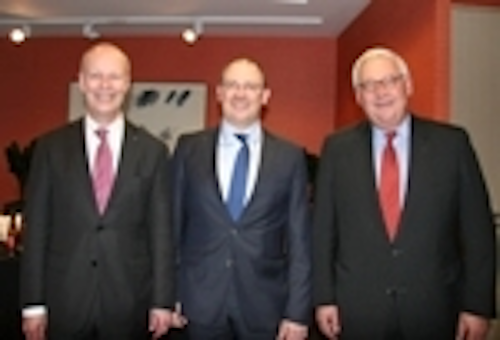 LightingEurope, the new organization representing the lighting industry in Europe, has appointed its Executive Board.
Dietmar Zembrot of Trilux has been elected as President of LightingEurope, with Jan Denneman of Philips as vice-president, and Diederik de Stoppelaar of GE Lighting as treasurer.
LightingEurope represents 31 leading European lighting manufacturers and national lighting associations, and was
formed in December 2012
after the merger of two European organizations, ELC and CELMA.
LightingEurope members employ over 100,000 people in Europe and represent an annual turnover estimated to exceed EUR 20 billion (US$27 billion).
Additional board members include: Alfred Haas (Osram), Peter Hunt (The Lighting Industry Association), Thomas Walentowski (BLV), André ten Bloemendal (NLA), Peter Dillen (Havells-Sylvania), Jean Michel Trouis (Syndicat de l'Eclairage), Francois Séguineau (Toshiba), Johan Segers (AGORIA), Harald Sommerer (Zumtobel), Markku Norhio (AFLE), Alfredo Berges (ANFALUM), Alvaro Andorlini (ASSIL), and Klaus Breisch (Panasonic).
Zembrot has served as managing director of the Trilux Group since November 2008. He is currently responsible for technologies, product development and supply chain. He has also served since 2010 as VP of the lighting division of ZVEI, and as VP of CELMA for the past two years and as president since November 2012.
Denneman manages Philips Lighting's worldwide activities on sustainability, collection and recycling, regulations and standards. He is also the president of the Global Lighting Association (GLA) and the outgoing president of the ELC.
LightingEurope says that it is "dedicated to promoting efficient lighting practices for the benefit of the global environment, human comfort, and the health and safety of consumers."