Johnson Controls reports trend to integrate lighting and building management systems in large facilities
Saving money — not the planet — is the primary driver of energy saving investments by over 1200 facilities executives surveyed in five countries.
Jun 28th, 2016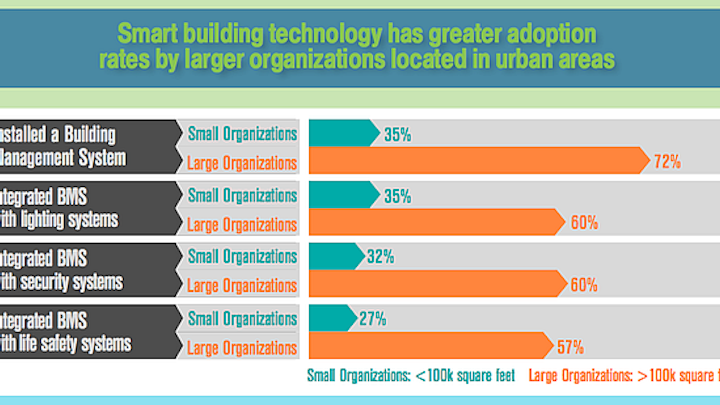 Saving money — not the planet — is the primary driver of energy saving investments by over 1200 facilities executives surveyed in five countries.
Johnson Controls, the largest of all the 23 partners in Cisco Systems' drive to connect LED lighting to the Internet, has reported a popular trend by large organizations to tie lighting into building management systems, although smaller organizations have resisted the process.
Interested in articles & announcements on lighting & building control systems?
The findings were part of a broad energy-management survey of over 1200 facility and energy executives by the $37.2 billion heating/cooling system and building automation giant.
Larger organizations have been far more likely than smaller ones to tie lighting into building management systems, as this chart from Johnson's survey summary shows. Money is one of the impediments. Source: Johnson summary of 2016 Energy Efficiency Indicator Survey.
In general, 72% of respondents anticipated increasing their spending on energy efficiency and renewable energy over the next year, driven by the money they stand to save rather than by the more magnanimous goal of reducing planetary greenhouse gases.
"Although cost reduction remains the primary driver, organizations are also increasingly considering energy security, customer and employee attraction, greenhouse gas reduction, enhanced reputation, government policy, and investor expectations when making investment decisions," Johnson said.
Longer-term financial savings motivated 82% of respondents to say they will spend on new gear. All other factors trailed behind, with the next three being energy security at 68%, customer attraction at 67%, and greenhouse gas reductions at 64%.
Whatever the motivation, the interest in spending more on energy efficiency was way up from the same survey in 2013 when 42% — just above half of this year's 72% — said they would increase their energy saving investments over the next 12 months, Johnson said.
Respondents noted that in the past year they spent more on heating, ventilating, and air conditioning (HVAC) than on any other aspect of energy efficiency, with 63% reporting HVAC improvements. Education came in second, at 52%, followed by building controls, water efficiency, onsite renewable energy and building systems integration at 52%, 46%, 42%, 36%, and 34%, respectively.
Integrating lighting into building management systems was in vogue with large organizations in urban areas, where 60% said they have undertaken such projects. By comparison, only 35% of respondents at small facilities — buildings of less than 100,000 ft2 — said they have done so.
In general on all the technologies, reluctance to invest related "to lack of funding, insufficient payback, savings uncertainty and a lack of technical expertise as the most significant barriers to investment," Johnson said.
Milwaukee-based Johnson Controls joined Cisco's "Digital Ceiling" initiative when Cisco launched it in February with about 15 partners, a number that has now grown to 23.
The Digital Ceiling, which also includes Philips, Cree, and other lighting companies, aims to tie LED office lighting into information technology networks. It augurs more efficient use and effective control of lighting, and also promises to make luminaires vital IT nodes that affect other operations. For example, occupancy and climate sensors in luminaires can help inform the HVAC system to change its settings, and can alert facilities managers to space that is underutilized and thus trigger a change in the building layout.
The Johnson survey covered 1243 executives in the US, China, Germany, India, and Brazil, 82% of which were C-Level, vice presidents, or owner/proprietor. The US and China comprised 25% each of the responses, Germany 24%, and India and Brazil 13% each.
MARK HALPERis a contributing editor for LEDs Magazine, and an energy, technology, and business journalist (markhalper@aol.com).