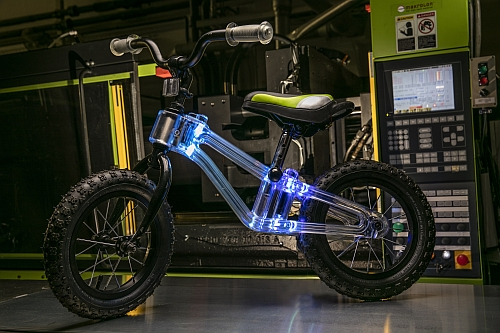 Phantom Frames uses Makrolon polycarbonate material to deliver a transparent bike frame with internal multicolor LED lighting.
Materials specialist Covestro (formerly Bayer MaterialScience) has announced the results of a partnership with bicycle frame manufacturer Phantom Frames that has yielded a youth bike with a transparent frame including dynamic LED lighting inside the frame. The project demonstrates the flexibility of Covestro's Makrolon 2807 polycarbonate (PC) material that is being applied in a host of solid-state lighting (SSL) applications.
Interested in more articles & announcements on SSL design materials?

Indeed, PC materials can be used in a variety of LED-based applications as was described in a feature article on the topic. Still, the structural attributes are perhaps surprising as was made evident in the fact that Ford used the PC material in the F150 truck LED headlamp unit. And now we have a bike frame made from the material, in an application where strength and durability is clearly important.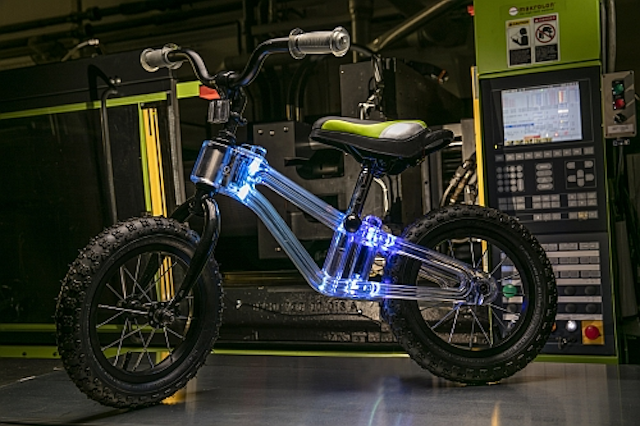 Covestro PC material enables dynamic LED lighting inside bicycle frame
To enable the bike-frame design, Covestro provided a detailed structural analysis for Phantom that detailed the capabilities of the PC material approach. Moreover, Covestro helped Phantom with production tooling challenges that could lead to volume production.
"We are making bikes for children, so the quality and consistency of our materials is a top priority," said Forrest Smith, Phantom president. "Working with Covestro was a winning collaboration given its industry leadership and commitment to delivering the highest-quality material solutions."
For the kids that ride the bikes, the LED-based PC design will be all about the style and cool factor. Phantom will offer models in five colors and with customizable flashing patterns. There is a safety angle as well, since auto drivers and others will easily see the lights.
"Covestro is delighted to work with an innovative company like Phantom Frames on such a pioneering children's product that will help improve the safety of bike riding," said Richard Aldrich, business development manager at Covestro. "We look forward to seeing Phantom Frames' continued success in the US and abroad with this one-of-a-kind bike."
Phantom has already implemented the transparent frame and LED lighting in its 12-in. Balance Bike. Later, the company plans to offer the technology in 12-in. Pedal, 16-in. Pedal, and Tricycle models.
Covestro, as we mentioned up front, is a relatively new name for what was Bayer MaterialScience. That change in branding of Bayer's materials group came back in September.