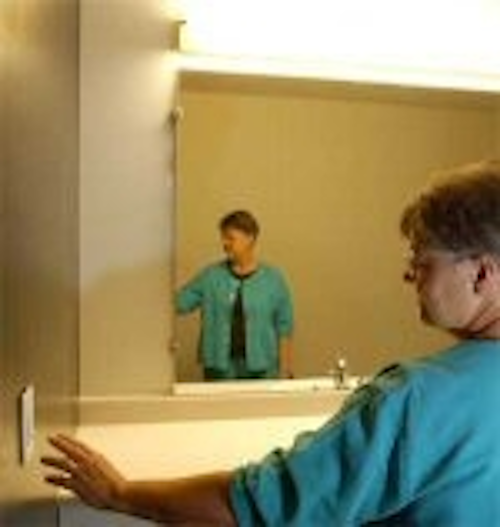 A "smart" bathroom lighting system developed at a California university promises to save substantially on energy costs and improve safety for an aging population with diminishing eyesight.
The new energy-saving light is the product of a partnership of the California Lighting Technology Center (CLTC) (an R&D program at UC Davis), the Sacramento Municipal Utility District (SMUD), the California Energy Commission's Public Interest Energy Research (PIER) program, and two manufacturers, MetalOptics/SpecLight and The WattStopper Inc.
"We knew that this lighting system would promote better energy efficiency, lighting quality and comfort," said Michael Siminovitch, CLTC director and a professor of design. "But it is also a product that improves health and safety, especially for seniors."
The design is aimed at helping people navigate better in the dark to avoid accidents, but could also save as much as 50 percent in energy consumption over standard bathroom vanity lighting systems.
The new fixture includes energy-efficient fluorescent lighting, an integrated motion sensor and an orange LED night-light with battery backup that doubles as a safety light during power outages.
The LED light consumes less than one watt of power, and provides enough light to enable a person to safely navigate within a bathroom while preserving night vision. This alleviates the problem of adjusting to a bright light switched on at night and then readjusting to darkness when the light is switched off again. This is a particular problem for elderly people.
UC Davis is in the process of filing a patent application for the vanity lighting system and is negotiating with manufacturing companies to license it. The cost for this new system is expected to be about $200. Prototypes built by SpecLight and The WattStopper have been under test since March.
The new bathroom fixture is also expected to provide substantial energy savings in hotels and motels. The fluorescent light is connected to a motion sensor and switches off after a certain time, leaving the LED on for visibility.
By installing the motion timer, hotels will save many kilowatt-hours per room. Lighting accounts for nearly a quarter of electrical energy consumption in the US, while in California alone, lighting comprises almost 30 percent of commercial and 18 percent of residential electricity usage during peak demand.