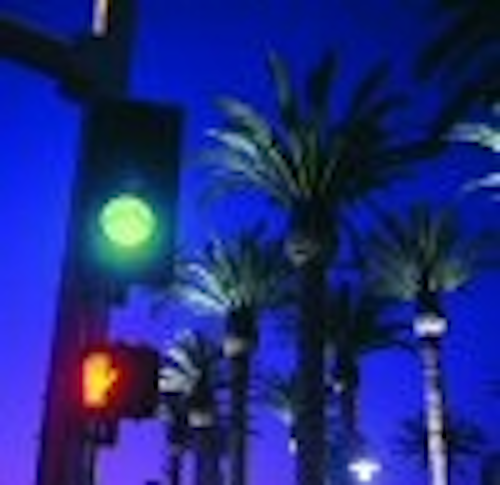 In Fort Wayne, Indiana, LEDs are currently being used in about half the city's red lights. But the savings have been so dramatic and prices of LEDs have dropped so much, the city is now planning to replace every incandescent signal bulb with LEDs.
"Now, with the price of LEDs the way they are, it just makes sense to do it," said Steve Davis, the city's lead traffic engineer.
After a successful pilot project, city officials decided to change all the city's red lights to LEDs. At the time, red LEDs cost about $180 each, while yellow and green cost $275 and $475, respectively, making them too expensive. Incandescent bulbs cost about $1 each.
The red incandescent bulbs use more electricity than greens and yellows - 150 W versus 116 W - so the savings were more dramatic for reds when switching to LEDs, which typically use 15-20 W. "Even with the price at $180 a red, we were going to pay for those in a matter of two years just with the electricity savings," Davis said. Yellow bulbs are always the last to be replaced since they are illuminated much less than the red and green lights.
But the city didn't have thousands of dollars to replace all the red lights in its 200 intersections, and so they were replaced as and when possible. However, since that first pilot project in 1999, the price of LEDs has fallen rapidly; Davis says that greens now cost only $94, and reds have dropped to $48. Officials are now looking for ways to replace 6,670 red, yellow, green and pedestrian signals across the city.
The savings on electricity are so dramatic that even though half the city's reds and virtually all its yellows and greens are still incandescent bulbs, the utility bill for signals has dropped from about $28,000 a month to about $21,000 a month.
There are also huge savings in maintenance because LEDs last for six or seven years, versus two years for incandescent bulbs. After a year, incandescent bulbs tend to burn out unpredictably, so Fort Wayne engineers found it cheaper to simply replace all 9,800 bulbs every summer. However, this takes two two-man crews an entire month, and costs an estimated $20,000 a year.
"It's going to save us a lot of maintenance over a yearly basis," said Doug Hilkey, director of operations. "We've had LEDs since 1999, and it's rare that we have an outage."
The situation is the same in Bowling Green, Kentucky. "The overall saving we've noticed so far is 55 percent, but if you look at some of the individual intersections, the savings can run as high as 75 percent," said Bobby Phelps, the city's Operations Division manager.
The city became interested in LEDs about three years ago, but Phelps said the upgrade was considered cost-prohibitive. In the time since the city first started considering the change, green bulbs have dropped from $150 to $89.
With a brighter glow to make lights more visible, LEDs will also enhance driver safety, said Keirsten Jaggers, public information officer for District 3. She added that maintenance and replacement costs will also be greatly reduced. "Right now, we usually have to change a bulb each day somewhere in our district," she said. "The failure rate for LED bulbs is considerably less, under 1 percent."
She added that current maintenance costs for the incandescent bulbs run at about $150 a bulb, and life expectancy for those bulbs is a maximum of 10 months versus 10 years with the LEDs.
Public Works Director Emmett Wood said the city will spend about $32,494 on upgrading the 22 city-maintained traffic lights. With the savings on energy bills and maintenance costs, Wood said the lights will "pay for themselves" in about five years, with a total 10-year savings, after paying for the lights, of about $27,890.
Last year the city of Aberdeen, South Dakota, purchased 80 LED heads, and City Engineer Robin Bobzien said the new bulbs have been slowly rolled out as existing lights need replacement. He says that LEDs cost about 70 percent more than the incandescent bulbs, but savings are realized in longevity and energy costs.
"The safety aspect is always important to us," said City Engineer Robin Bobzien of Aberdeen, South Dakota. "The LEDs make sure the lights are bright and clear, even in glare conditions. They're much brighter which makes them stick out through the sun pattern."
Information sources
The Fort WayneJournal Gazette (www.fortwayne.com)
Bowling Green Daily News online edition (www.bgdailynews.com)
The Aberdeen American News (www.aberdeennews.com)