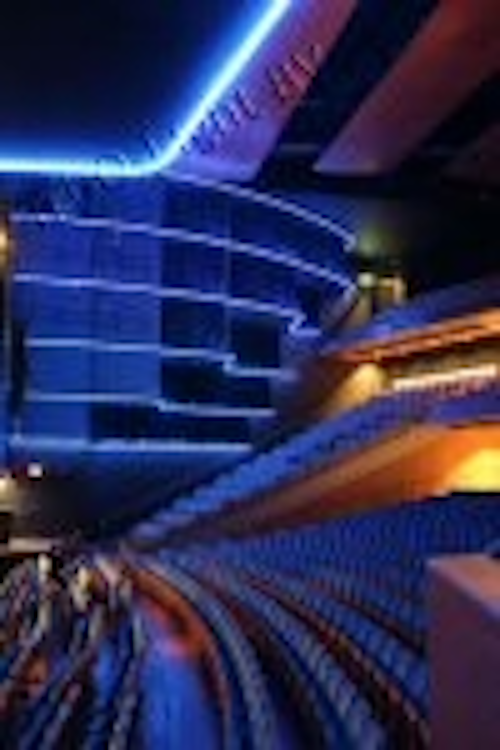 The Orpheus theatre in Apeldoorn, the Netherlands, illustrates the possibilities for functional and decorative lighting that can be achieved using LED strip lighting.
Opened in October 2004, the theatre makes extensive use of the LED Strip Light product from
Tri-O-Light
, a Dutch company.
LED Light Strips were used on the stairs and balcony of the theatre, and installation was easy and rapid because of the flexibility and long installation lengths of the strips. The low energy use (2.16 W/m), and long lifetime (100,000 hours) of the system provides the theatre great convenience and effectiveness in comparison with regular rope light.
The amber-colored LED Light Strip (with dimensions of 5 x 8 mm), complementing the red interior of the hall, was recessed into the wooden stairs as indicator lighting for safety purposes. The transparent and flexible material around the amber-colored LEDs provides a water- and shock-proof lighting solution.
The LED Light Strip was also applied under stairnosings for indirect lighting, or in combination with aluminum stairnosing for direct lighting.
The balcony illumination was realized by incorporating the blue LED Light Strip (also 5 x 8 mm) at the side of the balcony and beneath the curtains. The blue illumination directly lights out the contours and different levels of the balcony and realizes an indirect wash in the curtains.
The resulting balcony and stair illumination is easily dimmed by means of computer control system, which is based on DMX programming.
Tri-O-Light says that the LED Light Strip delivered the appealing decorative and functional illumination that is fundamental to making this lighting project a success.