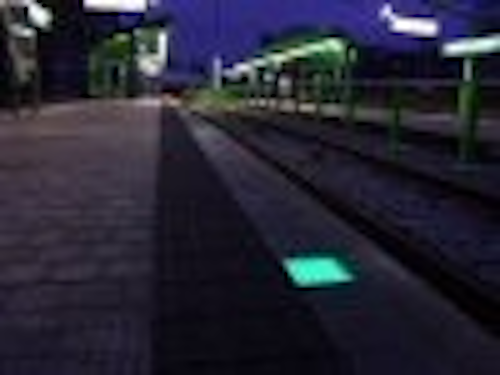 A 3.5 km street tramline connecting the Prague quarters of Hlubocepy and Barrandov has recently been completed in the Czech capital. This advanced public transportation project emphasizes environmental compatibility, with reduced noise pollution and exhaust emissions, and has created a new and enriching urban design concept.
Architect Patrik Kotas created the tramline which has six stations, each with a unique design and color scheme. The stations all feature rows of 200 x 200 mm LED tiles, which provide both illumination and signalling. The rows are 200 m in length, and run along the platform edge.
Operating on a special lighting control system, the tiles alert the waiting passengers of approaching and departing trams. Blinking lights indicate the arrival of trains, and the lights switch off as soon as the train has stopped so the passengers are not irritated by glare.
At departure, the lighting system switches on and remains on, without blinking, until the train has left the stop. Through the accenting of the platform edge during the potentially dangerous operational phases, the risk of persons inadvertently stepping too close to the train and being injured is significantly reduced.
The project uses Ledia LF tiles from German company Hess Form + Licht GmbH, which fulfil the requirements for this safety lighting system with regard to function and design. "The tiles are flexibly controllable, efficient and maintenance free, durable enough to withstand the abuse incurred in a high-use exterior application and, through their coloured light, coordinate well with the principal colour of each specific station," says Kotas.
Other advantageous features of the LED tiles include the delay-free circuit; the compact design, which enables easy installation; and minimum heat build-up, which is especially important for walk-on surfaces. Their anti-slip surfaces, applied to increase safety, create a 3-D effect further augmenting the aesthetically enhancing presence of the tiles. Kotas says that there really was no other viable alternative.