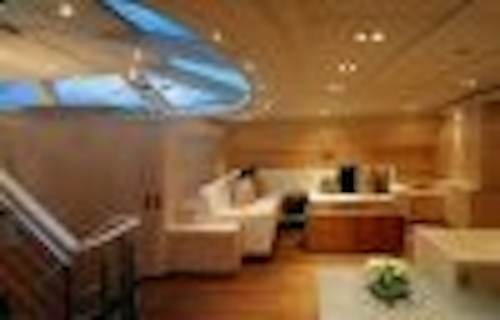 The Gimlä, a £14 million luxury yacht, has been fitted with LEDs to provide flexible, energy efficient lighting that will perform in all weather conditions and in the most difficult sailing situations. The lighting also needed to create a stylish environment, to reflect the luxury standards of the yacht.
LightGraphix created lighting solutions costing around $19,000 for deck and step lighting, and for highlighting key design features on board Gimlä. Luxeon LEDs from Lumileds were selected for their high brightness, robustness and low energy consumption, allowing the use of the yacht's onboard generator to be kept to a minimum.
The small size and long life of the LEDs allowed LightGraphix to create "sealed for life" units which could be built into the carbon fiber structure of the yacht, so saving weight and helping with water integrity. LEDs also minimize maintenance requirements and remove the need to use precious storage space for replacement bulbs.
Externally, white Luxeon LEDs were used to light steps and side decks, and on the mast to light down onto the decks. Inside they are used as feature uplighting onto a curved, paneled ash corridor linking the saloon and the owners' quarters, and as step lighting between decks and cabins.
The ash paneled corridor was designed as a major feature of the yacht interior, and the lighting was critical to enhance this effect. A six-degree beam angle lens was used and set at a precise angle into the fitting to create a wash of light from floor to deck-head. The fittings are finished in brushed stainless steel to match the interior fixtures.
The LightGraphix solution also made use of red Luxeons, which were used on steps down into the yacht. This provided an additional level of safety as the red light ensures that night vision is not affected when sailing after dark. When in harbor, the step lighting can be switched to white light.
Richard Hargreaves, managing director for LightGraphix said: "Owners of these yachts expect the latest technology and we are constantly looking for high performance products to meet their demands. Lumileds' Luxeon is leading the way in terms of LED performance. Their combination of high light output, energy efficiency, small size and robust make-up, made them ideal for this project."
Keith Scott, market development manager at Lumileds, commented: "The demanding environment of sailing demonstrates the many benefits of LED lighting, while showing that the opportunities for creative LED-based lighting design exist in all markets."
The yacht was designed by Dubois Naval Architects and built by premier Dutch yard Vitters, with interior design by Dick Young.