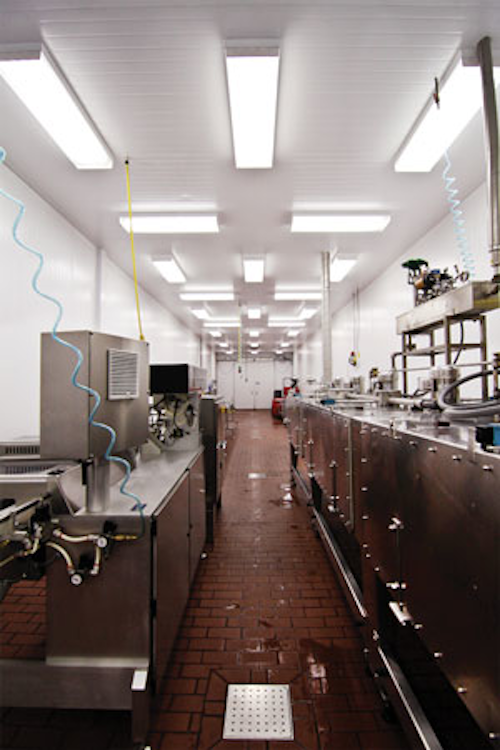 LEDs are a great technical match for food and beverage manufacturing environments, explains KEN AMES, but products and installations must abide by a complex regulatory environment including NSF certification.
Cleanliness, as the saying goes, is next to godliness, but in the food and beverage industry it is also tightly regulated by the Food and Drug Administration (FDA) and the US Department of Agriculture (USDA) in the United States. There are similar regulatory agencies in other parts of the globe. To help maintain sanitary conditions, all equipment and appliances used in food and beverage production and packaging - including lighting products - must meet stringent manufacturing standards set by NSF International (NSF). It can be difficult to navigate the NSF certification process, but we will offer guidance in this article and explain how industrial LED lighting is especially well suited to such applications.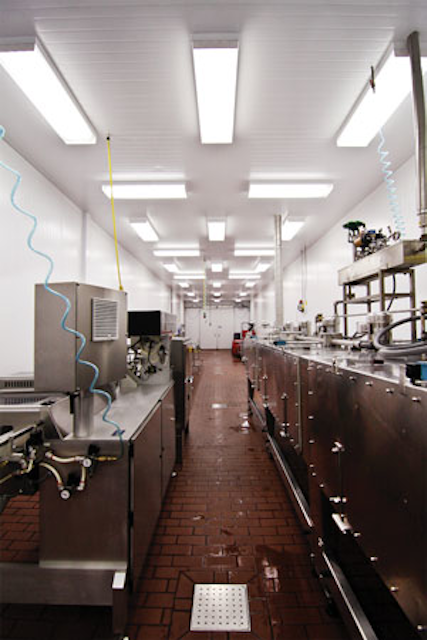 Integrated Food Service located in Gardena, CA utilizes NSF-certified, LED-based food and beverage lighting from Revolution Lighting Technologies in a preparation area.
Indeed, food and beverage facilities have some of the strictest compliance standards of any industry in order to safeguard public health and worker safety. NSF was founded originally as the National Sanitation Foundation in the US, but has operated as NSF International since 1990 with a global scope.
Interested in more articles & announcements on industrial LED lighting?

Like many applications, the food and beverage niche has been attracted to solid-state lighting (SSL) technology for energy efficiency and long LED lifetimes. Today's SSL products, however, offer robust, eco-friendly solutions to all of the demanding regulatory requirements, making LEDs an ideal choice for NSF-certified lighting (Fig. 1).
Location, location, location
Food and beverage plants are specialized industrial facilities that employ many of the same types of lighting fixtures found in ordinary industrial settings, except that certain fixtures must perform under sanitary and sometimes hazardous conditions. The kind of lighting products required and the compliance standards that apply depend on the environment encountered within a particular area; food-processing facilities usually contain a variety of environments under one roof.
A plant might include locations for processing, warehousing, staging, distribution, cold or dry storage, cleanrooms, offices, hallways, lobbies, restrooms, and more - each of which has its own set of lighting requirements. Lighting for food-processing areas, for example, often must tolerate airborne oils, mists, dust, grime, steam, water, effluents, and other contaminants while also enduring frequent wash-downs with high-pressure water jets and harsh cleaning solvents.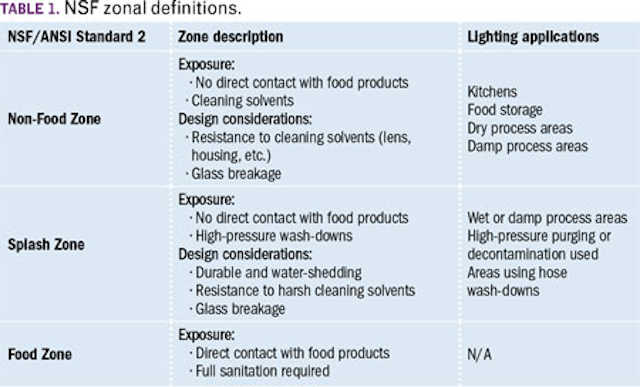 NSF has defined standards based on area conditions and on the extent of direct contact with food products. The NSF standard that relates to food and beverage lighting products, referred to as NSF/ANSI Standard 2 (or just NSF 2), organizes plant environments into three zonal categories: Non-Food Zone, Splash Zone and Food Zone (Table 1).
Each zone reflects environments ranging from areas such as food storage, where there is no direct contact with food products and no high-pressure wash-downs; wet-processing areas that require high-pressure wash-downs but where there is no direct contact with food; and areas where the product comes into direct contact with food.
NSF and food
Since lighting products do not come into direct contact with food, only the NSF guidelines for Non-Food Zone and Splash Zone usually apply. LED lighting manufacturers seeking NSF-2 certification for their products must ensure that a product's physical design, the materials used, and the manufacturing processes employed all comply with NSF standards according to the relevant zone.
Some locations, such as grain-processing plants, have areas with combustible dust or flammable gases that can create hazardous situations. In these settings, food and beverage lighting products would typically fall under Class II, Division 1 or 2, Group G of the National Electric Code (NEC) for hazardous applications.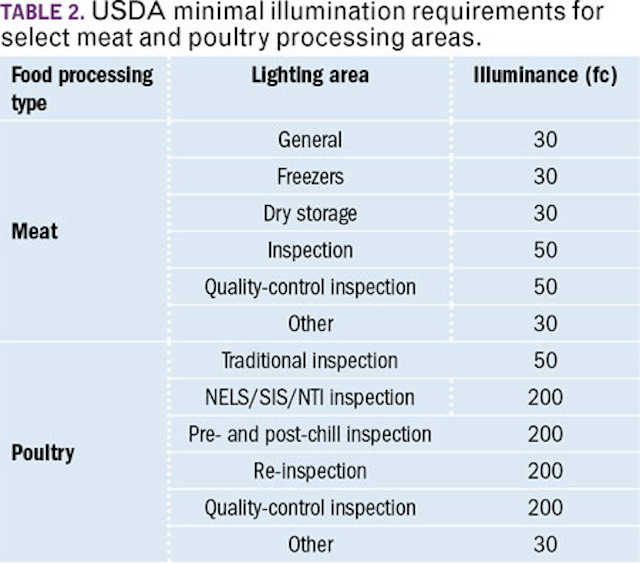 The ceilings in various areas of food-processing plants also can present unique challenges for industrial LED lighting. In addition to frequent wash-downs, these ceilings sometimes must support piping and other plant equipment, as well as the weight of maintenance personnel, which can complicate luminaire placement and mounting. Moreover, cold-storage rooms and blast freezers feature low, thick ceilings, which function as thermal barriers but can affect the structural integrity of ceiling mounts. Lower ceilings also require luminaires with wider beam angles for proper vertical-horizontal illumination.
Proper lighting for food processing
As with most lighting applications, the IESNA (Illuminating Engineering Society North America) has created recommended illumination levels for various food-processing tasks. For example, suggested IESNA illumination for food inspection areas ranges from 30 to 1000 fc. Areas for color grading should be lit at 150 fc, while warehousing, staging, packing, and restrooms need 30 fc.
However, since food safety also relies on good lighting, the USDA mandates sufficient lighting levels in Section 416.2(c) of its Food Safety and Inspection Service Manual, which requires the following: "Lighting of good quality and sufficient intensity to ensure that sanitary conditions are maintained and that product is not adulterated must be provided in areas where food is processed, handled, stored, or examined; where equipment and utensils are cleaned; and in hand-washing areas, dressing and locker rooms, and toilets." Table 2 lists USDA illuminance requirements for select food-processing areas.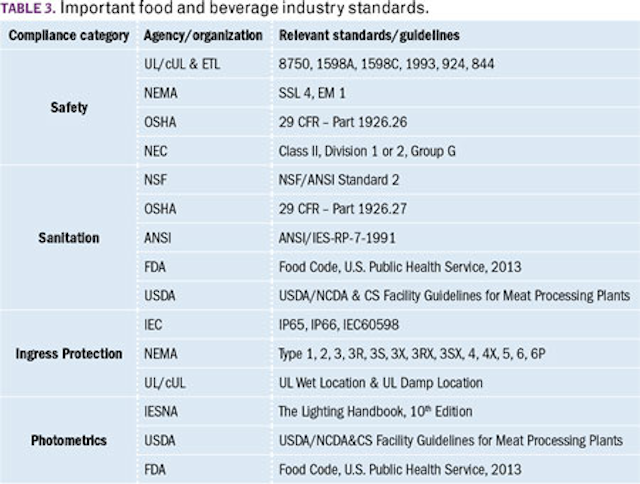 Good color rendition is also vital for accurate inspection and color grading of food products, especially meats. The USDA preferred CRI for general food-processing areas is 70, but food-inspection areas require a CRI of 85.
In addition, both the FDA and USDA have established photometric specifications for vertical illumination distributions. The illumination of vertical surfaces should measure 25% to 50% of the horizontal illumination and be free of shadows that might compromise workplace safety in critical plant areas.
Table 3 summarizes some of the compliance categories and the agencies or organizations that administer them.
Recommendations on design and fixtures
In view of the many sanitary, safety, environmental, and photometric requirements, and other challenges that confront lighting for the food industry, here are some of the key design elements that industrial LED lighting manufacturers should focus on:
Use lightweight materials that are non-toxic, inert, corrosion-resistant, and fire-retardant, such as polycarbonate plastic and certain metals
Avoid glass, if possible
Design smooth water-shedding external surfaces free of crevices, holes, or recesses that could harbor bacteria
Avoid painted or coated surfaces that could flake
Use tough lens materials that can endure multiple cleanings, won't yellow, and produce broad, even illumination
Use efficient, long-lasting LEDs and electronics that can function well in elevated temperatures as well as cold storage
Employ NSF-compliant seals for IP65 or IP66 lighting fixtures that remain watertight under high-pressure wash-downs of up to 1500 psi (Splash Zone) and prevent internal condensation
Since food and beverage plants can use many of the same types of lighting fixtures as other industrial facilities, stock industrial LED lighting products that might also make good candidates for NSF-certified conversion would include:
Fixtures with IP65 (IEC60598) or IP66 (IEC60529) ingress protection ratings
Luminaires with UL Wet Location or UL Damp Location ratings
Vapor-tight products for hazardous locations (Class I, Division 2, Groups A, B, C and D, for example)
Cleanroom-rated fixtures (for instance, ISO-14644, Classes 3 to 9, Federal Std. 209E, Class 1)
Advantages of LED-based food and beverage lighting
When it comes to the food and beverage industry, suitably designed LEDs have many advantages over most legacy lighting technologies, such as no glass or other breakable materials that could contaminate food products, as well as improved light output and efficiency at the low temperatures of cold storage. Add the benefits of low maintenance, longer life (70,000 hours), no toxic mercury, higher efficacies, wide-ranging dimmability and control, instant-on performance, and a broad range of operating temperatures; then one can begin to appreciate the versatility of LEDs in one of the most demanding industries.
The advent of cooler-running, high-efficacy SSL makes possible the sleek, lightweight, sealed lighting fixtures and bright, high-quality illumination needed for many food-industry applications. With ultralong life and low maintenance, LEDs can help transform the food and beverage industry into a clean, green machine.
KEN AMESis president of the Sourcing Group at Revolution Lighting Technologies, Inc., which designs, manufactures, markets, and sells LED lighting focusing on the industrial, commercial, and government markets internationally (rvlti.com).