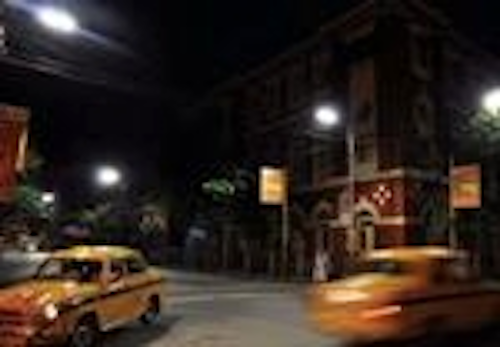 +++ Cover +++
The Daybreak TV studio in London is lit almost entirely with LED-based fixtures from ETC, and was the focus of a case study presentation at the annual PLASA tradeshow - see page 45.

+++ Features +++
NATIONAL FOCUS
India identifies LED lighting as key technology to control energy demand
The Indian government has developed policies to stimulate the adoption of LED lighting in the country, and is funding a number of pilot LED street-lighting projects, explains PHILIP JESSUP.

LIGHTING
Planting virtual trees: the challenge of meeting LEED requirements for light-pollution reduction
Reducing the amount of obtrusive light in an outdoor-lighting scenario while also minimizing the carbon footprint of the lighting system presents a difficult challenge, writes MICHAEL SMOLYANSKY.

STANDARDS
LED-based products must meet photobiological safety standards: part 1
The reappraisal of the place of LEDs in safety standards has had a significant impact on the process of bringing to market not only LED-based products, but any product containing non-laser sources of optical radiation, writes LESLIE LYONS.
FABRICATION
LED wafer and automation standards are on the fast track, ready for more industry feedback
Thanks to SEMI's HB-LED manufacturing standards program, the industry is taking the first steps towards agreement on basic issues such as wafer dimensions and equipment interfaces to enable low-cost automated production, explains PAULA DOE.
FOCUS ON
Entertainment lighting at PLASA
PLASA, the annual tradeshow for event, installation and entertainment technology, took place on September 11-14, 2011 at Earls Court in London, UK. TIM WHITAKER reports.
STANDARDS
Understanding the difference between LED rated life and lumen-maintenance life
The rated life of an LED light source is different from the lumen-maintenance life, and is an essential reliability value that is required by luminaire makers and end users, as JIANZHONG JIAO explains.
DESIGN FOCUS
Unique desk lamp designs combine LEDs with heat pipes, and OLEDs with carbon fiber
Two desk lamps make the best of LED and OLED technology, respectively, although their price range is probably out of the reach of most consumers, writes TIM WHITAKER.
CONFERENCE REPORT
LEDs headline at SALC, speakers predict significant efficiency gains
SSL technology dominated both the sessions and exhibits at the annual Street & Area Lighting Conference, reports MAURY WRIGHT, and LED-based lighting that is already succeeding based on efficacy will soon deliver significant additional power savings.
BACKLIGHTING
Quantum dots unleash high-color-gamut performance in LED backlit displays
Quantum-dot technology can be used in LCD BLUs to create an optimized spectrum that enables brighter, more-efficient displays with vibrant colors, writes JASON HARTLOVE.
FOCUS ON
Indoor lighting applications
In the world of LEDs, we see many outdoor lighting applications. But the conditions that LEDs experience indoors are not necessarily as predictable as one might expect. LAURA PETERS reports.
OPTICS
Tunable lenses offer compact solution to combine floodlights and spotlights in one product
A luminaire's beam angle can be flexibly adjusted using a tunable-lens technology in which the shape of the lens can be adjusted, as JOERG WERTLI and MICHAEL BUEELER explain.
DESIGN FORUM
Driving alternate banks of LEDs improves efficacy
A power-management technique that alternately lights one bank of LEDs at a time can deliver greater efficacy for displays and lighting, as EZANA HAILE describes.
LAST WORD
LED modules sit at the confluence of numerous technologies
Synergistic electronic, optical and lighting technologies are revolutionizing LED luminaires, says DAN MCGOWAN, an Engineering Manager with MOLEX INC.

+++ Columns/departments +++

COMMENTARY
Lighting market reflects economic uncertainty

NEWS + VIEWS

Osram, Panasonic accelerate production of OLED lighting

IES approves TM-21 for projecting LED lumen maintenance

Lighting market slowdown affects Osram IPO, MOCVD sales

GE Lighting's Irick says reliable, system-level SSL solutions will prevail

Cree launches TEMPO luminaire testing program

Lighting for Tomorrow announces 2011 winners
FUNDING+PROGRAMS
Zeta LED uses UK funding to develop unique LED lamp

Europe says goodbye to 60W lamps

DOE Gateway report shows superior quality of LED lamps when illuminating artwork