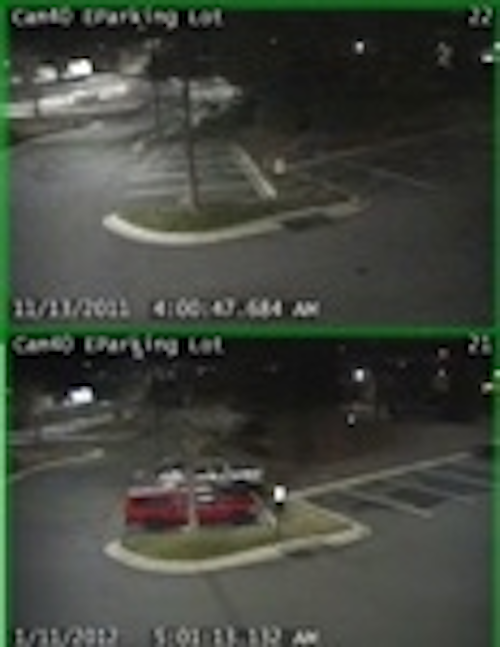 +++++
This article was published in the June 2012 issue of LEDs Magazine.
View the Table of Contents and download the PDF file of the complete June 2012 issue, or view the E-zine version in your browser.
+++++
Marriott International's 900,000- ft2 (83,600 m2) headquarters located in Bethesda, MD, has installed LED lighting from GE Lighting Solutions throughout the facility. The complete indoor and outdoor lighting upgrade has provided a 66% reduction in energy usage for the lighting system. Each year, Marriott expects to use 860,000 kWh less of electricity and will save $120,000 in combined energy and maintenance costs.
However, it is the better quality of lighting and the fact that lighting controls and motion detectors have been tied into the company's surveillance system that has improved the safety of the 3000 employees on the premises.
"The real payoff came that first night we turned the lights on. The light output was so much better than what we had previously – the color, the distribution of the light – I knew we had made the right decision," said Jim Young, vice president, corporate facilities for Marriott International, Inc.
Parking lot and garage safety
"The parking lot and garage were dim and poorly lit and Marriott executives started to get complaints from employees who worked late and came in early," explained Sean Veit, associate product manager of GE Lighting. "They knew they had to address their lighting situation because they had primarily a metal-halide system that hadn't been re-lamped in over five years."
Marriott purchased outdoor LED light fixtures from three vendors and compared their performance for a year. "We preferred the output and uniformity of GE's Evolve LED lighting," said Young. "GE performed a comprehensive lighting audit of our existing system, provided photometric analysis with 3D renderings of the new system, and forecasted our energy and maintenance savings. GE excelled as both a trusted strategic consultant and solutions provider," added Young.
Security and energy savings were top priorities when considering new lighting to cover the nearly two million ft2 (45 acres) of parking and garage space at Marriott headquarters (Fig. 2). Veit explained that the outdoor area included around 400 metal-halide fixtures and 200 mercury-vapor fixtures. "The ballasts of the mercury-vapor lamps had been legislated out in 1998 or 1999, so a lot of rewiring was required on those fixtures, but the decision was made to go to nearly all LED." The outdoor lots are now lit by more than 230 Evolve LED area lights, while the parking deck has nearly 400 Evolve LED garage light fixtures (Fig. 2), several Evolve LED tunnel lights and efficient GE T8 fluorescent lamps. Collectively, a 280W reduction per outdoor lighting fixture is expected to reduce electricity use by 580,000 kWh/yr, equating to $70,000 in utility cost savings.
"Our LED area lights consume between 97W and 220W and were designed to replace traditional 400W to 1000W high-intensity discharge systems that can spill and waste light," said Steve Briggs, vice president of product management and marketing for GE Lighting Solutions.
Veit explained that in the garage area, roughly 150 motion sensors are in place. "So at 2 am, if motion is detected, the lights that are currently dimmed to around 30 percent will automatically raise to 80 percent light output level. This is tied into the security system, so a camera will instantly show the security guard whether there is a deer in the garage or if something is going on that he should know about. That was a functionality that Marriott was very excited about." Before and after photos taken with the security camera (Fig. 1) show the improved light output and distribution in the parking lot.
The corporate sign that welcomes visitors to the Marriott headquarters had a problem with moisture penetration, which often shorted out the ballast and led to frequent repairs. GE installed its Tetra PowerStrip LED lighting to remediate this reliability issue.
In addition to its parking lot and garage lighting, Marriott coordinated with Montgomery County government officials to replace 32 180W metal-halide street lights along the road that serves its headquarters and neighboring companies. With the initial cost of GE's 106W Evolve LED Roadway Cobrahead fixtures covered by Marriott, the county will realize an energy savings of using 10,000 fewer kWh each year or $1200 in annual energy savings.
Indoor LED retrofits
As with the outdoor area, all of the indoor LED retrofits were 1:1 replacements for existing bulbs. But when it comes to the bottom line, Young stated "The unspoken thing we are very excited about is the maintenance and labor savings." He described how scaffolding had to be constructed once a year from the basement level to the second floor to replace the twelve 90W bulbs in the atrium area (Fig. 3), a task that was performed on the weekends. The company replaced the bulbs with 20W LED PAR38 lamps that are rated for 50,000 hours, which could allow the company to avoid the use of scaffolding for up to seven years.
Veit explained that the calculation of maintenance savings was a combined effort between Marriott and GE Lighting personnel. "They were able to look at invoices from their contractors to calculate the yearly spend in day to day maintenance and the yearly cost associated with replacing ballasts or lamps when they went bad," he said. "Then we all agreed on what percentage would be saved with the new LED lighting system, because no system requires zero maintenance."
The headquarters has eight floors, which is lined with hallways containing artwork lit by halogen track lighting. GE replaced approximately 1000 65W incandescent bulbs with 7W LED PAR20 lamps in all hallways (Fig. 4). The 58W difference will deliver a nearly $18,000 savings (150,000-kWh) in electricity expense over 261 working days.
Veit described the challenge of providing improved lighting in the Marriott auditorium, which has a 12-foot ceiling and had used a combination of halogen lamps, CFL lighting and a dimming system. "The auditorium had insufficient light levels for their needs and they were reluctant to implement traditional LED lighting because of concern over glare with the relatively low ceiling height," said Veit. In addition, while the halogen lights could be dimmed, the CFLs could not. The lighting retrofit was able to utilize the existing dimming system while installing 140 GE 12W LED BR30 lamps with plastic shrouds that control glare. The auditorium now has higher light levels, is fully dimmable and saves $2300 annually in energy cost.
In the building's lower level, a combination of 4×4-ft and 1×4-ft fluorescent fixtures were replaced with 72 GE Lumination 2×2-ft recessed LED troffers. When illuminated, the fixtures produce even illumination. While off, they appear free of a light source and provide a soft glow. The replacement produced a dimmable, more elegant and uniform look in the company's lunchroom and day-care area.
Conclusions
Marriott's comprehensive LED update at its headquarters was performed over a 14-month period and has decreased annual electricity use by 66% (680,000 kWh outside, 180,000 kWh inside), reducing energy expense by an estimated $104,000. Maintenance mitigation will yield an additional $210,000 savings over the next decade for a total return exceeding $120,000 a year. To offset the upfront cost, Marriott is receiving $50,000 in rebates from the local utility provider and $70,000 in EPACT (accelerated depreciation) savings. The payback period should be slightly more than two years.
Marriott received LEED Gold certification in 2010, which the company stated followed three years of work on its 30-year-old building. Efforts such as the LED lighting upgrade have contributed to the maintenance of its LEED certification and ongoing efforts to reduce its energy consumption year-over-year.