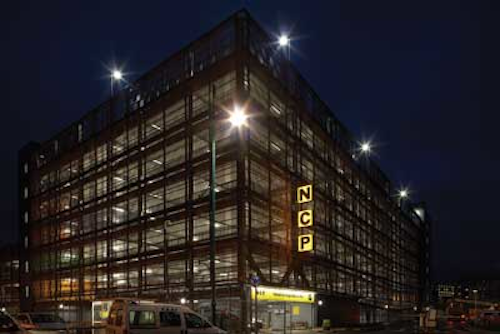 A nationwide project to replace fluorescent lighting with low-wattage LEDs in car parks across the UK stands out, not only for its scale but also for its financing model, reports CAROLINE HAYES.
NCP (National Car Parks), the leading operator of parking garages in the UK, is replacing lighting in each of its 500 facilities in towns, cities, airports, and London Underground and National Rail locations to reduce CO2 emissions by around 11,000 metric tons per annum — without any capital investment from the car park company. Indeed, the massive project is unique in terms of scale and financing and may serve as a model financial structure for both commercial and municipal entities around the globe that desire to retrofit legacy lighting with energy-efficient LEDs but also struggle with the upfront cost of solid-state lighting (SSL).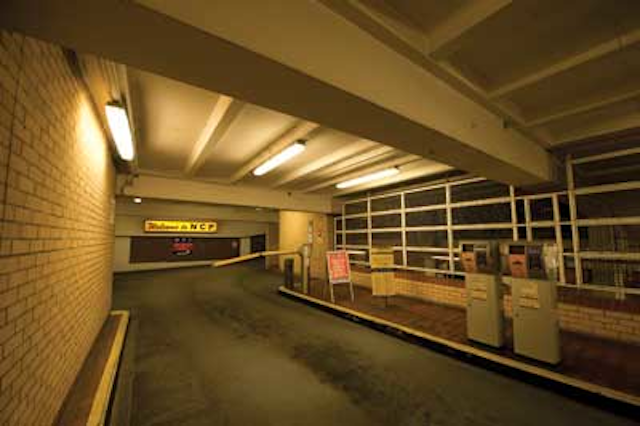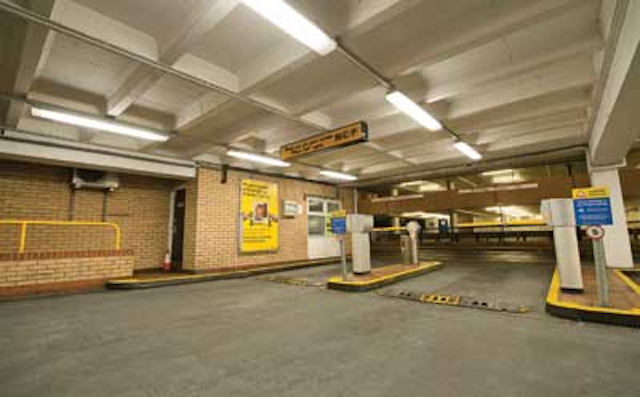 The lively seaside town of Brighton attracts many visitors; the town's NCP car park is shown before the retrofit (top) and after (bottom).
NCP was founded in 1931, when there were considerably less than the 32 million cars that are now on Britain's roads alone. Today, it maintains and operates over 500 roof-deck, open-surface, and multistory car parks up and down the country, with more than 150,000 car parking spaces.
Replacing the portfolio of car parks' lighting for a safer, more energy-efficient environment is a two-phase project funded by Miami, FL-based Future Energy Solutions (FES) and the UK Green Investment Bank. The project is noteworthy in terms of size and deliverables. "There is nothing like it in Europe," said Marcus Brodin, commercial director of funding partner FES. "Instead of 5,000 to 10,000 luminaires, this project involves 60,000 to 70,000 luminaires."
It has been an aggressive plan, reported Brodin, with phase one beginning January 6, 2014 and ending in July, with the installation of 66,000 luminaires. This phase concentrated on multistory car parks, where the legacy fluorescent lights suffered degradation over time, and the nature of the car parks is that lights were left on for long hours, which further compromised lifetime.
Legacy fluorescents
The majority of the fixtures (95%) used before the £10 million (approximately $16 million) retrofit were single, thin T8 fluorescents. These incurred maintenance costs, with regular replacements required and a degradation of the lumen output during its lifetime. Even given the large scale of NCP's business, lighting maintenance was a significant operating cost.
There can be failure rates of up to 20% using fluorescents, according to Brodin, in addition to the degraded light over the lifetime of the fluorescent light. In the point-to-point replacement project, the 58W T8 fluorescent bulbs, drawing 64W to 69W including the ballast, were replaced with 29W or equivalent LED fixtures. Sometimes, these were 21W to 25W LEDs, said Brodin.
As a result, the lumen-to-wattage ratio or efficacy in the facilities is among the best on the market, says Brodin. A three- to four-month roadmap set out how to achieve the impressive efficiency numbers. The 80-lm/W legacy lights were replaced with those that achieve 110 lm/W.
The replacement low-voltage LED fixtures were tailored to the requirements of the car parks, with varying lux levels as needed at floor level, on ramps, in underground areas, and in open-surface car parks, for example.
A twin body installation was created for each light, whether it held a single luminaire or a board of LEDs. The double-body housing held advantages for light spread, explained Brodin, and the volume required for the project meant that there was no price penalty for the design. The structure results in less glare from the new LED fixtures, while providing sufficient light for security and safety in the public spaces. The improved diffusion of light is better suited to car park users suffering from light sensitivity or epilepsy, noted Brodin. The fittings also had to be robust and as secure as possible to deter theft.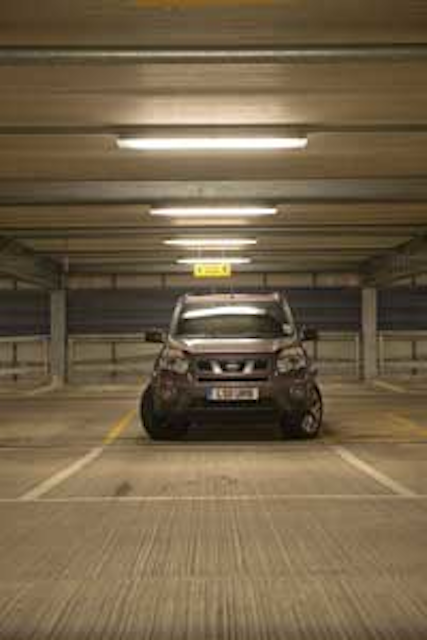 Although the university town of Cambridge is characterized by its bicycle-riding students, other visitors benefit from the bright interiors of the NCP car park there.
Controls and daylighting
Daylight energy harvesting and motion sensors were fitted in half of the luminaires installed. This was a premium requirement, according to Brodin. Their inclusion prolongs the life of the luminaire and increases energy efficiency. Indeed, there are passive-infrared (PIR) motion controls in more than half of the luminaires, as well as daylight harvesting, with the remainder being standard or emergency fittings.
FES replaced the housing, driver, diffuser, and light on a point-for-point basis. None were re-sited, or added, but replaced with low-wattage LEDs.
The value of the project in terms of full-lifecycle client savings is estimated around £30 million (approximately $48 million). This is made up of extended lifetimes of operation, energy savings, lower UK green tax payments, and lower maintenance costs and disposal costs.
The lighting control policy jointly created by NCP and FES was to realize 65% energy savings. This was exceeded in some areas, according to Brodin. Savings rose to 80% in some locations, attributable to the energy harvesting and the ability to turn off lights when an area is empty for periods of time. Brodin estimated that the savings per unit to NCP over the life of the LED is between £430 and £460 (approximately $688 to $736). In addition to the reduced service and maintenance costs achieved by the longer-life LED lighting system, NCP will also reduce CO2 emissions and mono-nitrogen oxide by 240 lb per annum — the equivalent, noted Brodin, of 10,924 trees being saved.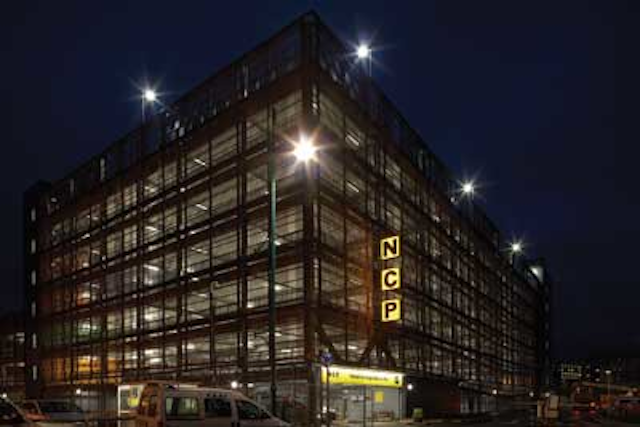 In the north of the country, the Stockport NCP car park is a beacon for the weary traveler trying to find somewhere to park.
Financing and sustainability
NCP's CEO Jo Cooper was delighted with the progress made in the first half of the year. "We are already experiencing the benefits of LED technology," she said. In addition to saving nearly £26 million (approximately $41.6 million) over the lifetime of the new luminaires, the project supports the company's own corporate responsibility policy. Financially, she explained, "Future Energy Solutions and its funding partners have tailored a deal for us which is off-balance sheet, requires no upfront investment, dramatically reduces our operational costs for an extended period, and reduces our energy use substantially."
The financing of the scheme is such that FES designs and installs energy-efficient lighting for commercial and industrial use without requiring any capital from NCP. Remuneration will be through the savings made in the energy bills realized by NCP. The difference between the previous energy consumption and that of the new scheme will be calculated, and the difference will be split between FES and NCP as a profit share.
Phase two runs from July to December and will focus on replacing around 30,000 luminaires in roof or open-surface car parks, as well as the remaining multistory car parks around the UK. This is the first transport infrastructure project under the Government's UK Guarantees scheme, whereby the Treasury assesses a scheme and, if it meets approval, issues a guarantee for the project.
FES' UK division is a lighting design, technology, and manufacturing group that works with European manufacturers for European-based clients. (It has a different business model for its US arm, which is based on a single-rep network.) The UK Green Investment Bank was created by the UK Government in 2012 to attract private funds to finance environmental preservation and improvement projects.
As Brodin observed, "Car parks are unloved, neglected places," although this perception is changing as this nationwide project continues. It is altering the car park landscape with well-lit, safe, and energy-efficient lighting schemes that welcome and reassure the user.
CAROLINE HAYES is a contributing editor with LEDs Magazine.