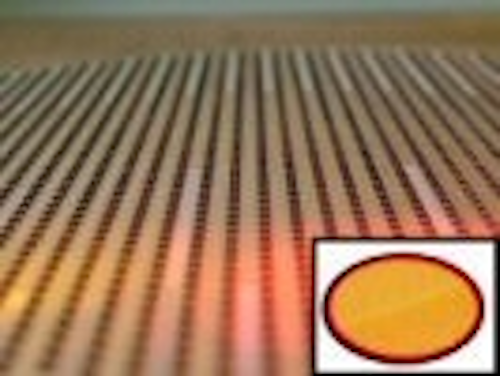 NEWS & ANALYSIS
• Lumileds reports 115 lm/W and 136 lm from white LEDs at 350 mA
• Nonpolar and semipolar GaN LEDs show great improvement
• UL initiates safety certification for LEDs and fixtures
• Fiber optic technology delivers versatile LED-based illumination
• LED luminaires fall short in initial round of testing by DOE
• DOE releases draft Energy Star requirements for SSL luminaires
CHIP-ON-BOARD TECHNOLOGY
High-power LED arrays use optimized chip-on-board technology for brilliant performance
In order to reap the benefits of high power LEDs, special requirements concerning thermal management and opto-mechanical layout have to be met, explains Oliver Kückmann of PerkinElmer ELCOS GmbH.
VEHICLES
LEDs create definitive lighting statement in the Lincoln MKR concept car
A star of this year's Detroit Auto Show, the 2007 Lincoln MKR concept features some very advanced lighting concepts enabled by LED technology, writes Robert Miller.
CHIP TECHNOLOGY
MOCVD growth systems respond to demand for higher LED productivity and yield
Manufacturers of equipment used to grow LED layer structures have introduced new systems capable of depositing even more material in a single run, in response to customer demand for higher throughput and more cost-effective production.
ARCHITECTURAL
Giant architectural and entertainment projects showcase LED capabilities
Several recent projects have underscored the incredible effects that can be achieved with color-changing LEDs on large-scale architectural and entertainment projects, blurring the boundaries between displays and lighting.
OLEDs
OLED light sources advance towards the lighting market
Organic light-emitting diodes could soon open up a whole new range of lighting applications if their current pace of research and development continues, writes Siân Harris.
SUSTAINABLE LIGHTING
From fossil fuels to solid state for household lighting: a "small" solution for a large problem
For a number of years, Light Up The World Foundation has been at the forefront of efforts to bring LED lighting to the developing world. LEDs Magazine spoke with LUTW founders Dave Irvine-Halliday and Ken Robertson to get an update on the Foundation's activities.
MOBILE APPLICATIONS
Supercapacitors brighten prospects for power LED flash in camera phones
The combination of power LEDs and supercapacitors could provide the crucial breakthrough that will enable high quality LED flash in camera phones, with low current draw and small form factors.
LED LEADERSHIP SUMMIT
Lighting market and global energy dilemma stimulate calls for an LED industry association
In the first of a series of columns for LEDs Magazine, Jed Dorsheimer of Canaccord Adams presents thoughts from the 2006 LED Leadership Summit, including a call for the formation of an LED industry alliance.