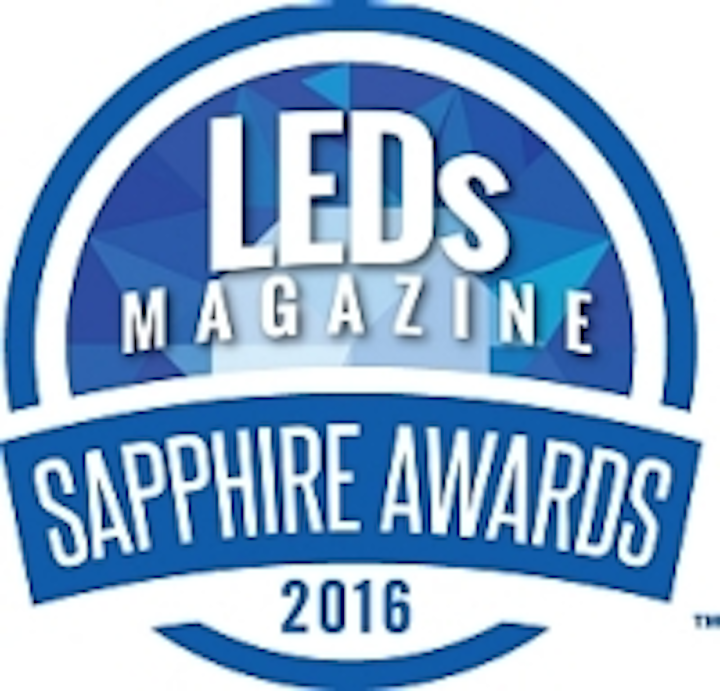 Nashua, NH / February 4, 2016 —LEDs Magazine is thrilled to announce that it has selected three finalists for the prestigious 'Illumineer of the Year' Award as part of the annual Sapphire Awards program. This award is given in recognition of a person or team that is responsible for an especially noteworthy development in the LED-centric technology sector. All of this year's finalists were instrumental in solid-state lighting (SSL) technology developments that have to potential to profoundly impact the lighting industry by enabling higher-quality lighting installations and lower product and/or operational costs.
Get the latest Sapphire Awards program and Gala details

"With the 'Illumineer' element of our Sapphire program, we seek to find technology leaders that conceive and execute on innovations that can truly drive SSL adoption forward," said Maury Wright, editor of LEDs Magazine. "We congratulate these finalists for innovation that has the potential of delivering superior lighting and great human experiences along with the anticipated efficiency of LED technology and ultimately cost savings."

Lumileds
Lumileds CSP LED development team
Rao Peddada, Sridevi Vakkalanka, Rajat Sharma, Ken Davis, and Richard Gao
Digital Lumens
Digital Lumens LightRules and intelligent lighting portfolio
Brian Chemel
Kenall Manufacturing
Kenall TekLink controls platform
Bill Blackley, Kevin Dahlen, and Joe Welch

Click hereto see detailed descriptions of each team's innovative lighting solutions.
SLIDESHOW: LEDs Magazine Sapphire Awards finalists in technology & application categories
The Sapphire Awards Gala where we will announce the winners will take place from 7:30pm - 11:00pm at the Santa Clara Convention Center in Santa Clara, CA on March 2, 2016. The event will be a can't-miss highlight for attendees of the co-located Strategies in Light and The LED Show conferences and exhibit floors. To purchase tickets to the awards gala dinner, click here.

ledsmagazine.com/sapphireawards
About LEDs Magazine
LEDs Magazine is the leading information resource for the global LED and lighting community, serving thousands of readers that specify, design, and manufacture LED-based products for a wide range of end-use applications. Its key value proposition is to offer well-written, unbiased, and informative editorial content to more than 63,000 subscribers. LEDs Magazine provides news and product information on a daily basis in combination with in-depth technical articles, analysis, and case studies. For additional information about LEDs Magazine, visit www.ledsmagazine.com.
About PennWell Corporation
PennWell Corporation is a privately held and highly diversified business-to-business media and information company that provides quality content and integrated marketing solutions for the following industries: Oil and gas, electric power generation and delivery, hydropower, renewable energy, water and wastewater treatment, waste management, electronics, semiconductor manufacturing, optoelectronics, fiber-optics, aerospace and avionics, LEDs and lighting, fire and emergency services, public safety, and dental. PennWell publishes over 130 print and online magazines and newsletters, conducts 60 conferences and exhibitions on six continents, and has an extensive offering of books, maps, websites, research and database services. In addition to PennWell's headquarters in Tulsa, Oklahoma, the Company has major offices in Nashua, New Hampshire; London, England; Houston, Texas; San Diego and Mountain View, California; Fairlawn, New Jersey; Moscow, Russia; and Hong Kong, China. For additional information about PennWell Corporation, visit www.pennwell.com.
Contact:

Kim Ayer, Marketing Manager - LEDs Magazine Sapphire Awards
+1-603-891-9204
E-mail:

Web site:

ledsmagazine.com/sapphireawards
Submit new products, case studies/projects, and other press releases at http://www.ledsmagazine.com/content/leds/en/addcontent.html.

More from LEDs Magazine Sapphire Awards:
LEDs Magazine announces second annual Sapphire Awards finalists
Lighting industry leaders prepare to select 2nd Annual Sapphire Awards winners