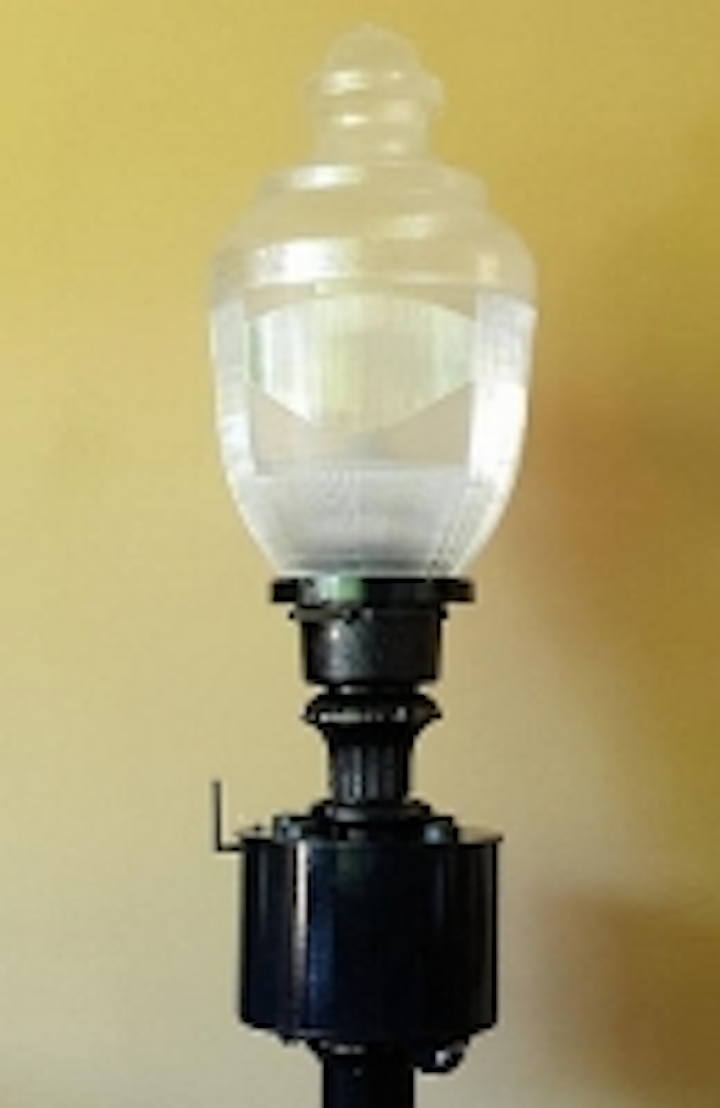 Patented Teres retrofit kit - saves energy, reduces risk

With an easy-to-install retrofit kit, PennSMART® can convert an ordinary city light fixture into an architecturally pleasing, smart and connected lighting structure that provides surveillance, security and savings.

Interested in more articles & announcements on smart lighting?

PennSMART's round-shaped Teres retrofit kit easily transforms an existing light fixture into Smart IoT street lighting.

The PennSMART® Teres Smart IoT® Lighting universal retrofit kit is compatible with any post-top street light fixture regardless of manufacturer. Watch the video to see how easy it is to install PennSMART's Teres retrofit kit.

The Teres retrofit kit standard package includes two high-quality cameras that provide 360-degree visibility "under the trees", a gun shot sensor, speakers for streaming audio, and cost-efficient LED illumination programmable via a 4G wireless connection. Fit-to-purpose custom features include facial mapping, glass break sensors, precipitation sensors, emergency blue lights, video cameras, data collection, digital signage and more.

"This is a bright new era for smart city solutions and a giant leap for the lighting industry, setting new smart standards for municipal and security lighting," said PennSMART CEO Marcia LaFemina. "PennSMART has created an affordable solution for smart IoT outdoor lighting - with a small profile that doesn't compete with existing design. It's adaptable with proprietary back-end software architecture for real-time security notification." LaFemina added.

PennSMART Teres Benefits
• Crime prevention - sensors detect motion and sound, programmable to trigger alarms
• Police/Security notification in real-time (within 3 seconds)
• Reduces risk and potential liability
• Security surveillance "under the trees" where vision is not obstructed
• Energy and cost savings through LED lighting platform
• New levels of safety and surveillance for cities and municipalities, universities and schools, hospitals, amusement parks, senior communities, police and first responders, business owners, pedestrians, students, residents and visitors

PennSMART Teres Features
• Cameras for security and surveillance
• Secure Wi-Fi connectivity
• Audio speakers for alerts, notifications, community broadcasting
• Sensor options (e.g. motion, gunshot, glass break, precipitation, air quality, etc.)
• Lighting controls to increase energy efficiency

For more information about the PennSMART® Teres IoT retrofit kit and other lighting solutions for security and public safety, visit www.pennsmartlighting.com or call 203-484-7749.

Penn Globe has installed lighting from Disneyworld to the ivy leagues of Princeton, Harvard and Brown, plus numerous municipal locations.

About PennSMART®
PennSMART®, a division of Penn Globe (The Pennsylvania Globe Gaslight Company) offers complete M2M solutions for lighting, security and public safety of cities, towns, university campuses and other public spaces. The company's energy-efficient and LEEDS-certified Smart IoT® Lighting systems provide real-time access to the newest innovations in monitoring, surveillance and data collection technology.

About Penn Globe (The Pennsylvania Globe Gaslight Company)
Penn Globe, known for legendary lighting and innovation, first brought gas-powered street illumination to America in 1877. A family owned and operated manufacturing company, Penn Globe uniquely combines world-class craftsmanship with state-of-the-art lighting technology. Energy efficiency and sustainability drive Penn Globe's research and development design team to deliver excellence in photometric performance. The company manufactures gas and electric HID gaslights, fluorescent, induction, energy-efficient and LEEDS-certified LED luminaires and, through its new PennSMART division, IoT lighting solutions for smart cities, higher education campuses and other public spaces. The company is located in North Branford, Connecticut www.pennglobe.com.



Contact:
Marcia Simon - for PennSMART
+1 860-395-7244
E-mail:
Web site:
www.pennsmartlighting.com

Locate more smart lighting vendors in the LEDs Magazine Suppliers Directory

Submit new products, case studies/projects, and other press releases at http://www.ledsmagazine.com/content/leds/en/addcontent.html.

More from PennSMART:
PennSMART brings IoT lighting systems and streetscapes to smart cities, municipalities, and campuses