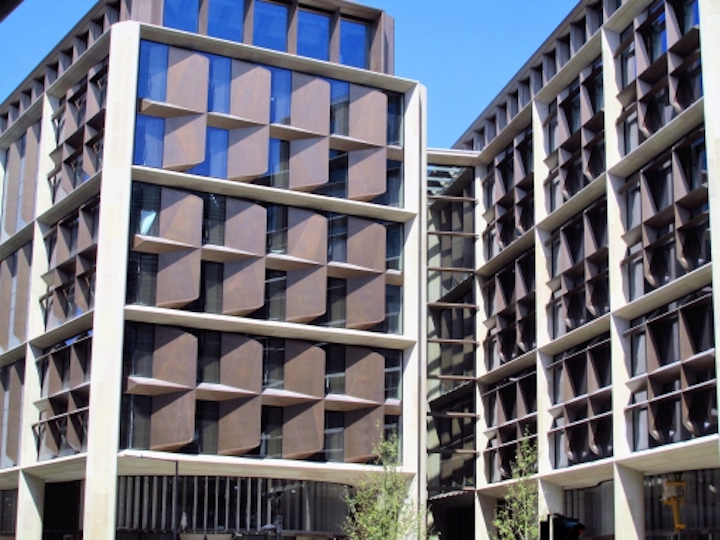 Smart lighting will need the property industry's backing if it is to really take off. It could be happening already, judging by next week's annual exhibition and conference.
We've said it before, we'll say it again: If the lighting industry is going to truly establish itself as an indispensable part of data-connected smart buildings, then it's going to have to make good friends with the world's multi-trillion-dollar property industry.
And if the LuxLive 2018 exhibition in London next week is any indication, then it's safe to say that the two industries are certainly making advances with each other.
The annual lighting show will literally put the property industry on center stage this year, positioning a conference called Property Technology Live as the sprawling show floor's focal point, running two full days of back-to-back-to-back presentations and debates about how lighting companies can make buildings smarter via Internet of Things (IoT) and cloud data analysis.
The non-stop discussion will come not just from lighting vendors.
Rather, heavy hitters from the real estate services and investment industry will provide insights and examples of how lighting technology can become integral in the movement to make buildings far more intelligent than they already are. They will include representatives from, among others: $14.2 billion Los Angeles-based CBRE; from $7.9 billion Chicago-based JLL; from one of the UK's largest real estate investment firms, British Land — the company whose many high-profile associations include the modern London skyscraper known as the Cheese Grater; and shared workspace upstart WeWork.
Also in the mix is architectural firm Foster + Partners, designers of Bloomberg's European headquarters in London, an award winning smart, innovative building.
Real estate industry takes the spotlight at LuxLive 2018
Architects Foster + Partners will show how integrated services and controls contributed to helping to make the new Bloomberg European headquarters in London a smart, sustainable building. The new facility recently won Britain's prestigious RIBA Stirling architectural prize. (Photo credit: David Holt via Wikimedia Commons.)
In case you haven't heard, buildings are set to become smart and intelligent as they collect data about what's happening inside and outside of them. Sensors and communication chips that can reside inside luminaires will help improve not only lighting efficiency and effectiveness but will also improve other facility operations, such as HVAC and security. They will also combine with data analysis to help facility managers know when to reassign, add, or subtract space. And they will deliver many other benefits, such as helping people find their way around buildings, helping retailers know how to better engage in-store shoppers, and helping to track physical assets, just to name a few.
As Rick Jacobs, CBRE managing director for Benelux and France tells LEDs Magazine in an upcoming feature story about a CBRE lighting-based smart building deployment (watch for it next week during the event): "This proposition is not about lighting. Lighting is just the medium through which data flows."
Property Technology Live panelist Akshay Thakur from JLL would certainly agree that data is the all-important ingredient. In a Q&A published by Lux last week, Thakur described "making it all data driven" as the number one priority in any smart building deployment. "Whether it's lighting or HVAC or other building subsystems, it's the ability to share the data between these systems [that] rolls out into a real return on investment, which will sell these smarter building solutions," Thakur told Lux.
One challenge facing the lighting industry is that the technologies — the sensors, chips, and Internet connections — do not have to reside in the lighting infrastructure. As the lighting industry morphs into more of an IT industry, it will compete against (and partner with) more traditional IT companies. To that end, some lighting companies are beginning to spread their wings by offering smart building technologies outside of the lighting infrastructure, as well as inside of it.
For example, as LEDs wrote recently, lighting giant Osram has teamed with German digital consulting firm mantro GmbH to outfit the offices of two Lithuanian property firms with a set of occupancy sensors and software, all mounted independent of the lighting system. Of course, Osram is also pursuing a lighting-based smart building route via its Lightelligence platform, evidenced most recently by its partnership with Boston-based software firm Rifiniti to outfit luminaires with intelligence tied into cloud data analysis.
Osram is scheduled to participate in at least three presentations at Property Technology Live, where conference chairman Mark Halper (LEDs Magazine's contributing editor, and the writer of this story) is sure to ask the company about when to tap the lighting infrastructure versus when not to.
He is also sure to ask about the privacy and security implications of it all. In fact, that theme will be fully explored in one debate focused on IoT data and privacy by panelists from Osram, JLL, IoT lighting specialist Gooee, and others.
Property Technology Live will also feature plenty of tech talk. For example, Silvair will provide updates on the state of Bluetooth Mesh and the progress it is making toward ushering in large scale smart lighting projects. Holland's Chess Wise will present on its own twist on lighting-based communications. PureLiFi will hold forth on the latest developments in Li-Fi, the Wi-Fi-like technology that uses LED light waves rather than radio signals to deliver Internet service. Gooee will present on how lighting, HVAC, security, and the Internet are converging into one system; and Philips — the OEM portion of Signify — will discuss how to use its technology. Signify will give on overview of lighting as a tracking technology. Power over Ethernet should factor into the conversations as well.
And lest "lighting" be forgotten among all the "IoT" talk, British fitness apparel maker Gymshark will give a presentation on how adaptable human-centric lighting improves the work scene at its new Birmingham facility.
The common threads across the two days will be the importance of data, and, as the name of the conference implies, the importance of the property industry, which is clearly positioned to play a hugely influential role as end user, middleman, and influencer. A 2016 tally by London real estate group Savills pegged the global property market at $217 trillion. If smart lighting could piggyback on that, it would be in for one heck of a ride.
–
LuxLive 2018 and its Property Technology Live conference — one of eight conference tracks at the exhibition — takes place next Wednesday and Thursday, Nov. 14thand 15th, in London.