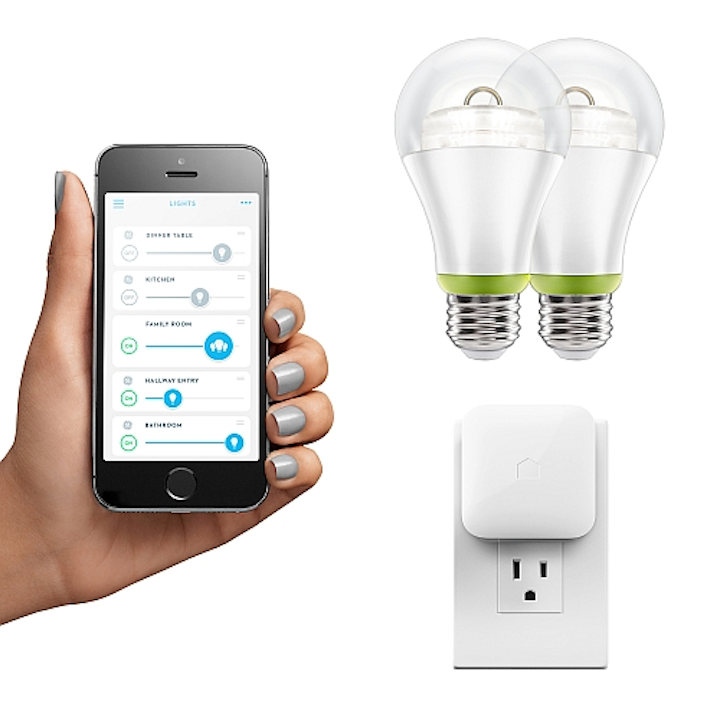 GE Lighting has announced the Link family of LED-based lamps that integrate ZigBee wireless connectivity and enable smartphone-based control of lighting. The solid-state lighting (SSL) products significantly undercut the market for ZigBee-based lamps, with the A19 lamps selling at Home Depot for just under $15 in the US.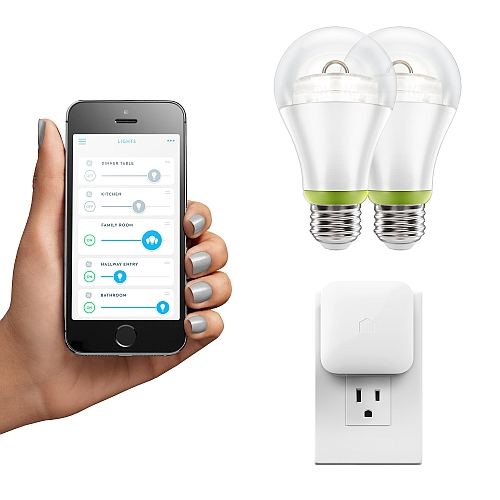 GE Lighting unveils wireless Link LED lamp family and starter kit
For now, the lamps will be available online from Home Depot with products coming to in-store shelves this fall. As of the morning of June 30, the retailer's website was promising delivery of the lamps within a week including the 60W-equivalent 2700K A19 lamp, the 65W-equivalent 2700K BR30 lamp, and the 90W-equivalent 3000K PAR38 lamps. The products are priced at $14.97, $19.97, and $24.97, respectively.
Related article: Wired and wireless interfaces convey dimming settings to luminaires
While there are some low-cost Bluetooth-based wireless LED lamps on the market, GE has entered the space under the level at which most ZigBee-based lamps are selling. And ZigBee offers a more robust wireless environment with persistent connection to the networks of lighting products whereas Bluetooth is a short-range one-to-one technology. For a ZigBee lamp price comparison, the white Hue Lux product announced by Philips Lighting at the Light+Building trade fair is selling for $40.
GE will also enable lower-cost entry into the ZigBee lighting world since a network hub is a requisite with ZigBee. A Link Starter Kit with a ZigBee bridge and two Link A19 lamps is selling for $49.97 at Home Depot. Note that the low-cost GE ZigBee bridge is designed specifically to work with only GE products according to a spokesperson. But the Link lamps will work with other ZigBee bridges on the market.
Indeed, GE developed the Link family in collaboration with the startup company Quirky and the Wink platform. GE had invested in Quirky starting late last year. Quirky is pursuing home automation and will offer control via the Wink app for Apple and Android smartphones and tablets. Moreover, the company is slated to begin selling its own Wink Home Automation Hub later this week, and that product bridges many types of wireless and wired networks including ZigBee, Wi-Fi, Bluetooth, Z-Wave Plus, and Lutron ClearConnect. The Wink hub is priced at $80.
Related article: Connected Lighting Alliance taps ZigBee Light Link for residential controls
GE recommends that consumers buy the Wink hub and individual GE lamps if the customer wants to control multiple types of products over multiple networks. Indeed, Quirky has its eye on thermostats and other devices. The Link Starter Kit, however, will be enticing to customers that just want wireless control of their lighting.
Ironically, GE Lighting had just announced some wireless lamps at LightFair International that are based on the Lutron ClearConnect wireless platform. Those products are being sold under the GE'telligent brand and apparently GE will support both product lines. Certainly ClearConnect is a more robust system at the moment for commercial deployments.