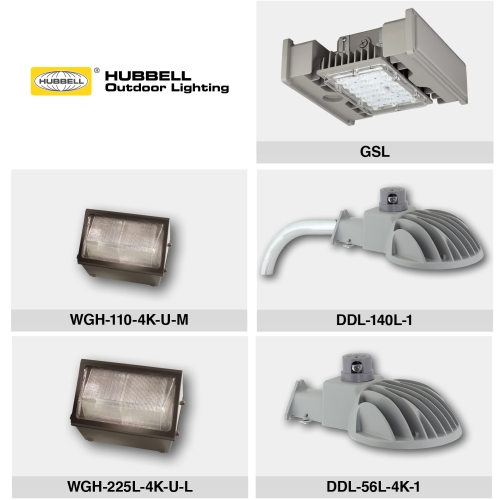 A new LED-based garage fixture replaces 150W to 250W metal halide fixtures while Hubbell also expanded the wallpack line, added a specialty fixture for cranes, and joined The Connected Lighting Alliance.
Hubbell Lighting has announced the GSL LED-based parking garage luminaires designed to replace 150W to 250W metal halide (MH) fixtures. The company also has expanded its line of Dusk-to-Dawn (DDL) and WGH wallpack solid-state lighting (SSL) series for outdoor lighting applications. In indoor-related news, meanwhile, the company has joined The Connected Lighting Alliance that is championing ZigBee wireless technology for intelligent SSL networks.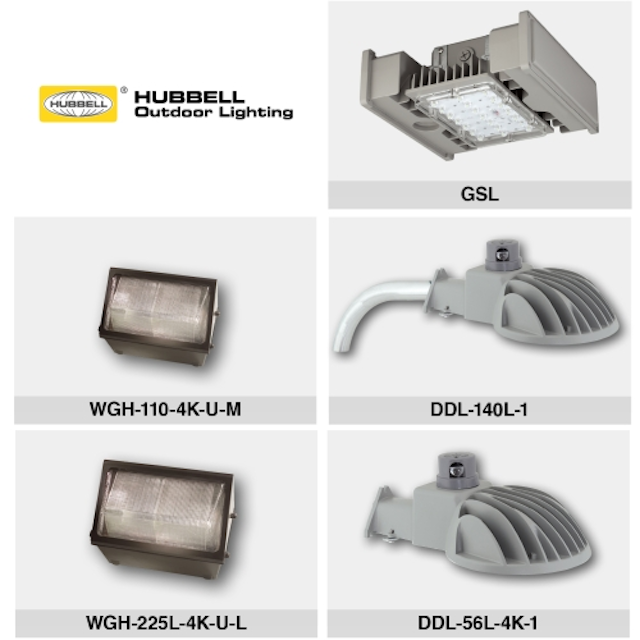 Hubbell expands outdoor solid-state lighting line, joins The Connected Lighting Alliance for promotion of ZigBee wireless technology
The new GSL product is available in a choice of 4500- or 6100-lm packages, at an efficacy level of 81 lm/W, and targets indoor/outdoor lighting applications including parking garages, walkways, building corridors, tunnels, and large stairwells. The optic design can deliver a choice of symmetric or asymmetric beam patterns, enabling the product to fit in such a broad range of applications.
Hubbell also released two new versions of the DDL luminaire family, for roadway and other outdoor area lighting applications, with higher output than prior products. A 5279-lm version enables deployment in applications where higher mounting heights are required, and delivers efficacy of 121 lm/W. The second model delivers 2906 lm and efficacy of 97 lm/W. The products are available with a variety of beam distributions and offer zero uplight performance. For more information on beam patterns, see our feature article on the topic.

In the wallpack area, the company added a higher output product in the medium-size WGH family and debuted a larger luminaire intended to replace 250W to 400W legacy sources for outdoor lighting. The products use borosilicate glass refractors to provide uniform illuminations with minimal glare.
Bridge crane lighting
In a separate announcement, Hubbell introduced the HBLC LED fixture designed specifically for bridge cranes. The product requires 169W of power and can work with AC or DC supplies. The luminaire delivers 16,808 lm at an efficacy of 99 lm/W. Hubbell has tested the fixtures at 3g in 3-axis vibration environments for 100,000 cycles to endure reliability in the demanding application.
And in a third announcement, Hubbell Building Automation (HBA) has said that it joined The Connected Lighting Alliance, an industry organization comprising major lighting vendors. The alliance was formed to first identify wireless network technology that can enable intelligent lighting in residential applications. The alliance has chosen to back the ZigBee Light Link standard. The alliance is now considering standards for commercial indoor lighting.
"The use of wireless technology is one of the most exciting frontiers in lighting control, offering significant benefits over traditional wired solutions for both existing buildings and new construction," said Terry Arbouw, director of business development at HBA. "We look forward to working closely with The Connected Lighting Alliance on the promotion of a unified approach to wireless connectivity."
"We are glad that Hubbell Building Automation, a major player in the field of lighting solutions for commercial buildings, decided to join our alliance," said Simon den Uijl, secretary general of The Connected Lighting Alliance. "This is especially important for our activity regarding wireless connectivity standards for lighting solutions in commercial buildings, as we want to make sure the opinions of all the key players are included."