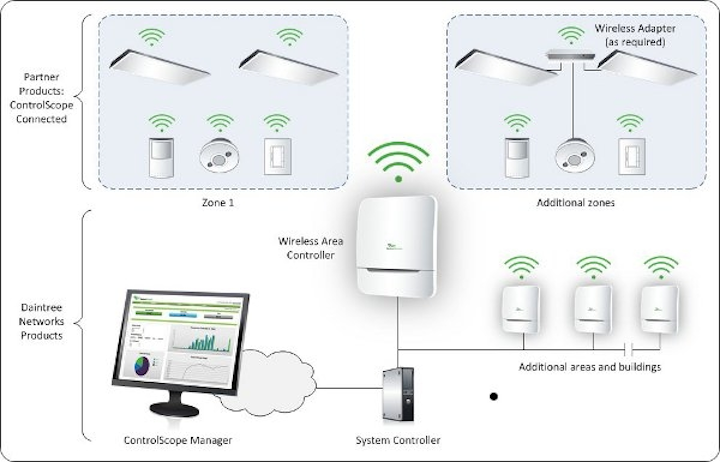 Building owners now have access to the management facilities of Daintree's ControlScope platform without investing in server hardware; Osram delivers Lightify products, while Philips Lighting and Enlighted hope to add intelligence to every fixture.
Daintree has announced the Building Energy Management as a Service (BEMaaS) offering for building owners and managers that want to programmatically control building systems including solid-state lighting (SSL) without the expense of buying a server that can locally host the company's ControlScope software platform. Osram Sylvania is delivering wireless Lightify products to market after announcing the platform earlier this year at Light+Building. Enlighted and Philips Lighting have announced a partnership in which the former's sensor units will be paired with Philips Xitanium SR LED drivers for direct integration into luminaires, enabling intelligent lighting systems.
Cloud-based controls
Daintree's announcement was focused on managing all of the systems in a commercial building including lighting, which is a key system in the picture and in many cases the lighting will be LED based. The company is maintaining its long tie to open standards in terms of wireless networks, while providing a new way to manage the network that does not require a dedicated server in a facility to implement the control strategies.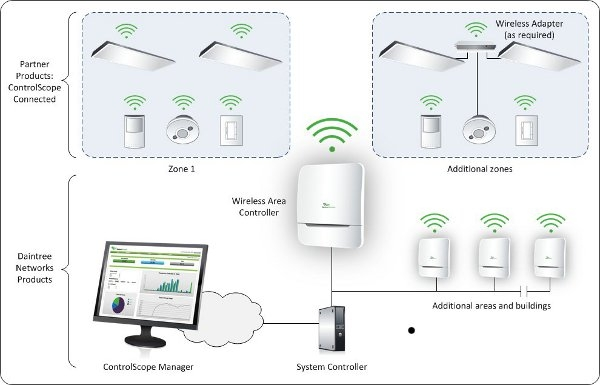 SSL controls: Daintree adds cloud management, Osram, Enlighted and Philips
The cloud-based offering is designed to lower the total cost of ownership (TCO) for building owners and managers looking to programmatically control building systems. Moreover, the implementation will support the concept of the Internet of Things (IoT) in which devices such as SSL lamps and luminaires become network enabled.
"We have seen great success and significant savings on the part of customers who have deployed our on-premises Daintree ControlScope solution," said Daintree CEO Danny Yu. "Now, we're creating an opportunity to achieve success for companies that lack either the resources or the desire to own and manage their building energy control and management system in-house. Devices securely talking to each other within and between buildings with the ability to control them remotely – that's an option we're proud to say we're the first to offer in a comprehensive manner. And, since ControlScope is also the only true open standards solution, which is critical for IoT, ControlScope BEMaaS might very well be the first offering for the Enterprise Internet of Things in the cloud."
To take advantage of the BEMaaS offering a facility need only install a wireless area controller and sensors and controls on building elements such as thermostats, lighting, plug loads, and mechanical equipment such as motors. The facility can then buy monitoring and optimization services to meet their needs and budget, and access the ControlScope platform via the Internet.
Lightfy controls platform
Osram Sylvania has announced initial product plans for its Lightify ZigBee-based wireless network platform for SSL. The company announced Lightify back in April and more recently announced that the network would be compatible with the WeMo platform from Belkin. The initial product will include a cable-free Gateway that bridges Wi-Fi and ZigBee networks. Each Gateway will be capable of communication with 50 network devices using the ZigBee Home Automation protocol.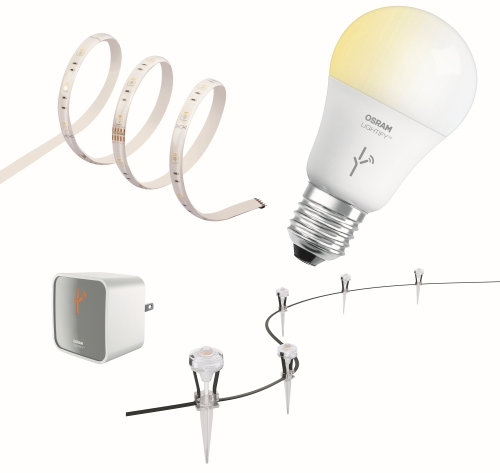 In terms of SSL products, Osram has said that the first offering will be a tunable-white, 60W-equivalent A19 lamp. The product will deliver 800 lm and can be programmed for CCTs ranging from 2700K to 6500K. The company also plans a color-tunable A19 lamp with similar maximum output. Other plans include color light strips and an outdoor garden spotlight.
Control is handled via an Apple or Android smartphone or tablet. Users can choose color or white points in the case of tunable products. Moreover, the Lightify platform will enable new features to be added going forward in addition to the basic on-off controls and dimming.
Enlighted and Philips partner
Enlighted has long focused on sensor technology that can be integrated into SSL fixtures to enable both autonomous and programmatic lighting control for maximum energy efficiency. Philips has a number of network and control technologies including through partnerships, and now will also work with Enlighted for luminaire-level integrated controls.
"This is a gigantic step towards the future of lighting for buildings," said Joe Costello, Enlighted's CEO. "People thought we were crazy five years ago when we talked about integrating a sensor with every fixture, but now the whole world is talking about smart fixtures as the only way to be future proof, code compliant, and IoT enabled. This is the way things will be done."
The Enlighted sensor unit includes a passive infrared (PIR) occupancy sensor, ambient light sensor, and a temperature sensor. The sensor unit can deliver control data to the driver and collect data on power consumption and relative to preventative maintenance. An Enlighted wireless network ties the fixtures to a central control platform. The lighting control products are going to be commercially available this quarter.