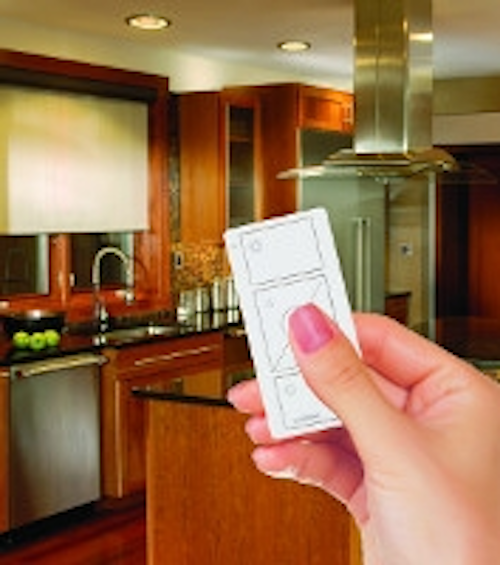 GE Lighting has new 40W- and 60W-equivalent A19 lamps that are cost optimized for mainstream usage, and also announced a wireless dimming solid-state lighting (SSL) floodlight. Walmart announced its Great Value family of house-brand LED lamps with 800-lm models breaking the $10 barrier. Toshiba introduced higher-output A19 and A21 LED lamps designed to meet the latest Energy Star criteria.
GE Lighting low- and high-end lamps
GE's latest LED retrofit news actually includes both cost-optimized designs as well as some LED-based additions to the company's premium Reveal brand. GE revealed little detail on the consumer-targeted lamps beyond noting that the bulbs have a traditional all-white look, produce warm-white light, and are dimmable. But the company did participate in the Walmart press release in which the retailer said it would sell the GE 60W-equivalent lamps for less than $11.
At the other end of the performance spectrum, GE had just announced the LED-based Reveal lamps a few weeks back. Reveal is a premium brand of lamps known for superior color rendering compared to mainstream GE light bulbs and this marked the first time that the company used the Reveal brand for LEDs encompassing 40W- and 60W-equivalent A19 lamps and a BR30 lamp. We have more detailed coverage of the LED Reveal family on our Illumination in Focus website.
In the latest news release, GE also announced its first wirelessly-controlled, dimmable LED lamp in the form of a BR30 flood lamp for applications such as downlights. The company did not address the wireless technology used in the lamps. But in a recent discussion with the company, executives had said that it appeared ZigBee technology was carving out a niche in indoor applications. Apparently the lamps will come with a dedicated remote control. GE did not discuss pricing.
Walmart's house brand
Moving back to low-price lamps designed for the consumer market, Walmart is already selling 60W-equivalent LED lamps for less than $10 in stores and online. The company's own Great Value house brand includes a dimmable 800-lm lamp for $9.88 and a non-dimmable version for $8.88 — a new low-price milestone among major suppliers of lighting products.
Walmart said that the Great Value line would include 26 lamps. There are already 21 listed on the company's website. We're waiting to get a look at the lamp design and to see actual specs. There is some additional detail posted in a story on our Illumination in Focus website.
Toshiba A-lamps
Also making news in the LED A-lamp area, Toshiba has added to its retrofit-lamp line with 60W-equivalent A19 lamps and 75W-equivalent A21 lamps. The A19 family includes dimmable 3000K, 830-lm and 4000K, 890-lm models, along with non-dimmable 2700K, 800-lm and 4000K, 900-lm models.
Efficacy for the new lamps ranges from 59.3 lm/W to 90 lm/W with the higher figures available on the non-dimmable cooler-CCT products. All the lamps feature a power factor of 0.7 and a five-year warranty. There are more specifications detailed in the posted press release.