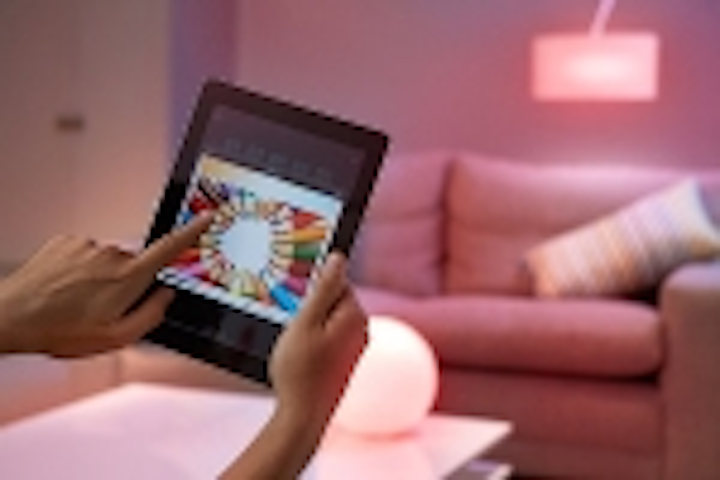 The Philips LED-based Hue lamp, launched late in 2012, has garnered an enthusiastic following of users and hardware/software developers seeking to deliver compatible app or hardware products, and new tools available from Philips lighting will simplify the development process. The company has released an open Application Programming Interface (API) along with a Software Development Kit (SDK) that can jumpstart projects. Moreover Philips has formally adopted the grass-roots www.everyhue.com developer forum as the go-to spot for developers to share information and insight.
Philips had said at launch than an open API and a SDK were coming soon. The developer community, however didn't wait for Philips. Hue system architect George Yianni, said that before the launch of the SDK and API, that more than 100 developers were working on Hue-centric projects and that at least ten apps were already available. For example, there is an Apple iOS app called Hue Disco that controls Hue lamps dynamically based on the music beat picked up by the smartphone microphone.
When asked if he was surprised at the developer interest, Yianni said "the speed was a surprise." Specifically, he was surprised that developers could work so fast having to reverse engineer the APIs and develop the required libraries for the iOS operating system. One app emerged only three days after the Hue launch. But Yianni said he expected enthusiastic support.
For now, the APIs can be accessed using any operating system, but the SDK is only available for iOS. Philips supplies apps for both iOS and Android.
Developers can use the new tools to more easily develop an app. Hue is based on the ZigBee LightLink standard, so it would be relatively simple to perform simple tasks such as sending a command to turn on a lamp even without the tools. The tools, however, standardize remote connectivity to Hue lamps that can be utilized by smartphones or other devices. Moreover the APIs will support more advanced and dynamic control of the lamps.
Hardware developers can also support Hue. For example, Yianni said he knew of one manufacturer of universal TV remote controls that was working on adding Hue support. Other devices such as thermostats might integrate support as well.
When asked if it was the lighting community or the PC/smartphone community that had enthusiastically adopted Hue, Yianni admitted that it has been the latter. But we keep hearing that lighting will become just one additional element of the connected home or workspace. But the question remains as to who will drive that transition. The Internet generation won't wait for lighting companies to make a move.