On the heels of Android support, the smart lamp pioneer now lets users change lighting schemes by talking to Amazon's Echo system.
Smart LED lamp pioneer LIFX has again expanded the options for remotely controlling its bulbs, as it added support for Amazon's voice command system, called Amazon Echo.
Interested in more articles & announcements on smart lamps & connected lighting?
Echo is a combination voice control and speaker unit that can wirelessly connect to different devices, now including LIFX lamps. Users can turn lights on and off, brighten and dim them, and change their color by speaking commands that start with the word "Alexa," which is the keyword Echo listens out for.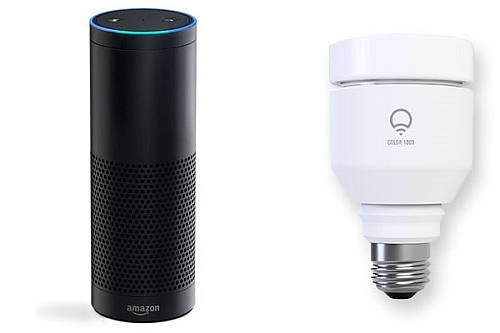 LIFX adds Amazon voice control to smart LED lamps
Simple phrases such as "Hey Alexa, turn the lights on" and "Hey Alexa, dim bedroom lights by 25%" will do, LIFX vice president John Cameron said. The system lets users set up lights by area so they can give group-specific commands, he noted.
The system requires a LIFX app, which now includes an Amazon Echo section that prompts users to connect to their Amazon account. An Alexa section displays a diagram of lights and allows users to group them.
It's the latest twist in LED lighting's move into the world of information technology connectivity and the Internet of Things (IoT) in which users can control lighting through computers, phones, and gadgets from a few feet away or around the world.
The addition of Echo comes a few weeks after Redwood City, CA-based LIFX added support for Google's Android voice control.
LIFX also works through other IT schemes such as Google's Nest home automation system and Samsung's SmartThings smart home kit. LIFX has not yet announced compatibility with Apple's HomeKit home automation framework and its Siri voice command.
The Amazon Echo speaker connects wirelessly to the Internet and can do things like tie into the Spotify music services or give spoken answers to questions, including, for example, giving cooking advice or weather forecasts. Echo can also order an Über taxi.
Meanwhile, LIFX appears to have extended its Christmas season "limited time only" price cut to $49.99 for its LIFX Color 1000 smart lamp. The company is still offering the lamp at that price through its website, and still calling it "limited time only."
Not long ago, LIFX priced the smart LED lamp at $100, before knocking it down to $60 in October, and subsequently to $49.99 — perhaps a sign that no matter how smart a bulb is, consumers might be balking at paying a premium for an item that in the old analog days of tungsten lighting cost them a dollar or so.
MARK HALPERis a contributing editor for LEDs Magazine, and an energy, technology, and business journalist (markhalper@aol.com).