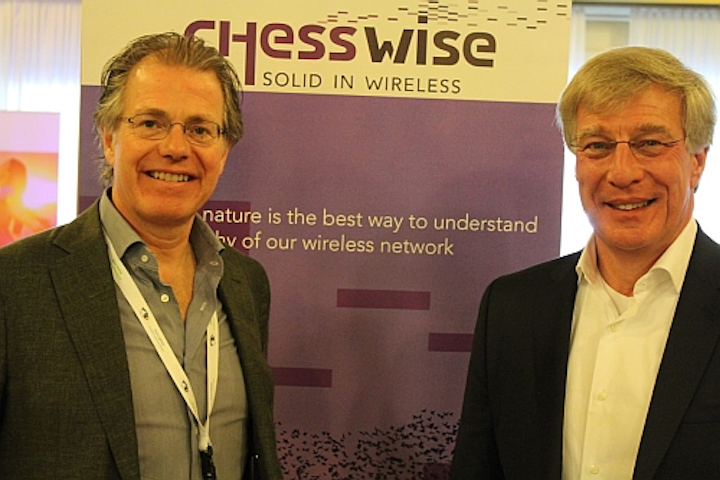 In another sign that the lighting industry is expanding its automation remit, Chess Wise teams with global blinds and fabric maker Verosol.
MILAN – In another sign that the smart lighting movement is broadening the industry's remit beyond traditional functions and into new automation territories, a Dutch lighting controls startup has struck a deal with a global window blinds company to provide solar-powered controls for the blinds.
Interested in more articles & announcements about smart lighting & control systems?
Haarlem-based Chess Wise, which is accustomed to making controllers and gateways that allow buildings and municipalities to wirelessly and remotely control indoor and outdoor lighting, has struck a deal with Eibergen, Holland-based blind and fabric maker Verosol, the company told LEDs Magazine here at the Smart Lighting and Smart Sensing 2016 conference.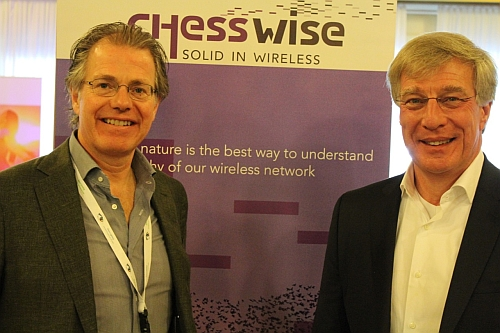 Dutch smart lighting startup steps into smart window blinds
Chess Wise CEO Han Bak (l) and CTO Siebren de Vries now do windows as well as wireless smart lighting. Source: Mark Halper.

The partnership draws on the principles that Chess Wise uses to control lighting. Building operators can draw up a centrally controlled scheme for raising and lowering certain blinds at certain times, and wireless transmissions trigger the action in what Chess Wise refers to as an Internet of Things (IoT) approach. The central control, which can be programmed on a touchscreen tablet, can be easily reconfigured for different arrangements of blinds, Chess Wise CEO Han Bak said.
Likewise, Chess Wise offers gateways for wireless controls of office lights that allow facilities managers to map out groups of lights for different on/off and brightness timing throughout the day and night.
For street lighting, Chess Wise makes controllers that mount inside a luminaire and turn it into a smart fixture that can be switched on/off or dimmed and brightened centrally. Chess Wise says its system differs from Philips' CityTouch management system in that its mesh technology does not require individual SIM chips in each luminaire, and thus eliminates the need for contracts with cellular operators.
Chess Wise, which is a big proponent of selling lighting as a service, calls its technology MyriaMesh. It typically operates in the 2.4-GHz range indoors and at 868 MHz outdoors.
Verosol makes blinds with an aluminum backing that reflects sun and helps keep buildings cool. Some of its showcase accounts include high-profile office buildings in hot and sunny places such as Madrid, Milan, Mumbai, and Kuwait City. The controllers operated via the Chess Wise Myria system are powered by solar cells mounted on the window.
By working with Verosol, Chess Wise represents a general industry trend in which lighting companies are veering beyond lighting and into new energy areas. For instance, the new group Current, powered by GE provides lighting as well as a host of other energy services. In another example, lighting giant Philips notes its Power over Ethernet (PoE) smart lighting systems can help detect indoor building climate and adjust the heating and cooling system accordingly.
Building automation is a general feature of other PoE lighting systems such as those in Cisco's "digital ceiling" program, of which Philips is a member.
Chess Wise launched in 2013, regrouped from a former computer controls company called Chess. It is planning to add additional sensors such as temperature detectors to its systems.
MARK HALPERis a contributing editor for LEDs Magazine, and an energy, technology, and business journalist (markhalper@aol.com).