LIFX enhances smart lighting color control
New app can replicate, share, and dial-back specific settings for the company's smart lamps.
May 12th, 2016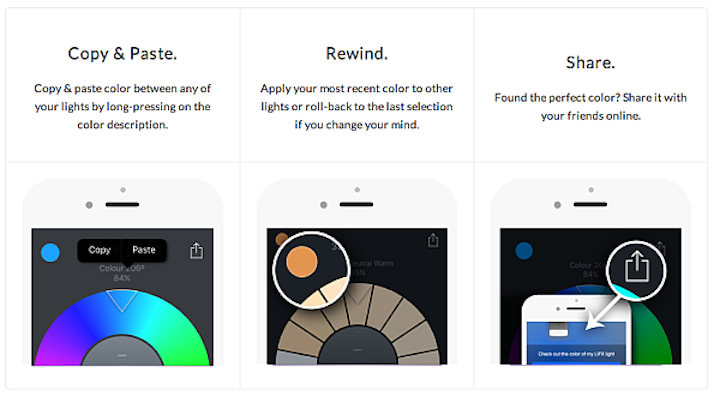 New app can replicate, share, and dial-back specific settings for the company's smart lamps.
Smart LED lighting keeps getting smarter, sometimes through big leaps forward, but often through small iterative steps. On the inching ahead front, LED lamp pioneer LIFX has added features to its control app that give users greater control than before over color schemes.
Interested in more articles & announcements on smart lighting?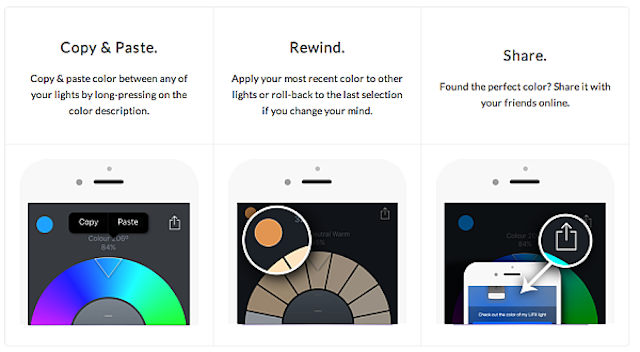 LIFX enhances smart lighting color control
The LIFX Android and iOS (Apple) apps now let users replicate an exact color shade across different smart lamps, and also include a feature that allows users to dial back the most recent color setting.
That might not sound particularly compelling, but when a bulb provides millions of optional colors, as LIFX and other smart LED lamps do, some users can spend an inordinate amount of time finding the setting that's just right for them.
As LIFX e-commerce coordinator Stacie Newbiggin noted, "Finding the correct shade and intensity can be a bit of trial and error."
The color replication works by cutting and pasting one light's existing color description from the app's color wheel onto the instructions for a different light. The "cut and paste" feature is new, and pops up after the user "long presses" the existing setting, Newbiggin said.
The dial-back feature works by tapping a color swatch that appears in the upper left-hand corner of the app screen showing the previously used color. Users can also replicate it across different lights.
Redwood City, CA-based LIFX also introduced a new color-sharing feature that lets users send a particular color setting to friends or colleagues. For example, Newbiggin noted, they could send a shade of blue to someone who is on a deadline and needs to concentrate (under the principles of human-centric lighting, lights tinged in the blue frequency stimulate alertness and concentration).
The features all require users to download the most recent version of the LIFX app.
MARK HALPERis a contributing editor for LEDs Magazine, and an energy, technology, and business journalist (markhalper@aol.com).