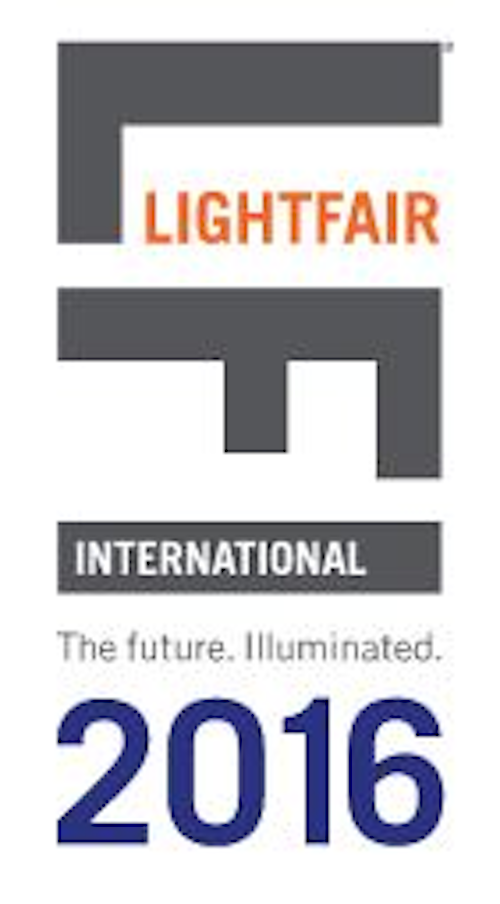 This year, 500 exhibitors prepare to converge on the city of San Diego, CA, with their latest solid-state lighting innovations in tow for LightFair 2016.
The LightFair International (LFI) event offers six pavilions that feature manufacturers of specific product types to enable lighting designers and other industry professionals to meet with vendors who match their buying and partnership needs. The International Association of Lighting Designers (IALD), Illuminating Engineering Society (IES), and event management team at AMC, Inc. expect to attract over 28,000 attendees in over more than 200,000-sq.-ft from April 26-28 at the architectural and commercial lighting event. Learn more at www.lightfair.com. Below is a selection of announcements from companies that you will find on the exhibit floor at LightFair 2016.
2C Technology's LED floodlight reaches 190 lm/W
Variable high power LED floodlight fixtures are available in 40w, 80w, 120w, 160w, 200w and 240w configurations. Visit the company in booth #7206.
Griplock Systems provides ultrathin cable suspension system for LED lighting
The Wisp™ Cable Suspension System has a vast range of gripper and cable combinations to fit almost any need in the lighting, display and art markets. Visit Griplock Systems in booth #2849.
Lunera Lighting integrates light sensors and wireless connectivity into LED lamps based on Stack technology
Lunera® Lighting, Inc. has announced a new lighting and control technology platform called SensAble Technology™. ST Lamps are expected to be available in Q2 of this year and ST Connect services will roll out in the third quarter. Visit Lunera in booth #6820 for a demonstration.
MAZeT presents new JENCOLOR® color sensor for lighting control applications
The first fully integrated sensor chip in the JENCOLOR® product line includes a true-color filter function, integrated signal amplification based on charge-to-digital conversion, and an on-chip temperature sensor. MAZeT will be presenting its latest sensors at booth #2653 operated by AVNET Electronics Marketing.
Minebea to showcase new LED product line for smart lighting at LightFair International 2016
Minebea will sponsor, present, and exhibit at LightFair International. The company will display its latest innovations at booth #7017, located in the Sails Pavilion. The Minebea team will also lead two interactive sessions in The HUB lounge, also located in the Sails Pavilion
Momentive launches next-generation ultraclear liquid silicone rubber suitable for SSL design
Momentive Performance Materials Inc. will showcase Silopren LSR 7180 liquid silicone rubber, a new addition to the Ultra Clear Silopren LSR 7000 series, in a live-demonstration in collaboration with industry partner Sur-Seal in their booth (#523) at LFI 2016.
NuWave, LLC expands its energy efficient ALSET LED lighting collection
All of ALSET® LED's new product offerings carry the DLC or Energy Star rating. Visit the ALSET® LED Lighting booth #5715.
Thomas Research Products develops low-profile SSP3 surge protectors for LED luminaires
Thomas Research Products has introduced a new line of low profile LED surge protectors for compact LED luminaire designs. These devices provide cost-effective protection from damaging power line disturbances. See the SSP3 in booth #1521.
Check back for more updates on the latest news and announcements coming out during LFI 2016 at ledsmagazine.com. Follow @ledsmagazine on Twitter for breaking news and viewpoints from the exhibition, join in the conversations on our LinkedIn group (search: LEDs & Lighting), follow our LinkedIn Showcase page updates, and find us on Facebook.