SSL networks and controls: Lutron, Osram, Daintree, EnOcean, and more
Leading into LightFair International, there has been a flurry of activity in the network and control area for LED-based lighting led by Lutron's introduction of the new Vive platform, and new partnerships among a number of industry stalwarts.
Apr 19th, 2016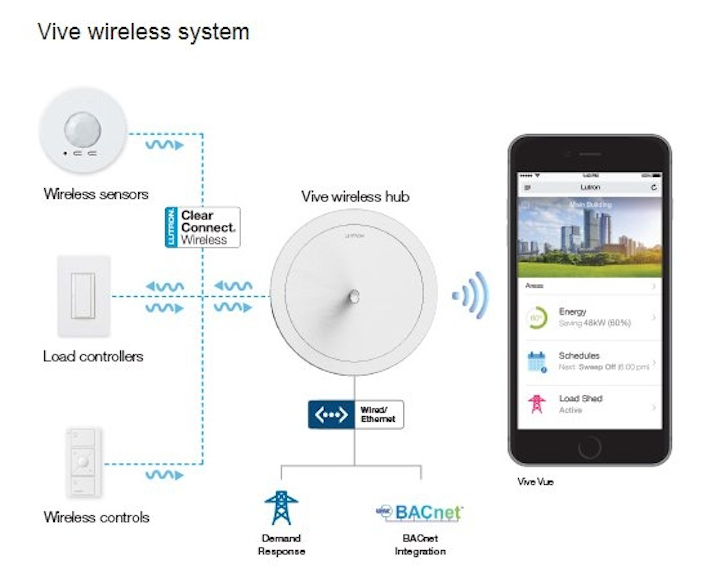 Leading into LightFair International, there has been a flurry of activity in the networks and controls area for LED-based lighting led by Lutron's introduction of the new Vive platform, and new partnerships among a number of industry stalwarts.
With LightFair International looming next week, companies are moving to get key solid-state lighting (SSL) news out early and the network and controls space will be a hot area. Lutron has jumped ahead of LFI announcing its Vive wireless platform that can link and control LED-based lighting, sensors, and other loads, and integrate with building management systems. Daintree Networks and Osram Sylvania have announced that the Osram Connected Lighting Module (CLM) is compatible with the Daintree ControlScope network management platform. The EnOcean Alliances has announced that Osram Sylvania will also now support that platform and highlighted a number of major players in the SSL sector that support the wireless platform.
Interested in more articles & announcements on SSL networks & controls?
Lutron Vive
The Lutron Vive platform is apparently undergoing some trial installations with strategic Lutron customers now and will roll out to the open market by the fall. The centerpiece of the platform is the Vive Wireless Hub that looks somewhat akin to a stylish Wi-Fi access point or router — in fact, the hub integrates Wi-Fi router capability. But the Wi-Fi interface is primarily intended as a management interface for PC or smartphone devices. The hub bridges Wi-Fi to the Lutron proprietary Clear Connect wireless network and also includes a wired Ethernet interface that can bridge a Vive network to building BACnet systems or utility demand response systems.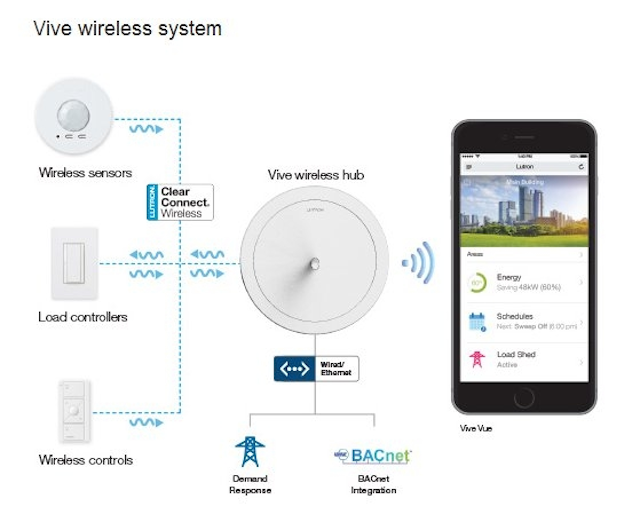 SSL networks and controls: Lutron, Osram, Daintree, EnOcean, and more
Lutron has long maintained that the Clear Connect system is more reliable than industry-standard systems such as ZigBee, especially when the node count goes up. The technology does have a long history and uses bandwidth in the 434-MHz ISM (industrial, scientific, and medical) unlicensed band that the company has said is free from interference in the US.
The Vive platform value proposition is largely built around ease of use. Lutron expects facility managers to be able to easily install the sensors, switches, load controllers, and more and commission the devices with simple plug-and-play techniques to pair luminaires and control devices. Moreover, the fact that the system is wireless will enable simpler retrofit scenarios.
At first glance, Vive sounds a lot like Lutron's prior Quantum system. But Vive adds two-way communications enabling the reporting of power usage, more flexibility in plug-load control, and the BACnet compatibility. The Vice Wireless Hub can cover 10,000 ft2 and connect to as many as 700 devices.
Lutron will offer Vive compatibility in a variety of products including the Hi-Lume drivers that deliver 0.1% dimming. In addition the Finiré downlights, Lumaris striplights, and a variety of drapery products.
Separately, Lutron has also announced that it is implementing a ten-year warranty on all of its LED fixtures. The warranty covers the fixture, the LEDs, and the driver. Moreover, for the company's Lvalo Series of luminaires, the company will warranty the products against LED color shift for five years.
Osram and Daintree
Daintree, meanwhile, continues to build out an ecosystem of partners that are pledging support for the ZigBee industry standard for wireless SSL networks, and by supporting the open ZigBee standard, achieving compatibility with Daintree's ControlScope platform for networks and also building management. Just last month LG Innotek added more compliant products and Samsung, Magtech, Iventronics, EuControls, and MMB Networks pledged support.
Osram Sylvania will offer ControlScope compatibility via a module wireless interface called the CLM that can be installed in many of the company's LED luminaires. "The Osram Connected Lighting Module is one of the first devices to enable out-of-the-box wireless, controllable LED light fixtures," said Tom Shottes, head of digital systems for the Americas at Osram Sylvania. "The module can be inserted into any fixtures that have a driver capable of providing 12V auxiliary output. It instantly makes them smart and wirelessly controlled. Through our collaboration with Daintree Networks, customers now have one device with built in standard wireless controls. It's a tremendous step towards simplifying wireless fixture integration."
EnOcean Alliance
The EnOcean Alliance is also expanding its base of support heading into LFI. EnOcean promulgates a lightweight wireless interconnect that can be powered by harvested energy — kinetic energy from a person pressing a switch or solar energy harvested from daylight or interior lighting. Therefore EnOcean sensors and switches require no AC or battery power in many cases. We ran a feature article on the topic last year.
Recently we covered the manner in which Molex plans to use EnOcean Alliance-compatible switches and sensors with Power-over-Ethernet (PoE) SSL networks. Now the EnOcean Alliance has announced that Molex has joined the alliance.
In advance of LFI, the EnOcean Alliance also highlighted the mainstream LED-based lighting vendors that will demonstrate interoperable products at the alliance LFI booth. Specifically, the alliance said Osram Sylvania, Hubbell Lighting, Thomas Research Products, WattStopper, Autani, and Terralux would be supporting the EnOcean scheme. EnOcean has also struck deals with the likes of the ZigBee Alliance to find ways for the different SSL networks and controls to work together.
"The key advantages of wireless control are the ease of upgrading existing buildings and expanding a system at any time," said Graham Martin, chairman of the EnOcean Alliance. "No new control wiring is required for existing systems; they simply are upgraded with wireless control units. Wireless control systems can even provide greater installation flexibility if units within the system do not require dedicated cabling or batteries for power."