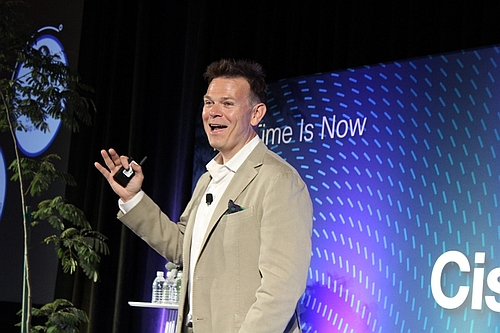 LED lighting companies, take note: The Internet of Things is prepared to disrupt the flow of business.
LAS VEGAS – The executive in charge of Cisco's push into the IoT acknowledged here that the field is indeed awash in marketing hyperbole, but nonetheless he heralded it for its huge potential to transform companies into entities that sell services rather than products, and to usher in bigger change than the Internet itself.
Interested in articles & announcements on connected lighting & the IoT?
That message should resonate with the lighting industry, which is in the throes of making exactly that shift. Companies like Philips, Osram, and GE are moving away from a century-old model of selling bulbs, to a business model reliant on lighting-as-a-service.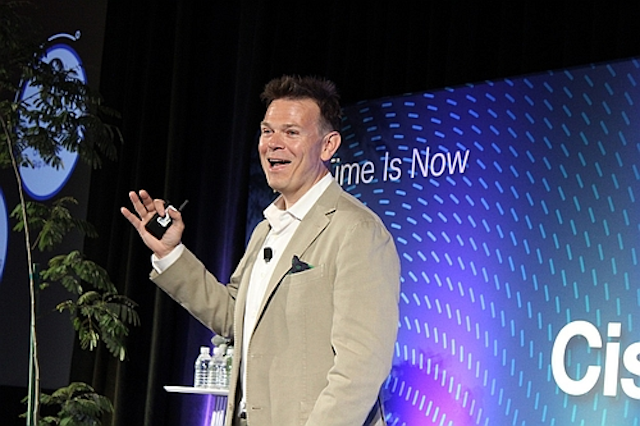 Cisco IoT boss: The IoT will transform companies from product sellers into service firms
Cisco's Rowan Trollope said the IoT will be more disruptive to business than the Internet itself has been. (Source: Mark Halper.)

Rowan Trollope, senior vice president and general manager of Cisco's IoT and applications group, said that by embedding chips in products — such as lamps — and connecting them to the Internet, companies can stay in constant touch with customers, garner continuous feedback from them, and send them software upgrades that enhance their product. They can also then collect payment on an ongoing basis rather than upfront, via service contracts.
"There's been a lot of hype and buzz and we're probably at the trough of disillusionment on IoT," Trollope said here at the Cisco Live 2016 exhibition and conference. "But a lot of this stuff is very, very real."
The IoT is the movement in which anything that can be digitized and connected to the Internet will be — cars, phones, refrigerators, light bulbs, security cameras, gas turbines, jet engines, you name it. The connectivity then enables communications between devices and people and collects and analyzes data (using cloud computing) from the devices.
Trollope described it as the third wave of computing that will be bigger than the previous two waves — the general uptake of commercial mainframe computers in the 1960s and the popular Internet itself in the 1990s.
Among the many transformational impacts of the IoT is that it will foster the move to service business models.
"We're on the brink of the biggest transformation of business in the history of technology," Trollope said. "And that is that once you connect something, a product, it has the ability to transform from being a product to a service. So the real root of what's happening is a transformation from products to services. That changes the very nature of what kind of business you're in."
Trollope noted that the transition is already noticeable in the car sector, where, for example, Tesla sends software updates that will automatically raise a car's suspension when it gets to a driveway where the motorist has habitually raised the suspension.
"You move from an SKU-based product that you ship into the channel and you never see again, to a live connected service that is going to constantly be delivering new capabilities to your customers, and you create a feedback loop with your customer," the Cisco executive said. That triggers a shift "from one-time monetization to pay-as-you-go."
He cautioned that the shift "will give sales operations nightmares, because you go from a compensation program for your sellers which is like 'sell it and run away,' to 'once you sell it your work just begins,' because now you're going to need to drive adoption."
Trollope noted that a new category of buyers called "operational technology" (OT) buyers are emerging in vertical lines of business outside of IT to purchase IoT technologies.
Trollope said Cisco is selling to over 5000 such OT buyers.
Cisco has partnered with 23 lighting and lighting-related companies to help connect LED lights to the Internet via Power over Ethernet technology, an initiative that Cisco calls the Digital Ceiling.
MARK HALPERis a contributing editor for LEDs Magazine, and an energy, technology, and business journalist (markhalper@aol.com).