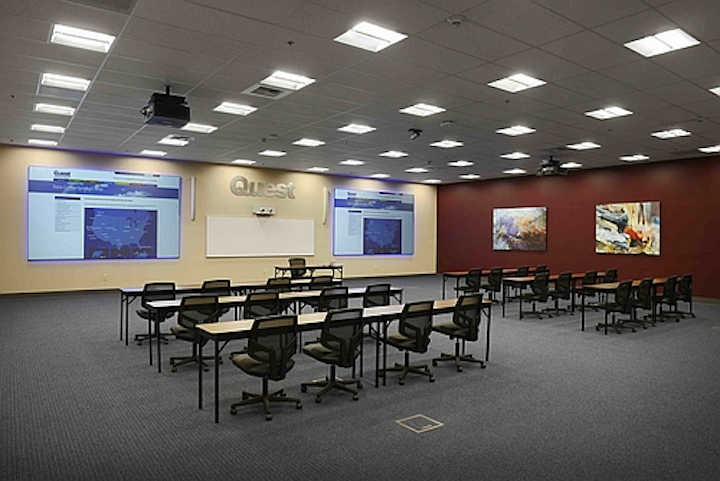 Tech firm Quest will use Cree and Cisco PoE gear at a California facility, and will resell it as a service too in an IoT play.
Cree has landed its latest Power over Ethernet lighting installation in a deal that sets up the customer as a Cree reseller.
The Durham, NC LED company is providing 100 2×2-ft luminaires and its SmartCast Power over Ethernet (PoE) software to technology and cloud computing services company Quest, for use in Quest's Roseville, CA data center.
Interested in articles & announcements on PoE and IoT?
The luminaires draw both data and a maximum of 30W of electricity from Ethernet cable that is part of the information network at the 120,000-ft2 facility. PoE lighting is an example of the Internet of Things (IoT) — by tying LED luminaires into the data center's network, Quest can more intelligently control the lights, turning them on, off, up, down, or changing their color temperature as needed. The PoE system includes occupancy sensors that help the software decide how to adjust lighting, and it also collects data to help with building management.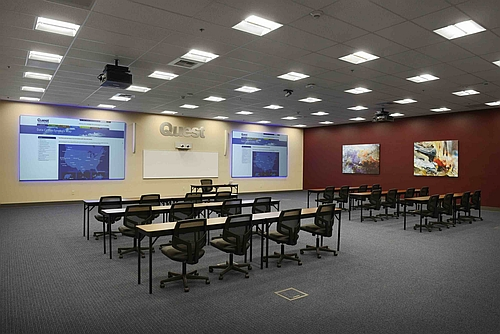 Cree lands another Power over Ethernet lighting installation at a data center
The ceiling lights are tuned to learning in the training room at Quest's data center in Roseville, CA, where Cree's Ethernet lighting also runs to portions of the server room and the employee break room.
The intelligent PoE lighting should provide around a 20% additional energy savings to the already considerable energy reductions associated with conventional, non-PoE LED implementations, according to John Rimbos, Cree's director of intelligent lighting.
The installation covers portions of the 24x7 server room, employee break rooms, and training rooms.
"Energy savings was one of the motivators," Quest infrastructure services manager Vladimir Pivtorak told LEDs Magazine, who lauded the new LED lighting system for various features. "One of the options gives Quest the ability to adjust the lighting color temperature for a presentation and HD video conferencing in our training room," he said, adding that Quest will soon use PoE-based light patterns to assist with the center's access control, security, and event notification processes.
In another cost benefit, running electricity over Ethernet instead of over conventional AC wiring saved Quest 22% in installation costs on the new construction based on electricians' price quotes, Pivtorak noted.
Cree added that variable light color temperatures that match human circadian rhythms can make workers more productive. Many scientists say there is no clinical proof for that...yet. In one small study, lighting consultancy Heschong Mahone observed that enhanced lighting can improve productivity by 16%.
The PoE project at Quest comes through Cree's partnership with networking giant Cisco, which has signed up 23 companies — many of them lighting vendors — to its "Digital Ceiling" Power over Ethernet lighting initiative. Cree, not Cisco, was the lead vendor, Pivtorak said.
Quest is running 30W of power from ports on Cisco Ethernet switches. It is not deploying Cisco's latest 60W-per-port version, which Cisco calls "universal PoE."
Pivtorak said Quest itself designed and installed the system, and that it is now serving as a Cree PoE reseller, offering it as either a product or as a service to its customers.
Quest was already a Cisco systems integrator.
Additional Cree PoE customers include Long Island data center mindSHIFT and Mobile County Public Schools in Alabama.
MARK HALPERis a contributing editor for LEDs Magazine, and an energy, technology, and business journalist (markhalper@aol.com).