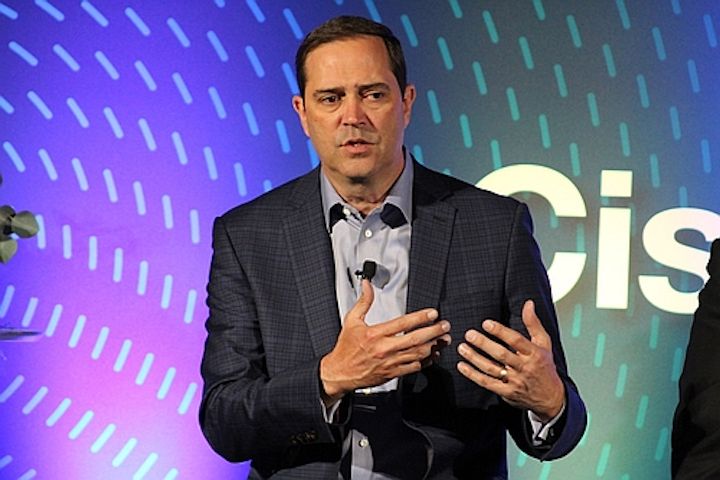 Chuck Robbins says partnerships pave the best road to intelligent IoT lighting.
LAS VEGAS – Cisco Systems CEO Chuck Robbins dampened any speculation that Cisco might purchase an LED lighting company, when he told LEDs Magazine that the networking giant prefers to take the partnering route.
Interested in articles & announcements on smart lighting & the IoT?

"We have partnerships with GE Lighting, we have partnerships with Philips Lighting," Robbins said yesterday. "We think it's a much better strategy for us to build partnerships with those who do [lighting] well. And they know how to do that well."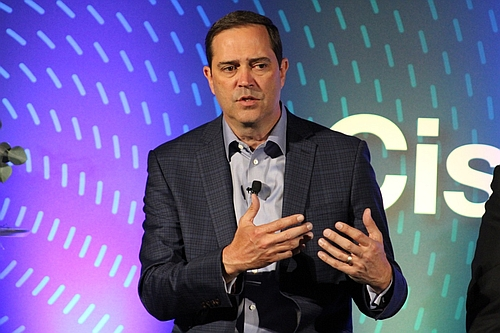 Cisco CEO rules out acquiring a lighting company
Cisco CEO Chuck Robbins is on the acquisition trail, but when it comes to LED lighting companies, he prefers to partner. (Source: Mark Halper.)
Robbins made his remarks here at the Cisco Live 2016 exhibition after LEDs Magazine asked him if Cisco might turn its hearty appetite for acquisitions toward the lighting sector, where leading companies Philips and Osram are going through recent or soon-to-be ownership changes.
Cisco has forged more than 20 partnerships with lighting companies as part of its "Digital Ceiling" initiative to build networks of smart lights connected to the Internet. Philips is a charter member of the program. Both Philips and Cisco are pushing Power over Ethernet (PoE) lighting in which Ethernet networks route electricity and data to LED luminaires. Those luminaires in turn become a vital part of networks that makes the lights easier to control and that helps collect data about indoor and outdoor activities such as occupancy, climate, air quality, and the like.
GE is not believed to be part of the Digital Ceiling program, but it is a keen advocate of smart lighting. Last October GE folded its lighting division into its new Current, powered by GE energy division. Current aims to connect energy devices as diverse as LED bulbs, solar panels, electric car batteries, and many other things via intelligent networks that help gather and analyze data collected by sensors in the devices.
Robbins joined Cisco in May 2015 and has led an acquisition push in which Cisco has picked up 15 companies in areas such as Internet security, as the networking giant charges hard into the IoT and cloud computing.
"You're going to see us drive more innovation faster in the next several years than you have ever seen in the history of our company," Robbins pledged at a keynote session full of razzmatazz and aerial acrobats in opening Cisco Live, a gathering of some 28,000 Cisco partners and customers and the like.
Expect to see some of those innovations to emerge in lighting. Several lighting companies will be here displaying PoE illumination schemes.
MARK HALPERis a contributing editor for LEDs Magazine, and an energy, technology, and business journalist (markhalper@aol.com).