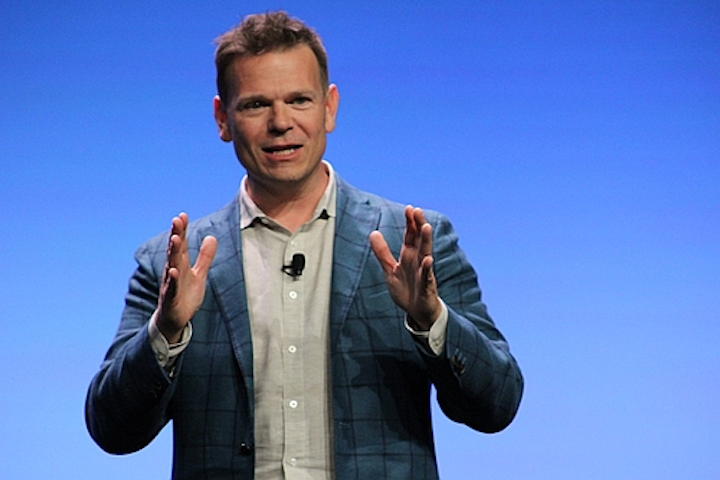 The same technology behind the Pokémon Go craze has a future in LED lighting.
LAS VEGAS – Augmented reality, the technology behind the Pokémon Go craze, could be coming to a ceiling luminaire near you to help you control lighting, heating, and other things through hand gestures, the executive in charge of Cisco's Internet of Things (IoT) push said at the Cisco Live exhibition here.
Interested in articles & announcements on smart LED lighting & controls?
Augmented reality uses digital techniques to add visual objects to someone's real-world field of vision or to a live video screen display. In Pokémon Go, Pokémon monsters emerge on a mobile phone screen within a map or video display and gamers then have to go to the exact spot and "find" them, using GPS.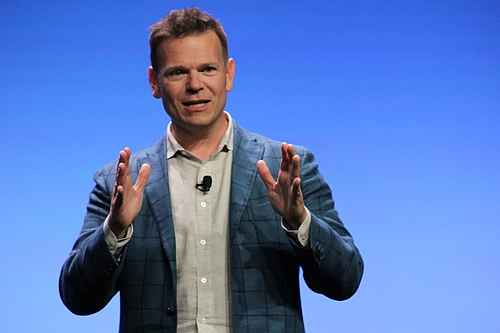 Augmented reality software could make smart lights even smarter
Cisco IoT boss Rowan Trollope says that augmented reality could be even handier than voice at remotely controlling lights. (Source: Mark Halper.)
In the lighting and home controls world, someone wearing special goggles or other eyewear would see a lighting panel in front of them that would allow them to change light settings around the room or their house by gesturing at the different lights and zones that have been added to their view.
The same system would allow them to use gestures to turn heat up in an areas that might render as, say, red for warm and blue for cold.
"In the home [today] I have this incredibly complex system of connected lighting and heating and this and that and the other thing, and I have to go to these little devices to control things," said Rowan Trollope, senior vice president and general manager of Cisco's IoT and applications group. "And I'd rather just look at the thing. You can't do that today, but with AR you could. AR is in some ways a better way to interact with the environment. And it is a richer way to display content and information."
Trollope said that AR, which he prefers to call "mixed reality," could mark the next phase in new ways of controlling lights. "Voice is the most interesting current transformation on that front," he said, noting that voice technologies like Amazon's Alexa allow users to command lights verbally.
The electronics and sensors that support AR could also reside in luminaires. AR goggles work in some instances by picking up wireless signals from sensors that detect things such as room temperature or lighting levels. Luminaire vendors today are beginning to embed various sensors in their luminaires, so it is easy to imagine them adding AR-capable sensors in the future.
AR is an emerging technology with many possible home, industrial, and business applications. For example, a maintenance engineer undertaking a difficult repair in a remote location could watch as an expert in another location points to the exact valve or part that requires specific attention and demonstrates the procedure.
Cisco sees great potential for AR in telepresence conferencing.
AR has helped make the Pokémon game so popular that within a week of its release by software developer Niantic, the app had garnered more users than Twitter, according to various reports.
MARK HALPERis a contributing editor for LEDs Magazine, and an energy, technology, and business journalist (markhalper@aol.com).
*Updated 10:05AM Eastern on July 20, 2016 for name correction.