Osram uses CES as a venue to expand Lightify networked lighting portfolio
The Lightify family of networked lighting products will get several new members at the Consumer Electronics Show this week, including outdoor RGB strips, and wireless switch and plug products.
Jan 5th, 2016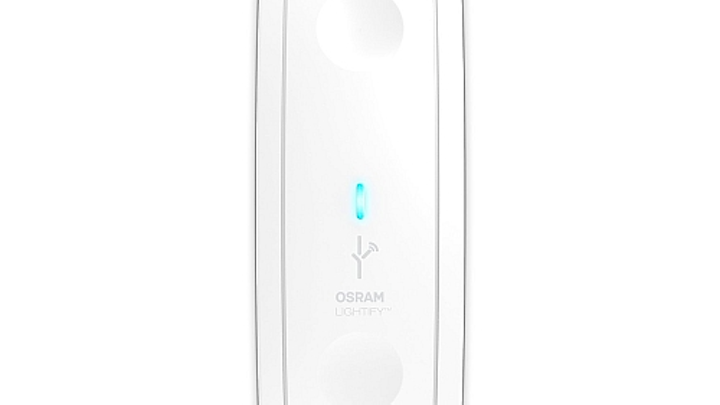 The Lightify family of networked lighting products will get several new members at the Consumer Electronics Show this week, including outdoor RGB strips, and wireless switch and plug products.
With the New Year just started, the solid-state lighting (SSL) sector will be focused this week on new products demonstrated at the Consumer Electronics Show (CES) in Las Vegas, NV, and Osram Sylvania has already announced the new wireless-networked products that it will demonstrate at the mega tradeshow starting Jan. 6. The company is expanding the ZigBee-based Lightify family with new flexible RGB (red, green, and blue) strips designed for outdoor installations along with ZigBee based switches and plugs that can round out a residential networked lighting system.
Interested in more articles & announcements on networked lighting & controls?
Osram Sylvania has made networked-SSL announcements at CES in each of the past few years. Last year, the company partnered with Belkin to demonstrate compatibility between that company's WeMo home automation platform and Lightify products. In the past year, however, Osram has built out the Lightify portfolio substantially, and now offers a wide range of products under its own brand.
"As a lighting leader, our mission is to offer the best smart lighting solutions that make people's lives better by enhancing convenience, comfort and security," said Aaron Ganick, head of Smart Home Americas at Osram Sylvania. "In addition to the variety of lighting options available, we are expanding Lightify further in the smart home category to include accessories like the Lightify Plug and Switch that offer practical support for controlling your home or business. We offer consumers and businesses one of the widest portfolios of smart home products that have real world benefits."
The plug and switch products are perhaps more significant than the new RGB strips for consumers looking to control all products in a home and to have quick and convenient access to controls. The wireless plugs can be connected to any AC wall plug and provide on-off control of legacy lamps and other electric devices. Meanwhile, the wireless switches can be installed anywhere in a home, offering more traditional control of wireless-enabled SSL.
Of course Lightify, along with other networked platforms such as Philips Lighting's Hue, offers control via smartphones and tablets. Ironically, however, a switch is often simpler and quicker to access. The Lightify switches can be preprogrammed to bring a networked system to four (two-button) or eight (four-button) distinct lighting scenarios. Settings might include changes in dim level and/or CCT of one or more installed SSL products in a room. The two-button switch is available immediately on amazon.com for $30. Note that Lightify is not the first system to get wireless switches. Philips added dedicated switch products to the Hue system in 2015 after first showing such capabilities at Light+Building (L+B) in 2014.
"Just because our products are becoming smarter does not mean that consumers will need to be glued to their smart devices 24/7," said Ganick. "The introduction of battery-powered switches that do not require the use of a smartphone for daily operation, and the plug that can automate consumer electronic devices based on schedules and scenes, allows consumers to take a step back from their smart home, and begin to enjoy life's moments that used to be consumed by apps and mobile devices."
The CES announcement also includes the 16-ft outdoor flexible strip. Customers can wrap the dynamic lighting around poles or railings, or line stairs with the strips. The strips will be shipping in the spring for $90.
Osram further took the CES stage to tout the capabilities of its previously-announced color-tunable lamps. It said the Lightify RGB A-lamp is the only such product on the market that can be set at a very-warm 1900K CCT over the entire brightness range. Osram characterizes the performance as offering the comfort of a candle-light glow.
We expect many other networked lighting stories to break this week. One we await will come from startup Silvair (formerly Seed Labs) as the Bluetooth Mesh specialist partners with new customers to demonstrate new lamps and switches. For now, Bluetooth Mesh lacks the robustness of ZigBee but enables direct connection to smartphones with no wireless bridge. Stay tuned for more later this week.