LIFX expands smart home lighting possibilities with "if this then that" deal
Smart lighting for the home can now easily flash Twitter alerts, sports scores, weather changes, and more via IFTTT.
Aug 11th, 2016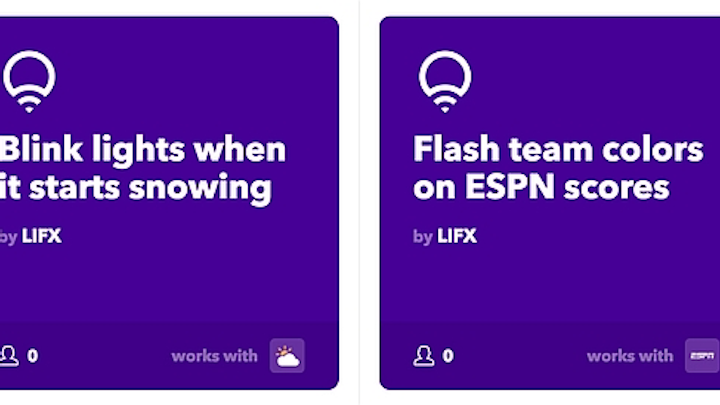 Lights can now easily flash Twitter alerts, sports scores, weather changes, and more via IFTTT.
LED bulb pioneer LIFX continues to widen the possibilities for residential smart lighting enthusiasts, as it now allows LIFX app users to program their lights to respond to an abundance of physical world and cyber events such as rain, snow, sports scores, or Twitter alerts by using the popular IFTTT — "if this then that" — tool from service company IFTTT.
Interested in articles & announcements on smart lighting?

Redwood City, CA-based LIFX said it is helping IFTTT develop the latest "beta" version of IFTTT. As a development partner, LIFX is adding support for IFTTT to the LIFX app. Until now, if LIFX users wanted to use IFTTT commands, they had to go to the IFTTT website.
IFTTT has 331 partners, now including LIFX as well as Twitter, sports network ESPN, Facebook, smart lock company August, and many others. Using IFTTT "recipes," IFTTT users can trigger their own cause-and-effect actions involving the different constituents.
Something for everybody, or laughable nonsense? LIFX's IFTTT support should at least serve as a proof of concept for smart lighting.
"We've worked closely with IFTTT to bring their experience seamlessly to the LIFX app," LIFX said. "With just a few well-placed swipes and taps on your smart device, you can set your lights to blink when you're mentioned on Twitter, dim when you leave the house, or change color when it rains."
LIFX smart lighting function examples included:
"Blink lights when it starts snowing. Don't miss those first snowflakes! Get notified with a gentle blink of your LIFX lights."
"Turn on your lights with August Smart Lock. Turn on a LIFX light when a specific person comes home and unlocks a designated August Smart Lock."
"Flash team colors on ESPN score."
The company also suggested using IFTTT to change indoor lighting colors to suit the mood of a rainy day, and blinking lights when you're tagged on Facebook.
Enthusiasts will probably welcome the news in the spirit of something for everyone. Skeptics will probably chortle. If nothing else, it should all at least serve as a proof of concept for the possibilities of smart lighting.
The IFTTT partnership is the latest LIFX enhancement that in recent months has also included improved color control as well as support for voice controls from Amazon and from Google.
MARK HALPERis a contributing editor for LEDs Magazine, and an energy, technology, and business journalist (markhalper@aol.com).