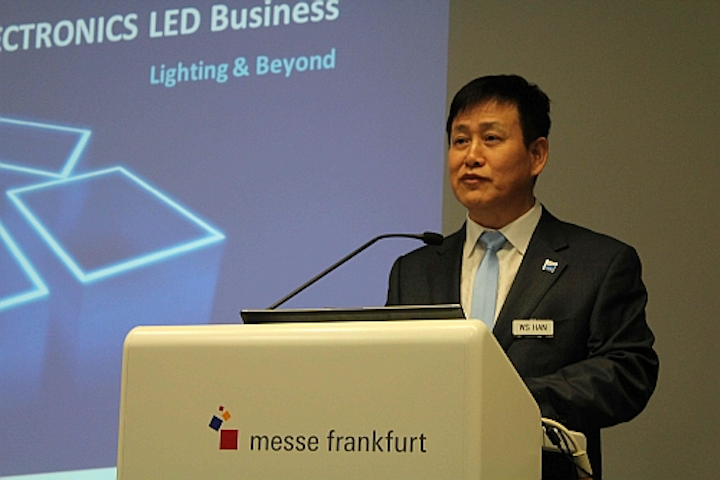 The LED and electronics manufacturer stakes its claim to the connected lighting sweepstakes at Light+Building.
FRANKFURT - Staking its claim in the beyond-illumination sweepstakes, Samsung yesterday introduced an electronics module for lighting manufacturers to embed in LED luminaires and tie them to the Internet.
Interested in more articles & announcements on LED drivers & control electronics?
The Samsung Smart Lighting Module (SLM) provides connectivity via wired and wireless standards including ZigBee, DALI, and Bluetooth. It also helps link luminaires into various sensors and drivers, and allows end users to control lighting via smartphones and other devices as part of the Internet of Things (IoT).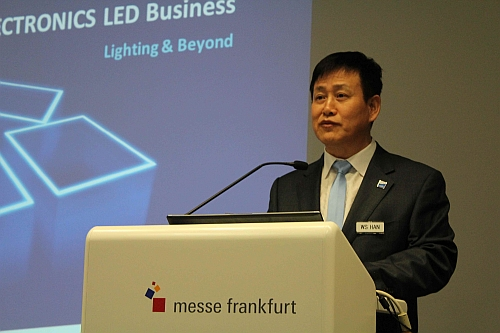 Samsung introduces OEM IoT module for luminaire makers
Samsung's W.S. Han said the new Smart Lighting Module will enable the IoT for both indoor and outdoor lighting (Source: Mark Halper).
Samsung introduced the SLM at the Light+Building 2016 exhibition here, where it echoed one of the show's main themes of digitalization and networking. It puts teeth into plans Samsung communicated last spring to offer a smart lighting platform.
"Our smart lighting module will enable IoT solutions throughout the lighting industry," said W.S. Han, global head of Samsung's LED business team (shown nearby). "It breaks new ground for customers who want to innovate to improve day-to-day consumer interaction with their lighting systems both onsite and remotely."
A press release said the company will start shipping samples to OEMs in April. The IoT device supports wireless software updates and power metering, and serves both indoor and outdoor lighting.
"It allows us to go lighting and beyond," said Jacob Tarn, executive vice president of the LED business team. Tarn added that the SLM can tie luminaires into cloud networks. He called the SLM lineup that Samsung introduced yesterday "our first generation."
One feature the IoT device will not support for now is Power over Ethernet (PoE), a technology that runs both electricity and data to LED luminaires via Ethernet cable. Networking giant Cisco has been pushing it hard, and has teamed with over a dozen luminaire makers including Philips.
Amar Parmar, senior director of Samsung's San Jose, CA-based Strategy and Innovation Center, said Samsung is keeping a close eye on PoE lighting, and is waiting for the technology to mature.
According to a Samsung press release, "Samsung SLM comes in three different types, SLM-D, SLM-A and SLM-P. The SLM-D uses DC input voltage of approximately 12 to 24V from AUX power, while the SLM-A has full functionality with AC voltage from 120 to 277V, and the SLM-P is an upgraded version of SLM-A, which adds a power metering function."
The SLM will compete against other IoT lighting engines, such as one offered by Gooee.
MARK HALPERis a contributing editor for LEDs Magazine, and an energy, technology, and business journalist (markhalper@aol.com).