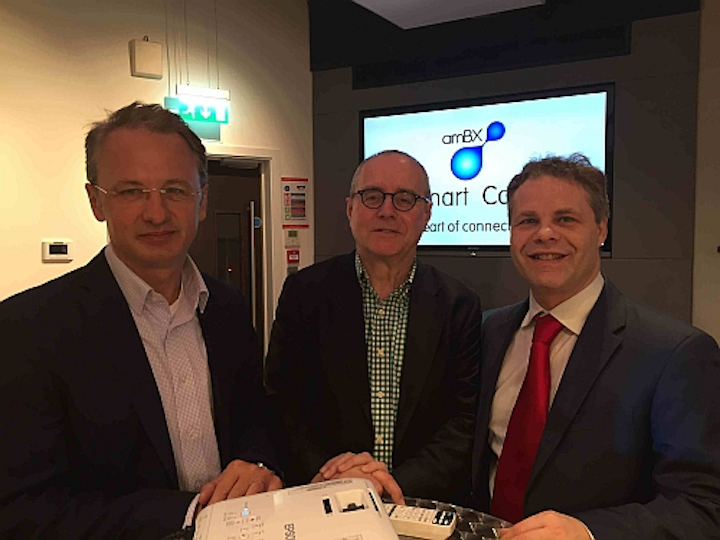 Cisco's new partner Molex teams with software firm amBX. At the same time, Cisco hints at lower priced, lighting-optimized Power over Ethernet switches.
LONDON – The busy road to LED lighting's Internet of Things future got even livelier this week, as hardware vendor Molex — anointed two weeks ago by networking giant Cisco as a connected lighting partner — teamed with UK software firm amBX to offer Power over Ethernet (PoE) lighting for commercial buildings, and Cisco hinted at new gear that will soon lower the cost for Ethernet lighting projects.
Interested in more articles & announcements on Power over Ethernet lighting?
amBX is licensing its Smart Core lighting control software to Molex, which will include it in its Transcend Network Connected LED Lighting System. Transcend is a PoE system that includes Molex LED luminaires with embedded sensors, cable, and gateways that tie into Cisco Ethernet switches.
Power over Ethernet lighting runs both electricity and data over standard Ethernet networking cable to LED lights, which serve as vital nodes in information hubs. It is beginning to take hold in the way that office phones began moving toward Ethernet-powered voice over IP (VoIP) telephony about two decades ago. As low energy devices, LEDs do not require the 120V and 240V electrical wires that are standard — and pricey to install — around the world.
Proponents say PoE lighting augurs huge costs reductions in new lighting installations because it eliminates expensive electricians and traditional wiring; that it provides significantly greater energy savings than those already associated with LEDs; that it portends huge improvements in lighting by tailoring it more to human and individual needs and thus increasing workforce productivity and morale; and that it vastly increases the value of a lighting system by making it an integral part of a company's data network in which it helps to collect, analyze, and act on information.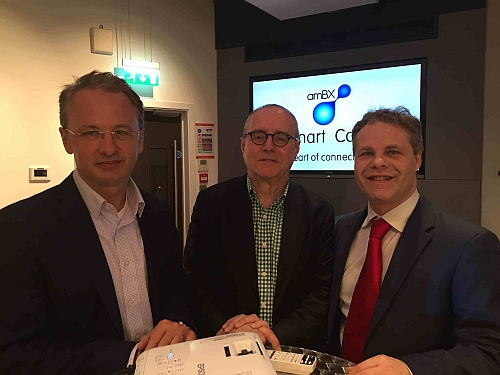 Power over Ethernet lighting picks up pace with Cisco partners
Lighting revolutionaries John Baekelmans, Cisco, John Niebel, amBX, and Giovanni Frezza, Molex, banded together for the Power over Ethernet (PoE) cause in London yesterday.
"It's a lighting revolution that's about to break on the industry," said John Niebel, CEO of amBX, based in Middlesbrough, England, in announcing the Molex partnership at a press conference in London yesterday.
Niebel highlighted several benefits of PoE lighting.
"The arguments for it are compelling," he said. "Probably the biggest argument for it, and the initial reason why people choose it over anything else, is cost of installation. Both Cisco and Philips [the Dutch lighting giant], who are real big sponsors of PoE lighting, are showing between 25 and 40% reduction in installation costs."
Cisco will lower costs
While that argument might hold for new construction projects in which builders can eliminate traditional costly electrical work, lighting designer Francesco Anselmo of international architectural and engineering firm Arup noted it can still be expensive, especially when compared to traditional lighting.
To that end, John Baekelmans, chief technology officer of Cisco's Internet of Everything Solutions Group, said that Cisco plans to lower the costs by soon introducing an Ethernet switch tailored to lighting. Ethernet switches are the ubiquitous boxes that help feed and direct network traffic and cables in office building via a multitude of ports on each switch.
"Do we think that traditional [Ethernet] switches will survive in this market now that other people will come with their switches?" Baekelmans responded (hinting that PoE lighting competition is heating up among networking rivals). "Of course not. We're not stupid. So we are creating new switches. I can't go into more detail, but we are creating new capability specifically on that market, where the price per port will be very, very competitive."
Cisco is expected to soon introduce new Ethernet switches stripped of full networking capabilities but tailored for lighting purposes.
Baekelmans and others also pointed out that PoE lighting can't be compared to traditional lighting on a pure cost basis, because PoE provides much more value.
amBX's Niebel, for instance, noted that the ability for individuals and facilities managers to easily control and change light scenes by simply using tablet and phone apps will foster "human-centric, bio-adaptive" schemes that will make workplaces healthier, reduce absenteeism and employee churn, and yield greater productivity.
For example, facilities managers could program lights to subtly change color temperatures during the day to suit employees' circadian rhythms, allowing for stimulating blueish light during the day and shifting to more relaxing reddish tones at the right time.
"As human beings we had two million years, mostly in the savannah, of waking up every morning, seeing the sun come up being red and yellow, going to a blue sky during the day and then sunset during the evening," Niebel noted. "It's what our bodies expect. But for the last hundred years or so, we've lived mostly under artificial light. And artificial light mostly does exactly the opposite of what our circadian rhythm wants.
The perils of live demos
David Eves, amBX chief technology officer, showed a set of four Molex 2x2-ft ceiling troffers responding to touch-screen commands on a tablet to change brightness and color temperature. For instance, he brightened them and gave them a cold hue to mock a meeting scenario intended to keep people alert; he also simultaneously set one set of troffers bright and another dim and yellowish to show how an auditorium might shine a more intense light on a speaker and a more relaxing light on the audience.
In a classic example of the hazards of live demos, the tablet failed to respond when this reporter attempted to shift from preset scene options to the option that allows personalized choices. Eves said the technical glitch would be easy to solve.
One place where they are polishing up the system for real use is at Molex headquarters in Lisle, IL, where Molex is installing a PoE system across a 15,000-ft2 floor that will go live in mid-April, according to Giovanni Frezza, Molex group product manager for smart lighting solutions.
As part of the privately held, $100 billion-plus Koch Industries group of companies, some industry observers expect to see more Molex/amBX PoE installations at other Koch companies, such as paper products outfit Georgia Pacific and carpets and materials company Invista.
Molex's full-blown move into PoE lighting marks a modernization of a company long rooted in the nuts and bolts business of making and selling networking connectors. As Molex's Frezza put it, "We are moving from connector solutions to connectivity solutions."
Its Transcend system can accommodate up to five sensors per luminaire. The five are assigned for detecting occupancy, air quality, temperature and humidity, indoor daylight levels, and color temperature.
Customers can mix and match sensors, and don't have to include all sensors in all luminaires. Molex plans to add other sensor types, Frezza said.
Sensible combinations
The current combination of sensors will help collect data that will help building managers reduces costs. For example, the daylight sensor could help turn lights off or down when they're not needed; likewise, the temperature and humidity sensors could feed information to central heating and cooling systems to help run them more efficiently; the occupancy sensors could provide valuable information indicating that a room is underutilized and could be rented out.
Molex includes a color temperature sensor because LED performance degrades over time, so the sensor will detect when adjustments might be necessary to provide the desired levels. The company also outfits its PoE luminaires with indicator LED lights that can flash a different color for alerts such as for intruders, fire, smoke, or wayfinding.
For Cisco, the Molex/amBX hook-up strengthens its "Digital Ceiling" push which includes over a dozen lighting partners it announced two weeks ago, including Molex, Cree, Innovative Lighting, NuLEDs, and Eaton among others. That announcement came a couple months after Cisco teamed with Philips to jointly offer PoE lighting.
Cisco's Baekelmans described the move to PoE lighting as "the perfect storm" representing the convergence of LEDs, new workforce experiences, and the digitization of everything into a common network which will allow building managers to have one network rather than several to control functions such as lighting, heating and cooling, security, and others.
For more on PoE lighting and the amBX/Molex alliance, watch for our upcoming PoE feature in April, picking up where our November/December PoE special report left off.
MARK HALPERis a contributing editor for LEDs Magazine, and an energy, technology, and business journalist (markhalper@aol.com).