Philips ramps up IoT push with Vodafone partnership, Dubai retail pilot and others
On the heels of its Cisco deal, Philips is going full throttle after connectivity. Will it work?
Mar 14th, 2016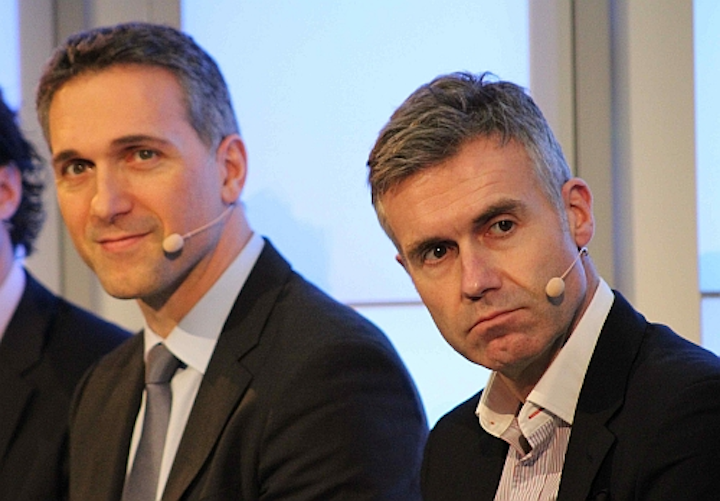 On the heels of its Cisco deal, Philips is going full throttle after connectivity. Will it work?
FRANKFURT - Fresh into a partnership with IT giant Cisco, Philips pushed lighting further into digital connectivity today, announcing more alliances with non-lighting stalwarts such as Vodafone, and launching a Dubai trial with a retail chain using LED lights that track and guide shoppers in physical stores.
Interested in more articles & announcements on IoT & connected lighting?
"We see ourselves as the lighting company for the Internet of Things [IoT]," Philips Lighting CEO Eric Rondolat said at the Light + Building 2016 exhibition here today, before disclosing a number of new initiatives that connect lights into information technology networks and leverage data collection.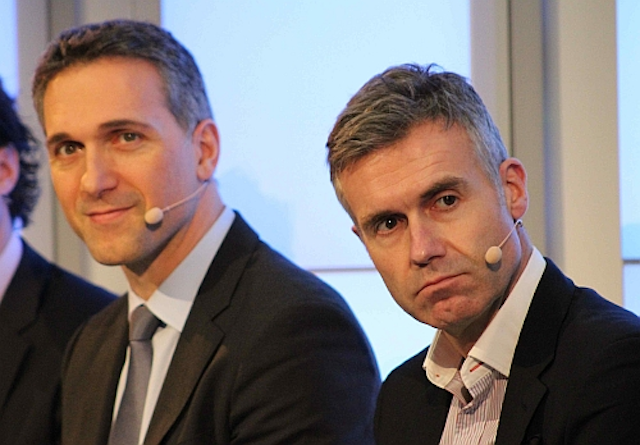 Philips ramps up IoT push with Vodafone partnership, Dubai retail pilot and others
As lighting starts to populate the Internet of Things (IoT), Philips Lighting CEO Eric Rondolat (l) is getting to know executives from outside the lighting industry, like Vodafone's Matt Key (r). (Source: Mark Halper.)
Rondolat said Philips is now using Vodafone's machine-to-machine network to wirelessly connect individual street lights in Philips' CityTouch street lighting management system; that it is trialing light-based indoor positioning systems with Dubai-based retail chain aswaaq, using digital mapping and shopper analytics technology from US-based Aisle411; and that for smart homes, it is working with insurance company AXA, French energy company ENGIE, and Dutch telecoms firm KPN to alert users when incidents like burglaries or burst pipes have happened while they are away.
The common thread among all of the new initiatives: "These connected systems are generating a lot of data," said Rondolat. "It's about monetizing this data for different type of services."
In the case of Vodafone, Philips will outfit individual streetlamps with M2M SIM technology that will enable cities to remotely monitor performance and check for faults within the Philips CityTouch management system.
Vodafone claims to already tie 35 million things into M2M (another name for IoT) connections on its mobile networks.
"This truly is a go-to-market partnership," said Matt Key, Vodafone Group Enterprise's commercial director of M2M. "Vodafone has 8000 sales people in the enterprise space globally, and we are enabling them to understand the CityTouch concept and take that to market." He said he expects the first live implementation in the third quarter and "hopefully many more in the pipeline thereafter."
The deal marks the latest case of industry convergence in which lighting companies are beginning to hook up IT, Internet, and communication companies, a new process that all parties are still trying to sort out from a business perspective.
"We have some experience of this IoT market now, and actually, it's pretty disruptive," Key told LEDs Magazine. "It crashes non-traditional organizations together. That said, it is a really new and innovative space, IoT. And we operate our partnerships on a very flexible basis. Let's find the right organizations. Let's work out if we can truly bring something that is unique to the market. And then let's spot opportunities and generate business. If you work on those principles, it kind of works in bringing two large organizations together."
With smart, connected lighting still in its early days, not all trials and partnerships will take off.
Philips' Dubai trial with aswaaq echoes a trial that Philips announced last spring with French retail giant Carrefour, to use visible light communications (VLC) to guide shoppers around a store in Lille, France, and ping them with discounts and deals.
While Rondolat described that trial as a success, he would not confirm that Carrefour will extend and expand it.
"I cannot tell you what's going to come next," Rondolat told LEDs Magazine. "We're going to do all we can to make it carry on."
Philips is also apparently trying to resolve some technical issues on a connected lighting project at the Arnhem headquarters of Dutch energy utility Alliander, where Philips has tied some 2200 luminaires into an Ethernet network that runs both electricity and data to the lights. Philips announced the project last month in partnership with Cisco at the Cisco Live! Berlin event. But Alliander has so far declined to talk to the public about it.
"There are some issues with the PoE system that Philips provided," an Alliander spokesperson told LEDs Magazine. "We want to have those resolved before we can elaborate some more about what this system means to us."
The road to connected lighting's future will have speed bumps, but Philips and others are starting to race harder.
"In the last ten years, the lighting industry has been changing more than in the last 100 years," Rondolat said. "We are only scratching the surface of what can be done."
Philips even introduced a new LED lamp today, a "classic LED spot" that replaces halogen spotlights and offers three different lighting settings, includes a filament for a nostalgic look, and emits a warmer light as it dims — something that LED bulbs have in the past struggled to do.