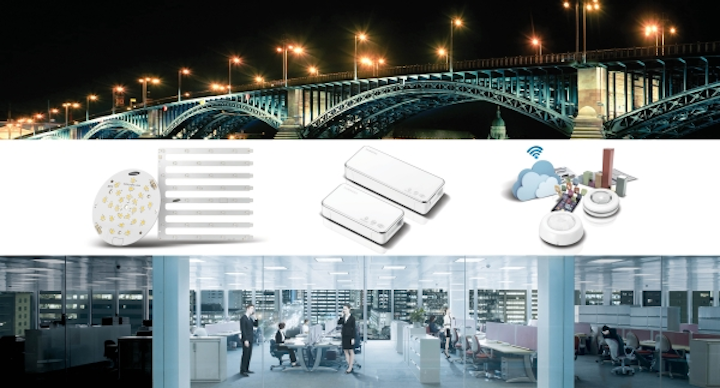 LightFair International has yielded a deluge of LED-centric product and technology announcements in the SSL networks and controls sector, although there remains little agreement on how to best implement connectivity.
Networks and controls for solid-state lighting (SSL), enabling in many instances what is increasingly being called smart lighting, were among the prominent stories as LightFair International (LFI) got started in New York City. The announcements share the common thread of the fact that LEDs are inherently controllable light sources but illustrate the fragmentation that remains in the SSL networks area. Companies making significant announcements included Samsung, CSR, Bridgelux, Avi-on, LED Engin, and Marvell.
Samsung
Samsung got things started with a Monday night press conference where the company announced a platform initiative focused on smart lighting that it claims will ultimately deliver an ecosystem around which manufacturers can quickly develop connected luminaires and lamps for SSL networks. Samsung's message was centered around the company's strength in areas such as microprocessors (or microcontrollers) and memory as important synergies for LEDs in a smart lighting system.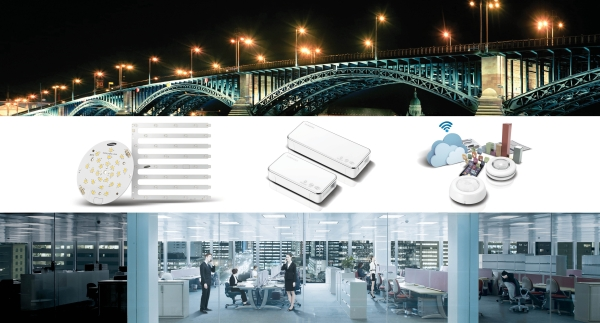 SSL networks and controls: Marvell, CSR, LED Engin, and Samsung at LFI
Samsung plans to have a complete reference design by the end of this year with support for networks including ZigBee, Bluetooth, and Wi-Fi, along with an operating system and application programming interfaces that allow easy customization of the technology. Samsung executive vice president Jacob Tarn said, "Smart connected lighting will be our key message for LFI 2015." Tarn positioned the offering as building blocks that developers can easily piece together.
The Samsung offering, however, sounds late relative to smart-lighting reference designs that have come from both semiconductor manufacturers and network-centric lighting startup companies. Daintree has long offered such technology in building block form including with ecosystem partners. And Texas Instruments (TI), among other IC vendors, has reference designs.

Presumably, Samsung's advantage is the company's scale and experience in other ecosystems. Tarn said it's only 8:00 or 9:00 AM in the day in terms of smart lighting development, indicating there is plenty of time to win business. And referring to the company's success in mobile, he said, "There is no Samsung or Apple in smart lighting today."
Marvell smart platform
Still, Samsung seemed unaware of the many development platforms available and semiconductor vendor Marvell added yet another this week for SSL networks. The company announced the 88MZ300 system-on-chip (SoC) IC that combines a microcontroller unit (MCU) along with a wireless ZigBee controller. The company said the new IC doubles the ZigBee range relative to the prior 88MZ100 IC, and reduces power consumption by 50%. The IC targets SSL and Internet of Things (IoT) applications in general and Marvell offers a complete software stack called Kinoma.
"Marvell continues to demonstrate innovation in home automation, connected lighting, and IoT with its 88MZ300 ZigBee wireless microcontroller, which leads 802.15.4 technology in both performance and cost," said Philip Poulidis, vice president and general manager of mobile and IoT business at Marvell. "Along with Kinoma and Marvell's recently announced Smart Home Cloud Center, the 88MZ300 delivers a total solution for home automation and IoT markets. We look forward to the range of exciting new product opportunities that will be possible with the deployment of the 88MZ300."
LED Engin
Moving to modular LED-based light engines, LED Engin joined the crowd of ZigBee supporters with its new LZ9 model of the LuxiTune product series. LuxiTune products feature tunable color temperature and the ability to dim to a warm CCT, mimicking a legacy incandescent source. The light engines use a mix of LEDs to offer the flexibility. Now the light engines will be configurable via wireless ZigBee links, adding further value for manufacturers that base luminaires on the modular building blocks.
The LZ9 is packaged on a 2-in. printed circuit board (PCB) and works seamlessly with a 37-mm lens. LED Engin offers products that can produce 1600K- to 3000K-CCT output for warm dimming and separately products that can produce 2100K- to 4300K-CCT for color tuning. The modules are designed for applications such as track heads.
CSR and partners
Still, as mentioned up front, companies have different strategies for SSL networks with regard to the protocol, and the Bluetooth option appears more plausible given LFI-centric developments. Bluetooth has been somewhat of a novelty in smart-lighting products outside use as a sporadically-applied commissioning control. Tunable LED lamps based on Bluetooth offer the advantage of easy connection to a smartphone. But Bluetooth has lacked the range and persistent control connection to be used as a robust lighting network. CSR is leading the charge to make Bluetooth a serious player.
CSR has a long history with Bluetooth in phone and audio applications and hopes to pervade lighting with its CSRmesh technology. CSRmesh is based on Bluetooth but, as the name implies, allows a mesh of nodes to extend the range of Bluetooth and connect to a virtually unlimited number of devices. That technology should eventually come to fruition as part of a future Bluetooth standard; therefore, current CSRmesh-based products should ultimately be forward compatible with an industry standard.
At LFI, CSR and Avi-on announced a collaboration that will include a number of partners in the SSL space. Avi-on supplies software extensions that can add security to the wireless connections in SSL networks. The companies said at LFI that Jasco Products would deliver GE-branded lighting controls and timers built on the platform this summer, based on a GE and Jasco licensing agreement.
Avi-on and Bridgelux also made a smart-lighting-centric announcement at LFI. Bridgelux offers LEDs, arrays, and modular light engines, and is now adding Bluetooth support to light engines based on the Avi-on platform.
But Bridgelux appears to be hedging its bets by developing plans to support a number of different network technologies. The company's new Xenio module will be offered with ZigBee, DALI, and DMX options. Moreover, Bridgelux said that it will support the EyeNut smart-lighting platform from Harvard Engineering.
"Bridgelux is rethinking what it means to be innovative in the lighting industry," said Brad Bullington, CEO of Bridgelux. "For our customers to succeed in a connected, data-driven future, we're introducing new technologies that are integrated, efficient, and compatible, that will position smart lighting arrays as the infrastructure to further enable the Internet of Things. This first-generation product sets the tone for how Bridgelux is innovating through hardware and software to deliver compelling value propositions."