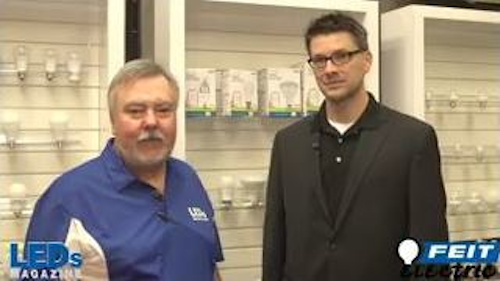 LEDs Magazine editor Maury Wright and Feit's Brian Wilcox discuss pushing the networking boundaries with new Bluetooth Mesh-based connected lighting.
Feit Electric's director of technology Brian Wilcox chats with Maury Wright about the launch of the company's HomeBrite connected lighting targeted at the mainstream market, which comprises smart LED lamps that operate on a Bluetooth Mesh network with a user's smartphone.
Bluetooth Mesh eliminates the use of a gateway — which can only connect a limited number of devices before the user needs to add another gateway — to connect multiple devices wirelessly and exponentially increases the number of connected lighting products that can be networked together and controlled using a smartphone without additional hardware.
The company developed its smart LED lamps to operate on a Bluetooth Mesh network, although it is not a standard yet, working with the Bluetooth Special Interest Group as a member. Wilcox explained that Feit is hoping to help drive Bluetooth Mesh as a standard alongside cell-phone providers because it believes that the low power, long range, and over-the-air updates afforded by the networking protocol will drive usability and demand.
The lineup includes various connected lighting products such as A19, BR30, PAR38, R56, and B10/candelabra-base LED lamps to cover a range of uses in light fixtures, in both indoor and outdoor applications.