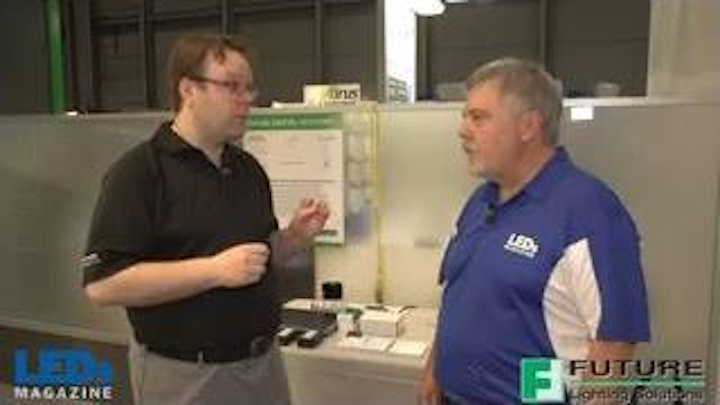 In an interview by LEDs Magazine editor Maury Wright, Patrick Durand of Future Lighting Solutions expands upon the SSL controls capabilities enabled by EnOcean open-platform technology.
On the LightFair International (LFI) show floor, LEDs Magazine chief editor Maury Wright quizzed Patrick Durand, technical director of Future Lighting Solutions and a specialist in the controls area, about solid-state lighting (SSL) controls.
Wright focused on how to select the proper SSL controls to use for applications, remarking that Future Lighting Solutions "can counsel people both in that process of choosing that technology and then implementing it."
Durand responded that Future Lighting Solutions had chosen to work with EnOcean-based technology because it provides an open platform that will give flexibility to the company's customers when they bid on lighting and controls projects. The end customer can specify certain requirements for compatibility with existing controls and systems technology, and the open platform will enable the FLS customer to select SSL controls products with proven interoperability.
He also commented that the EnOcean-based SSL controls suite can be scaled from the single-room level up to the building/enterprise level if the customer needs to extend control to building automation for additional functionality long after the controls have been installed.
The battery-less and wireless technology has a novel appeal in that it uses energy-harvesting techniques to provide power to switches, for example. And EnOcean-based devices can be bridged to other existing lighting controls including DALI, 0-10V, and PWM.
Future Lighting Solutions also offers engineering services to assist with the proper selection and location of SSL controls products in a system.