SSL A-lamps, spotlights, and strips connected via a wireless mesh network can be managed as smart LED lighting via Ayla's Internet of Things platform including the Agile Mobile Application Platform.
Ayla Networks has announced that it is supplying its Internet of Things (IoT) technology to Innr Lighting —a startup in the Netherlands focused on smart and connected residential lighting. Innr will use the Ayla platform, including the Agile Mobile Application Platform (AMAP), to deliver cloud-based lighting-control services of its LED-based products across Europe and perhaps to other regions as the company gains traction in the solid-state lighting (SSL) market.
Interested in more articles & announcements about smart LED lighting and controls?

Innr was started by former lighting executives at Philips Lighting and Ikea. The company has thus far developed LED A-lamps, spotlights, and striplights that are targeted at residential usage. The company is apparently using a ZigBee wireless mesh network to interconnect the smart LED lighting products. The company hasn't specifically identified the wireless link as ZigBee but has said that ultimately its lighting products and network can work with products from other manufacturers. And the Innr products use what appears to be a ZigBee bridge. ZigBee is the wireless technology behind the Philips Lighting Hue product family as well as residentially-targeted products from Osram and GE Lighting.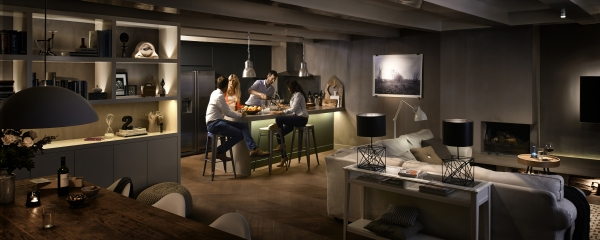 Innr will use Ayla Networks IoT technology to deliver smart LED lighting in residences
What sets Innr apart from other players in the connected-SSL space is a business model based on lighting design and services. The company hopes to enable consumers to create professional-like lighting designs themselves. The company has a LightAdvisor tool on their website that customers can use to input a plan of a room and the tool helps the customer optimally place the various SSL products, creating what Innr calls a LightPlan that is saved to the cloud.
The IoT and cloud-based technology come into play in the way Innr will assist customers in creating light scenes given the design created in LightAdvisor. Those scenes can then be controlled using a smartphone app that's based on the AMAP technology. For example, there may be different scenes for morning, evening, relaxing, or socializing.
The Ayla partnership will enable Innr to support the service model across a larger geography than its Netherlands base. "We realized that to add the functionality, security, and compatibilities needed to extend beyond our local base would be prohibitively expensive, time-consuming, and complex to do ourselves," said Jeroen Dalderop, CEO and co-founder of Innr. "We are in the lighting business, not the IoT connectivity business. Ayla not only provides all the back-end connectivity, security, and cross-brand compatibility we need but also has the AMAP framework for adding mobile app control to our cloud-based products."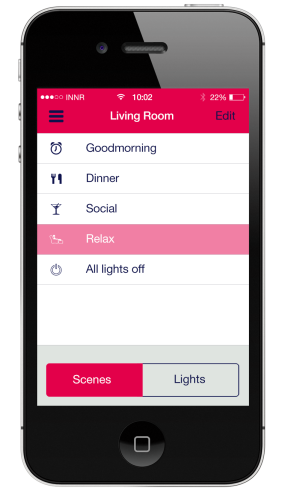 For now, the Innr products don't deliver color tunability but do offer a tunable white point along with dimming and on/off controls. Control is via any Wi-Fi connected device. And the company also offers a dedicated remote control for in-room use.
Like other companies in the connected lighting space, Innr offers starter kits that include the mesh-to-Wi-Fi bridge, some smart LED lighting products, and, in some cases, the power tracks used to mount the spotlights and striplights. The kits range from EUR100 to EUR250 ($112 to $280). Those prices are on the high side compared to, say, a white-light starter kit in the Osram Lightify product line. The Lightify kits start at around $50 in the US. But Innr clearly has a design tool and service concept that could set it apart from other vendors of connected lighting.