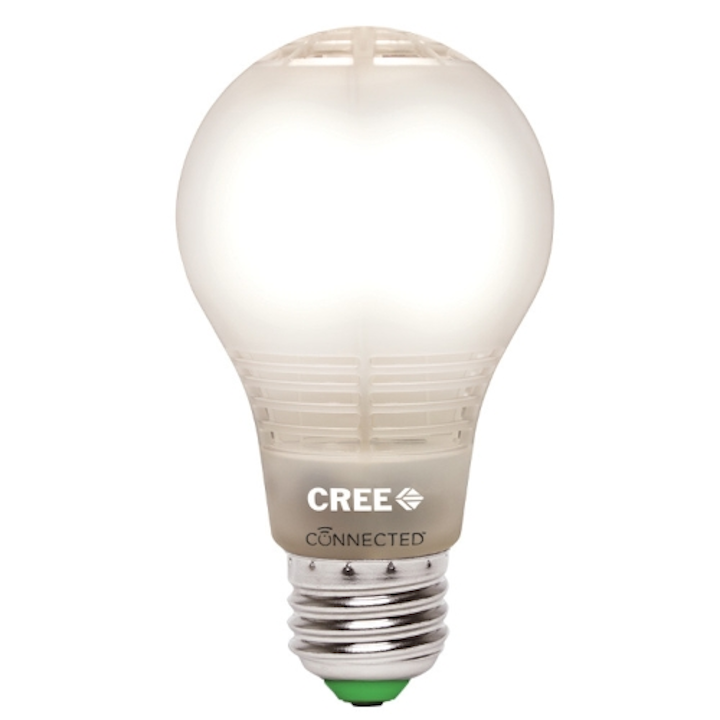 The white Connected Cree LED Bulb delivers the equivalent output of a 60W incandescent bulb and works with popular ZigBee-certified hubs such as the Wink Hub.
Cree has announced entry into the residential connected-lighting sector with the debut of the Connected Cree LED bulb. The lamp is based on the ZigBee wireless network and will be priced at $14.97 for a 60W equivalent. The new Cree solid-state lighting (SSL) product will interoperate on networks created with ZigBee hubs such as the Wink Hub and with other ZigBee lamps and controls.
Unlike the well-known Philips Hue color tunable lamps and luminaires, the Cree product for now is purely a white lighting product. Although Philips has added a white-only product to the Hue family, the Hue products start at around $30 per lamp and range to $50 or more for color products.
Cree delivers connected LED lamp based on ZigBee wireless standard
Cree says it is focused on mass adoption with the new lamp. Vice president of corporate marketing Mike Watson said, "$30 bulbs aren't going to drive adoption." The Cree lamp is priced similarly to the GE Lighting Link lamps launched last summer and offer similar control capabilities (on, off, and dimming). Watson added, "We've repeated our promise of affordability." Cree has repeatedly said its mission is to drive 100% adoption of SSL.
The new Cree lamp looks identical to the 4Flow Filament Design lamps that the company launched back in November. In fact, you can't readily discern any difference unless the lamps are in labeled packaging. Cree did screen a green circle around the center electrical contact on the base of the connected lamps so consumers can identify the products.
We asked Watson why Cree picked now to launch a residentially-targeted connected product. Watson said, "There has not been a real consumer interest apart from enthusiasts' fascination." But Cree said research indicates the situation is changing. About the present, Watson said, "There is a change we can measure in consumer interest."
While the Cree lamp is ZigBee based and will work with other products based on the ZigBee Light Link standard, the company is not a member of The Connected Lighting Alliance that is championing ZigBee for residential applications. Indeed, the alliance held an interoperable product demonstration at the recent Consumer Electronics Show (CES) with participation from GE, Philips, Osram Sylvania, Lutron, and others.

Cree is a partner in the Apple HomeKit initiative, although that home-automation-centric platform is still in the formative stages. But Watson said the Cree lamp will be compatible with the Apple platform when it ships.
Watson said Cree tackled the 60W-equivalent space first because of the number of sockets for such lamps. He said more than 60% of the A-lamp sockets use 60W lamps. The Cree bulb delivers 815 lm at a CCT of 2700K. The lamp is rated for 25,000 hours.
Cree is not saying how it will extend its connected technology through its lamp portfolio. The company has A-lamps across a span of lumen packages along with PAR, BR, and MR16 lamps. About adding wireless support to such products, Watson said, "If there is demand, it will happen."
We also asked Watson about a possible color-tunable product. He said Cree has been at the forefront of color mixing, having developed the True White technology that was first to use red LEDs to deliver high CRI with a minimal sacrifice in efficacy. But he pointed out that a multi-channel lamp would still add significant costs.
Of course, color-tunable products offer an entertainment-centric functionality, but tunable light is also being touted as a way to enhance our wellbeing. Still, science lags in documenting such benefits. "We don't know all the applications," said Watson. "There is not enough application and service demand to make that a priority right now."
Cree said the lamp will be available at Home Depot later this month. The standard 60W 4Flow lamp sells for $8 at Home Depot so the connected version at just under $15 comes in at a premium but affordable price point.