Mobile wireless stalwart partners with LIFX to support lighting as part of its Internet of Things (IoT) initiative, with the result being a module and reference design for wireless LED lamps that are compatible with the AllSeen platform.
At the International Consumer Electronics Show (CES), Qualcomm announced that its Qualcomm Atheros business unit has partnered with LIFX to develop a smart, Wi-Fi-based, solid-state lighting (SSL) platform that is compatible with the AllSeen Alliance Internet of Things (IoT) platform. The partners will deliver a reference design for LED-based lamps as well as a module that manufacturers can use in a lamp design.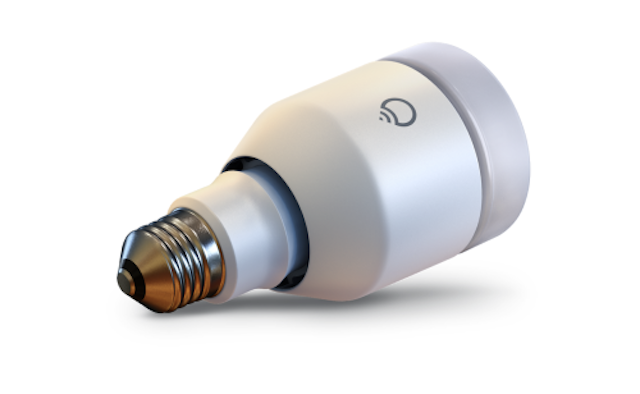 Qualcomm takes CES stage to promote wireless LED lamp technology
The AllSeen Alliance is an industry consortium led by Qualcomm that is based on the company's AllJoyn open-source software project intended to allow everyday devices such as home appliances to communicate in a plug-and-play manner. AllSeen is in a heated battle with an Intel-led coalition called the Open Interconnect Consortium (OIC) that also includes Samsung, Broadcom, Atmel, and Dell Computer as supporters. Both groups intend to establish standardized support for products in vertical markets such as lighting.
The Qualcomm and LIFX partnership is based on using Wi-Fi as the network that connects SSL products to the Internet and therefore to devices such as smartphones for control. Proponents would argue that homes and businesses already have Wi-Fi networks, making it the obvious network choice for IoT usage.
With the exception of the existing LIFX Wi-Fi-based LED lamp, however, most other smart lighting product developments are being based on lower-power, lower-cost network technologies such as ZigBee, Bluetooth, or proprietary systems. For example, The Connected Lighting Alliance demonstrated the interoperability of ZigBee-enabled SSL products at CES with six major manufacturers from the lighting industry participating.

At first glance, Wi-Fi would seem to be overkill for most IoT applications and SSL in particular. Leading-edge Wi-Fi products push the high network bandwidth required to transmit video, use far more power than can be tolerated in a product such as a wireless LED lamp, and cost too much as well. The Wi-Fi group, however, has maintained backward-compatibility with older and slower versions of the technology. The Qualcomm Atheros QCA4002 Wi-Fi IC used in the reference design and the Lighting Connectivity Module (LCM) is optimized for low power and applications with relatively short range and low-speed requirements. Qualcomm said the IC uses less than 1 mW of power when in sleep mode waiting for active communications.
Of course, both of the IoT groups are well behind ZigBee when it comes to support for lighting applications. As we have covered previously, the ZigBee Light Link standard endorsed by The Connected Lighting Alliance has defined a complete framework for plug-and-play interaction between controls such as dimmers and SSL products. In addition the ZigBee Home Automation and ZigBee Building Automation standards are equally well defined for more complex lighting networks that included a dedicated lighting controller on the network.
The AllSeen group is working on the Lighting Service Framework (LSF) within a working group led by LIFX CTO Marc Alexander. But it's apparent that ZigBee-like capabilities are relatively far off. The LIFX wireless LED lamp significantly lags the sophisticated control capabilities of products like the ZigBee-based Philips Lighting Hue products. Moreover, Qualcomm said at CES that AllSeen-compliant SSL products were a year away.
For now, the only lighting company associated with the AllSeen group is Havells Sylvania, not to be confused with Osram Sylvania who participated in The Connected Lighting Alliance demo. And Havells Sylvania also has a partnership with LIFX.
"We are pairing the networking expertise provided by Qualcomm Atheros and LIFX with our nearly-century-long tradition in lighting," said Edward Lees, LED lamps business unit manager at Havells Sylvania EMEA. "By leveraging the Lighting Connectivity Module and the AllJoyn Lighting Service Framework, we can quickly enable a wide range of products in our lighting portfolio to become connected."
Qualcomm is the undisputed leader in the mobile wireless communications space. Moreover, the company is among the leaders in Wi-Fi via its acquisition of Atheros. But there is no guarantee at this point that either the Qualcomm- or Intel-led groups will become predominant in IoT applications. The OIC seems to have broader support and is pursuing its mission independent of network choice, assuming its protocols will run over multiple networks.
Ironically, the challenge both groups face may have less to do with good networking capability and more to do with understanding a vertical market such as lighting. That statement applies to things such as protocol standards like ZigBee Light Link and knowledge of how to integrate an SSL design and drive down cost. Networking may be far more easily added to a lamp design with an integrated driver circuit and microcontroller (MCU) as opposed to trying to base a lighting-product development around a networking IC.