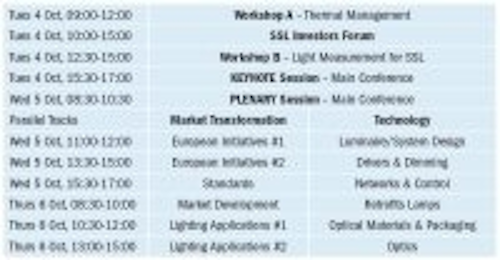 With a theme of "Enhancing the Quality and Performance of LED Lighting," this year's Strategies in Light Europe 2011 conference takes place on October 4-6.
After a successful launch in September 2010, the Strategies in Light Europe conference and exhibition moves to Milan, Italy. The main conference program addresses key issues surrounding the evolution and transformation of the lighting market, and the ongoing development of higher-quality, higher-performance LED lighting.
Useful links:
• Event overview
• SSL Investor Forum
• Main conference program
• Registration
Tim Whitaker, Conference Director and Editor-in-Chief of LEDs Magazine, said: "We believe we have assembled a conference program that provides an excellent and comprehensive update on the current status of the LED lighting industry, and that will offer valuable insights into future directions and strategies for business success."
Keynote and plenary sessions
The Keynote session on Tuesday will set the scene for the conference, with talks from McKinsey and Strategies Unlimited that will discuss the global LED lighting marketplace, identifying trends and opportunities for solid-state lighting. Both organizations are likely to discuss aspects of their respective reports – for details, see pages 28 and 31 of this issue. Also in the Keynote session, Simon Fisher of GE Lighting will discuss how LEDs can provide an opportunity to redefine the rules for designing the lit environment.
Europe is obviously a major focus of the conference, and in Wednesday's Plenary session Paolo Bertoldi of the European Commission will provide a status update on LED lighting in the European Union. Other sessions on European initiatives will discuss the EU LED quality charter, and the possible need for an LED performance label, as well as the European program on metrology.
Also in the Plenary session, Philips Lighting will discuss the next phase in LED illumination, which will be associated with rigorous cost reduction. Osram Opto Semiconductors will look at the status and potential of organic LED (OLED) technology and products, discussing whether OLEDs are ready to take off in general-lighting applications. And Marc Fontoynont will report progress from the global IEA Annex on SSL, which is aiming to build consensus on quality and metrology issues.
Parallel tracks
From mid-morning on Wednesday, the conference splits into parallel tracks, which are focused on Market Transformation and Technology. The latter track will include talks ranging from the use of wireless DALI as a control technology for LED luminaires, to the development of optical systems using reflectors, light-guides and lenses, to the capabilities of materials such as silicones and thermoplastics. A session will discuss retrofit lamps, clearly a major issue following the phase-out of low-efficiency 60W lamps in Europe from September 1, 2011.
In the Market Transformation track, a session on standards contains a talk by CELMA, one of the event's Supporting Organizations, discussing the importance of standardizaton of performance requirements for LED luminaires. Another talk will describe the CIE's work related to LEDs and lighting.
Recent additions to the program include a talk from Philips Lumileds on the performance requirements for LEDs in general-lighting applications, and a presentation from ELC (another Supporting Organization) explaining the activities of the Global Lighting Forum.
All this, and much more. The organizers of Strategies in Light Europe – LEDs Magazine, Strategies Unlimited and PennWell – look forward to welcoming you to Milan.