SIL Japan speakers explore the SSL frontier beyond lumens per watt (MAGAZINE)
At the 7th LED Japan /Strategies in Light Japan conference in October, Ella Shum and Manami Konishi presided over sessions ranging from LED substrates and manufacturing advancements to LED life science applications and human-centric lighting.
Dec 8th, 2014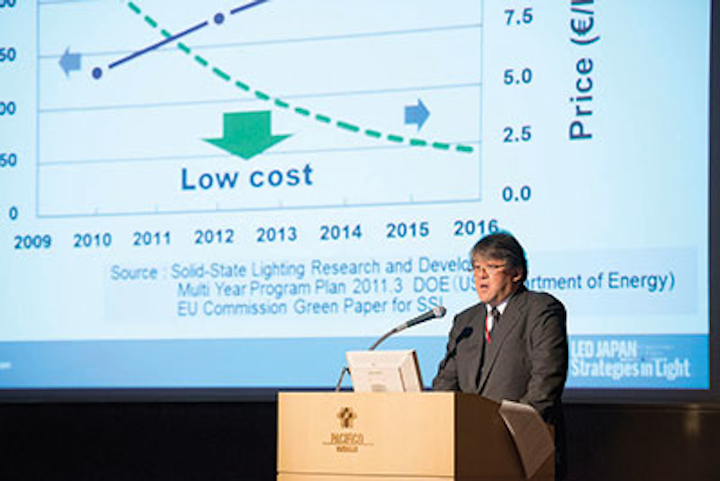 At the 7th LED Japan /Strategies in Light Japan conference in October, ELLA SHUM and MANAMI KONISHI presided over sessions ranging from LED substrates and manufacturing advancements to LED life science applications and human-centric lighting.
The 7th LED Japan 2014/Strategies in Light (SIL) Japan, which took place in Yokohama in October, was the most successful event in the series yet, with compelling speakers and an eager, interactive audience that posed tough questions - indicative of the growing momentum for LED-based lighting. The coincident announcement of Shuji Nakamura, Hiroshi Amano, and Isamu Akasaki winning the Nobel Prize in Physics while working in Japan on the blue LED helped energize the audience and the speakers. Indeed, the SIL conferences have been honored that Nakamura and Amano have presented keynotes in prior years at SIL shows in the US and Japan, and Akasaki was a co-author of one of the featured talks at SIL Japan 2014. The program coursed along the theme of "the search beyond lumens per watt."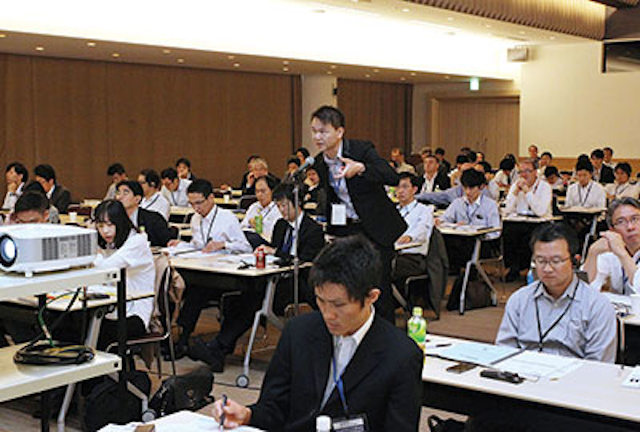 The audience at LED Japan/Strategies in Light Japan - coming from not only Japan but also all over Asia - enjoyed two full days of in-depth talks and discussion on the bleeding edge of LED technologies and applications.
Initiating the "search," the keynote speech "What's next in LED innovation?" by Norihide Yamada, vice president of Japan Business at Philips Lumileds, explained the limitations in pursuing efficacy or lumens per watt (lm/W). He said the industry has reached a point where the focus should not be on efficiency improvements but on other performance measures (Fig. 1). Yamada gave a masterful look at technology from the customer's perspective, not the manufacturer's perspective. He articulated how technology advancements like correlated color temperature (CCT)/color rendering index (CRI), flip-chip LED architectures, improved lumen maintenance, and easily replaceable solid-state lighting (SSL) modules directly link to customer requirements such as creating atmosphere or ambience, improving safety, and reducing lighting maintenance cycles and cost. The conclusion is that there are plenty of design opportunities and innovations for SSL product developers - one just has to start from a different point of view.
Epi technology battle
For two years in a row, the war on epitaxial (epi) technology continued to capture the attention of the audience. Indeed, proponents of gallium-nitride-on-gallium-nitride (GaN-on-GaN) believe that such LEDs produce more and higher-quality light while GaN-on-silicon (Si) proponents believe that technology can significantly reduce component cost. To date, however, GaN-on-GaN technology remains more expensive than GaN-on-sapphire or -silicon-carbide technology in mainstream LEDs, and GaN-on-Si has yet to deliver comparable performance to legacy LEDs.
Professor Toshiya Yokogawa of Yamaguchi University gave an overview of why GaN-on-GaN is useful for high-power LEDs and how one can fabricate bulk GaN substrates of wafers using an HVPE (hydride vapor-phase epitaxy) process. As we have covered previously, HVPE is simpler than the MOVPE (metal-organic vapor-phase epitaxy) process and therefore less expensive.
While HVPE produces a suitable substrate, the current growth rate needs to be improved before it can be commercially viable. Moreover, MOVPE is still required to grow the active GaN layers, but substrate cost is the primary disadvantage of GaN-on-GaN processes. The good news delivered by Yokogawa during the Q&A session was that more companies, including his previous company Panasonic, were utilizing GaN-on-GaN technology so we could expect more LEDs with homogenous substrates on the market soon.
Meanwhile, Shinya Nunoue of Toshiba Corporation championed GaN-on-Si technology and how companies are getting around the defect issues associated with the heterogeneous substrate with a significantly different crystal structure. He said that Toshiba is making LEDs on crack-free 8-in. Si wafers. In the lab, the best result in terms of efficacy has been 170 lm/W at 350 mA of drive current, a CRI of 70, and CCT of 5000K. On the production line, the 3535 LEDs are at 130 lm/W and are delivered in a flip-chip chip-scale package (CSP). CSPs have the potential to further reduce component cost, adding to the lower cost of Si wafers. We covered CSP technology in our feature on the Light+Building trade fair earlier this year.
The question of whether GaN-on-Si LEDs will truly be cheaper than GaN-on-sapphire or -Si-carbide LEDs is still hotly debated (Fig. 2). Indeed, GaN-on-Si technology generated the most interest and questions ever at an SIL Japan conference.
The laser option
Of course, LEDs are not the only solid-state light source. Indeed, laser technology is closely related and can be used in some applications such as automotive headlamps. Associate professor Tetsuya Takeuchi of Meijo University in Japan presented "Laser illuminations: Prospects of blue VCSELs." Note that Nobel Laureate Akasaki was co-author of the paper.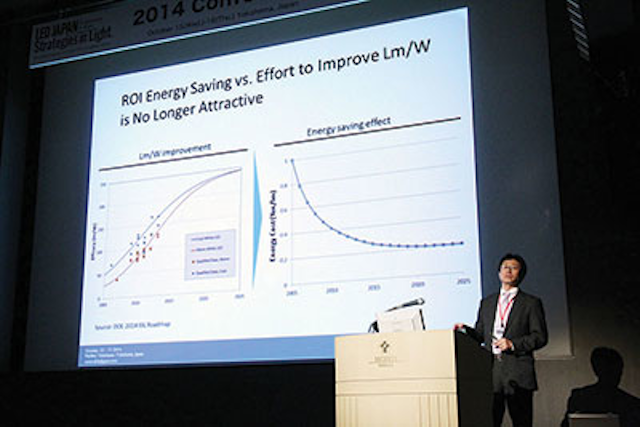 FIG. 1. Norihide Yamada of Philips Lumileds said return on investment on energy improvements is decreasing but that product developers need to focus on customer demands for SSL products with greater utility.
Vertical-cavity surface-emitting laser (VCSEL) technology delivers a narrow beam of light perpendicular to the surface of the component. Takeuchi compared LEDs and lasers for illumination. The comparison basically boiled down to three key points: efficiency/cost, beam profile, and color rendering. He went on to describe advancements in VCSELs and potential applications. One of the most interesting applications is to use the VCSEL matrix array to replace the current LED matrix array in adaptive headlights. A single VCSEL chip with appropriate optics could form the basis of a high-beam headlamp with lower cost relative to LEDs.
FIG. 2. Shinya Nunoue of Toshiba discussed the efficacy and cost of GaN-on-Si LEDs. The question of whether GaN-on-Si will truly be less expensive than GaN-on-sapphire is still a source of controversy.
The basic value both GaN-on-GaN LEDs and lasers bring to lighting is a smaller source size. This allows smaller lamps with narrower beam angles and higher lumens. We shall see whether these advantages will help the technologies find a place in the world of SSL.
Thermal management
Of course, LED technology is a only part of the SSL product-development puzzle, and thermal management remains a significant challenge. Foxconn, a first-time presenter at SIL, showed off its latest developments in thermal conductive plastic and double-sided heat sinks for LED lights. The work was done by Vladimir Kondratenko and Yuriy Sakunenko of Moscow State University of Instrument Engineering and Computer Science; Hung Tu Lu of Nanoplus Tech, a subsidiary of Foxconn; and Alex Naumov of Foxconn. The major advantages of these two technologies are reduction in cost and weight, environmental friendliness, and ease of production since plastic thermal elements can be produced via injection molding, a process with high up-front costs but very low per-piece prices.
Still, the more interesting part of the presentation may have been the simpler double-sided heat sink concept (Fig. 3). Foxconn claims that using a double-sided heat sink can reduce heat by 20-30%, so long as the optical design of the lamp or luminaire can accommodate the mechanical element. The design could limit beam patterns.
SSL applications
The SIL Japan conference also looked beyond the enabling technology, and covered both general lighting applications and additional features that might be integrated into smart lighting products.
For example, Fumitaka Murayama, president of Outstanding Technology, presented "Realization of LED visible light communications." He described a test in which the company achieved outdoor visible communication over a 42-km range using a single 10W LED in 2010. The same technology is employed in the GINREI satellite, launched in February 2014 by Japan Aerospace Exploration Agency (JAXA), attempting to communicate at 600-1200-km distances with Earth.
But the technology applies locally as well. At the Kansai Electric Power Plant, this communication technology was used for a visible wireless LAN because radio waves may damage electrical equipment like relay boards. Visible lighting can be used for location-based services like indoor GPS-like location services in retail lighting and area security. In the latter, there is no fear of leaks or jamming and access from the outside, unlike with RF technology. Finally, the world is facing a wireless spectrum crunch. According to Cisco, global mobile data traffic will increase 18X from 2011-2016. Murayama stated that the market of visible communications will skyrocket because of this trend.
One of the best lighting designers in China, Xu Dongliang, CEO of Toryo International Lighting, showed off some of his most interesting commercial pieces of work including a hotel building wrapped round by a dragon-like sculpture. Using LEDs, he worked around Chinese commercial demand and landscape aesthetics by integrating display functionality in the lighting design. He also indicated the potential of next-generation lighting design through the free expression in artwork like his famous work Lightopia, which was chosen to represent China in the 2012 Venice Biennale.
SSL networks and controls
Still, the near-term opportunity to integrate communication with lighting products is focused on programmatic and adaptive control of the lighting and enabling the Internet of Things (IoT) concept. To think about smart lights much like smartphones is an interesting concept that was explored by Gerald Harbers, founder and CTO of Xicato. The main point in his talk "Lighting technology integration" pushes the idea of having light, connectivity, and sensors all in one module. On top of this integrated base, we can develop applications and services that will make lights access points for devices designed for IoT functionality.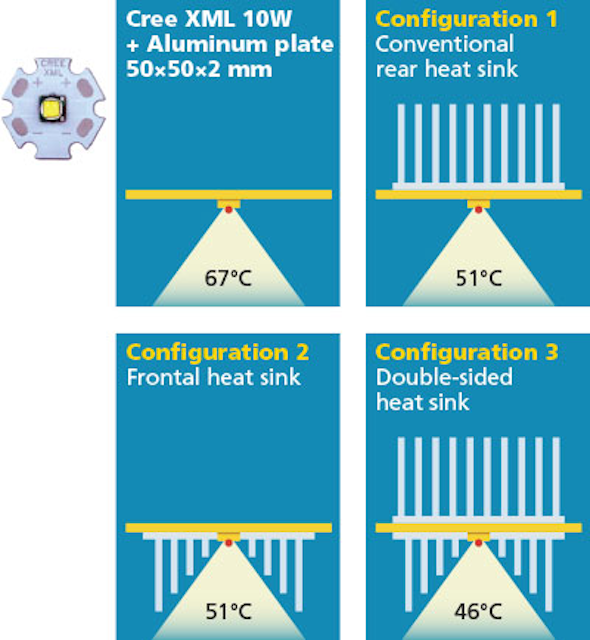 FIG. 3. Foxconn proposed a double-sided heat sink that can lead to a 20-30% improvement in thermal mitigation, in comparison to other potential cooling configurations.
Scott Brown, senior vice president of marketing of Dialog Semiconductor Inc., discussed the new Ledotron digital dimmer standard and how it would eliminate all issues, such as compatibility, associated with triac dimmers. He went into great length about how smart lighting will be a driver for the next SSL adoption wave. One way to move the chaotic world of smart lighting forward is to have a flexible driver that will support any wireless protocol and to power the wireless transceiver.
John Hwang, executive director of the Human Centric Lighting (HCL) Society, brought the discussion of controls and tunable lighting to the popular world of professional sports. HCL generally uses tunable spectral power and CCT to enhance human productivity and wellbeing including the ability to adapt lighting for human circadian rhythms. Hwang described how the new age of sports lighting was affecting the US professional football game. In a study of Monday Night Football West Coast versus East Coast teams, the home win has everything to do with the circadian rhythm (Fig. 4). HCL can manage jet lag for away games and give a blue boost with spectrally targeted lighting. The goal is to set up a circadian-rhythm monitoring program to target optimum physical condition for game performance.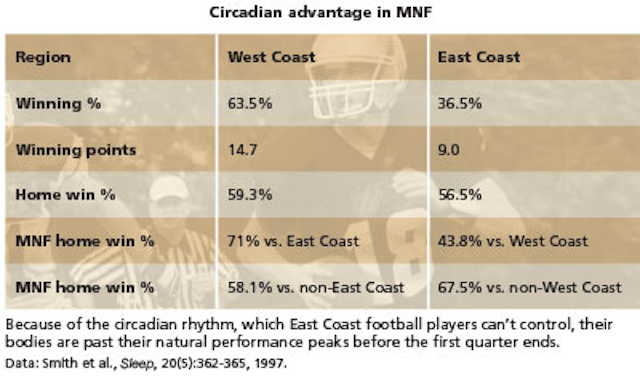 FIG. 4. The win-loss records of NFL teams in Monday Night Football games can be correlated to circadian rhythms, and HCL could help teams prepare to play at a higher level.
Steve Paolini of Telelumen, meanwhile, enlightened attendees with the concept of recording and playing back of light much like a digital music player. Most companies in smart lighting demonstrate how consumers can control and tune their lights via a smart device interface. Paolini explained that most light consumers do not want to tinker with the details. They want to experience the light energy, e.g., a Maui sunset or daybreak on Mt. Fuji with the ease of selecting a song. They do not want to compose a "light song" by fiddling with a color wheel on an iPhone. In the near future, consumers will be able to interact with their lights like a music player. This will have an impact on the smart home market, enhance retail experiences, and improve human biological experience.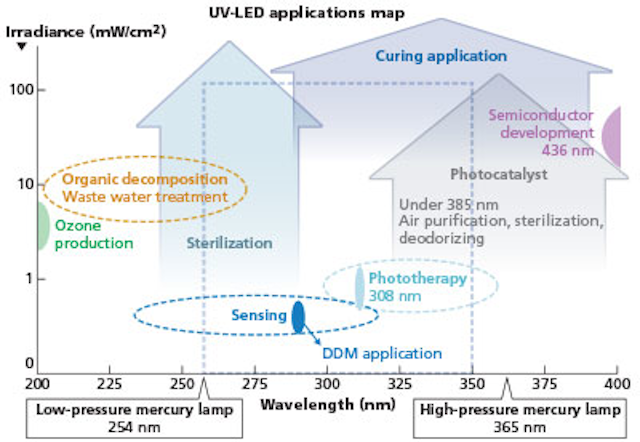 FIG. 5. UV LEDs are already being widely used in curing, but the deep-UV LED technology for applications such as water purification and general sterilization will require more efficient and lower-cost LEDs.
LEDs in life sciences
At SIL Japan, however, it was abundantly clear that LED technology is impacting applications far beyond general lighting including in life-science applications. Cyril Pernot of Nikkiso Co. Ltd. gave an in-depth talk entitled "Deep UV LED: Challenges and perspectives." Deep ultraviolet (UV LED) is one of the hottest markets even though there are many challenges to overcome. We have a feature article on UV-C LED technology in this issue and reported on a presentation on the topic of UV LEDs at our flagship SIL US event back in February 2014 (http://bit.ly/1kXzh1e).
The limiting factor to the technology is efficiency in the lower LED wavelengths and therefore the cost of the LEDs. While a white LED is a few dollars per watt, a deep-UV LED can be in the range of $10,000/W at present. According to Pernot, the current forecast for deep UV is relatively low in the next few years, but he expects it will take off after 2017 as the cost and efficiency will be in range for mass adoption. Fig. 5 depicts an application map for UV LEDs.
Life science potential also includes optimized food-crop production. Japan is in the forefront in using LEDs to grow vegetables. See our recent news item on lettuce production for more information. Seiichi Okazaki, president and CEO of Keystone Technology, described some of the key advantages in vegetable plant factories using fully artificial light to deliver sunlight-like spectral power. The presentation data was based on the experience of 198 such factories currently operating in Japan.
In an urban setting, Okazaki said the land usage ratio approached 60-70 times better than that of legacy farming. The same volume of production uses less than 4% of the water used in outdoor cultivation. In the case of lettuce, one can harvest 25 times per year. An interesting idea is Keystone Technology's Haikara Yasai (open vegetable factory). These factories are open so everyone can see how plants are grown. The produce is distributed to local restaurants and stores, reducing the environmental impact and cost of transporting the crops over long distances.
In conclusion, the attendees of LED Japan/SIL Japan, coming from not only Japan but all over Asia, enjoyed two full days of in-depth talks and discussion on the bleeding edge of LED technologies and applications. Their enthusiasm was expressed by their active participation. We look forward to carrying on the momentum and building another successful conference in Yokohama next year.
---
ELLA SHUM is co-chair of Strategies in Light Conferences (US and Japan), a Strategies Unlimited Partner, and principal at YEBY Associates LLC. MANAMI KONISHI is co-chair of the LED Japan/Strategies in Light Japan conference and president of Plus M.