Top industry influencers join Strategies in Light Europe's Advisory board (UPDATED)
Apr 12th, 2016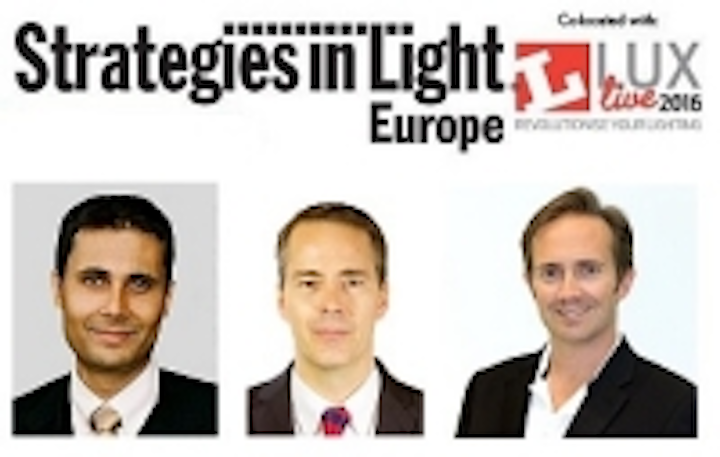 Strategies in Light has always prided itself on being at the forefront of the LED and lighting industries, and as such is well aware of the market shifts that are underfoot.
Interested in more articles & announcements on LED lighting & applications?

We now find ourselves in intriguing phase within the LED lighting industry, where not only is our understanding of the pivotal role lighting plays in our lives growing, but also our ability to control the quantity and quality of light as well. This new market paradigm is creating both excitement for the potential new lighting world, and uncertainty on how we can achieve these goals.
Strategies in Light Europe, now in its 7th year is bringing the new business of lighting to the forefront focusing on how to survive and thrive within it. The conference will address the topics that are currently disrupting the market, including but not limited to:
Succeeding in the lighting market of tomorrow
Smart lighting
Data and security
Human centric lighting
Lighting as a service
Philip Smallwood, Director of LED & Lighting Research at Strategies Unlimited and Strategies in Light Europe's new Conference Chair, has assembled the talents of the international Lighting industry's leading practitioners to devise a conference programme that is relevant to the market of today and tomorrow.

The latest industry influencers to join Strategies in Light Europe's advisory board are (l-r in photo):

Aninda Dasgupta
Head of Marketing and Strategy Business Unit Digital Systems - Osram
Dan Doxsee
Deputy Managing Director – Nichia Chemical Europe GmbH

Neil Salt
Managing Director, IoT Division – Aurora Group
To find out how Strategies in Light Europe is tackling the key issues in LED Lighting, please visit www.sileurope.com.
Strategies Light Europe
23 – 24 November 2016
ExCel, London, UK
Contact:

Crispin Coulson, Marketing Team Lead - PennWell Corporation, Strategies in Light Europe
+44-(0)-1992-656-646
E-mail:

Web site:

Submit new products, case studies/projects, and other press releases at http://www.ledsmagazine.com/content/leds/en/addcontent.html.

More from Strategies in Light Europe:
SIL Europe Investor Forum provides the expert's view on opportunities in LED and lighting industry
Strategies in Light Europe delivers must-attend event for LED and lighting industry