James Thomas uses amber with RGB in expanded Pixel range
James Thomas Engineering introduced a series of "enhanced control" products at PLASA 2004, including several projectors that combine RGB with amber emitters for improved colour control.
Sep 13th, 2004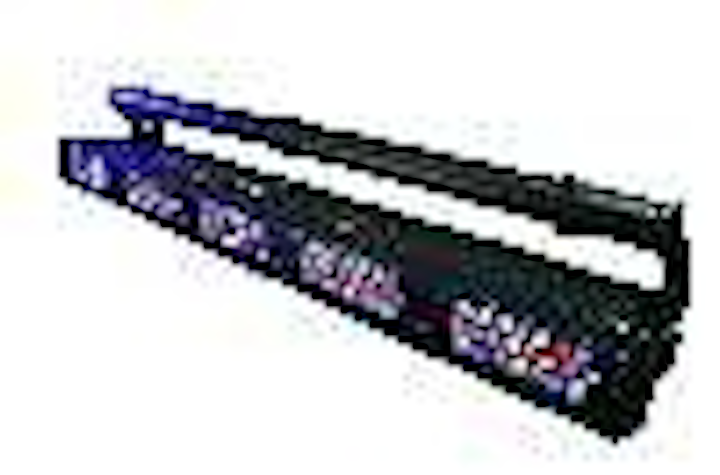 Pixelline 110ec (enhanced control)
The Pixelline 110ec is designed for high output wash illumination, and contains a total of 110 Lumileds Luxeon LEDs in blue and green (3W) and red and amber (1W). The use of amber extends the available colour palette and enhances the quality of colour mixing.
Housed in the same tough mechanical housing as the popular 1044 batten (which contains 1044 5-mm LEDs), the Pixelline 110ec is extremely bright - it has double the output of the PixelPAR 90(A) in a linear package, complete with forced air cooling, from JTE's patents-pending heat management system.
Five-cell resolution using RGB and amber LEDs offers full spectrum reproduction. The standard beam angle is 4 degrees, and holographic films offer 6 options of expanding beyond this, using the innovative refraction method.
PixelPAR 24ec (enhanced control)
This is a high power projector, utilising twenty-four Lumileds Luxeon emitters in blue and green (3W) and red and amber (1W), providing a full spectrum output. The light source is the same as JTE's PixelPAR 90(A) architectural fitting, and the unit uses the same streamlined mechanical housing.
Enhanced DMX control
The new "ec" facility is available on all latest generation Pixelrange products. Advantages include the ability to set a selection of user-definable dimmer curves, which eliminate "steppiness", and ensure ultra-smooth fading throughout the cycle. The curve information is stored in the head of each Pixel fixture. 16-bit dimming gives the user a choice of dimmer curves to suit different applications, such as greater control of intensity at low levels.
PixelPipe 48ec (enhanced control)
PixelPipe is the first in a new series of Pixel products targeted at the retail/commercial lighting market. The product is a fully self contained linear wash projector, with Ethernet or DMX control, offering an even and seamless wash effect, which is ideal for covering large areas, displays, signs and walls.
Each 1.2 m pipe includes 4 x 30 cm cells featuring 12 LEDs (RGB and amber) per cell. Pixelpipe is available in a single row of pipe, which has a base station, fully self contained and fitted with easy power and data in/out. Pixelpipe is also available equipped with six pixelpups, ideal for accent/key lighting. Each head and 300 cm RGBA pipe pixel cell is independently controlled, or simply programmed as a whole.
The same highly versatile Pixel fixture will therefore provide both wall wash and key lighting simultaneously.
PixelPUP range (ec)
PixelPUP is a range of 'next generation' projectors, capable, indoor, outdoor and submersible applications (up to 3 metres). The IP68 fixture features a familiar PAR 36 footprint and replaces the incandescent lightsource with Luxeon LEDs. PixelPUPs can be clustered together as a mini 6-lamp bar( as used with pixelpipe) or used individually.
PixelDrive v1.26
PixelDrive software is now a year old. Used on many tours and events, it has been further developed as a simple, user-friendly method for mapping video and image effects onto the Pixel Range LED products. The latest version offers several new features including:
* Drag and drop functionality of matrix devices
* Full rotation of all matrix devices
* Improved DMX efficiency
* Preset playback eliminates the need for a lighting desk for certain projects
* The addition of double byte character sets - for Japanese, Chinese, etc.
* A new range of generic matrix devices
PixelDrive is a powerful and useful tool for programming large numbers of LED fixtures. It eliminates the need for thousands of DMX channels and enables the user to create stunning looks in a fraction of the time taken with traditional programming methods.
Combining cutting edge technology with straightforward and familiar control, PixelDrive introduces lighting designers gently to the digital dimension that's taking the industry by storm. Multiple rig configurations become possible with up to 32 layers for control of different aspects of the LED lighting system.