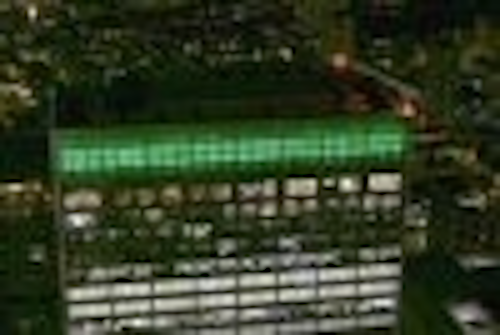 The project, designed by LightMatters, involved providing an architectural lighting and control solution for illuminating the crown of Wall Street broker Lehman Bros' European headquarters in the prestigious Canary Wharf area of Central London.
The 32-storey building at 25 Bank Street, known as "HQ2", is located amongst some of the London's tallest buildings and the world's leading financial institutions.
The lighting system consists of 152 Solar M200B RGB LED luminaries mounted at two levels around the perimeter of the building, between the inner wall and outer glass shell of the 32nd storey.
The IP67-rated fixtures each provide an asymmetric, wall-washing 8 x 25 degree beam to illuminate the crown with a combined total of 5472 LEDs.
Despite the vast lit area of the roof (3,500 sq. m), a low average daily running cost is achieved due to the comparatively low power consumption of the LEDs.
The complex lighting design involved illuminating the building in green and blue between sunset and sunrise, with the possibility of a different colour-mixing sequence at set intervals each day. This required a system which, in addition to providing DMX control of the fixtures' RGB power drivers and an astronomical clock, could act as an intelligent user-interface for the building's owners to manually select alternate lighting sequences to those already pre-programmed for any given day or time.
A.C. Special Projects used their knowledge of DMX architainment lighting systems to specify an ETC Unison control system. The unit was chosen primarily for its simple 10-button recall station and easy to use LCD touch-screen. The system also utilises DMX distribution tools from A.C.'s exclusive Chroma-Q range.
LightMatters Director, Graham Large, commented: "A.C. Lighting's team were proactive throughout the pre-trials, installation and commissioning. The Solar fittings and ETC control system have worked well together to produce the effects we were seeking."